Yoga is a booming business in Hong Kong, with countless studios cropping up across town in recent years. But while many of them offer a relaxed, low-impact exercise alternative, there is a branch that will leave students working up a serious sweat.
---
---
What is Hot Yoga?
Hot yoga is practiced in studios with the temperature cranked up to between 30 and 40°C (not dissimilar to a scorching Hong Kong summer). It is thought to help you sweat out toxins and help you achieve deeper stretches. Hot yoga can encompass multiple forms, from Vinyasa to Hatha and more stretching-focuses practices. Ready to work up a sweat? These are the yoga classes in hot demand across the city.
---
PURE Yoga
With 11 studios across Hong Kong and two more due for completion this year, Pure Yoga offers a large variety of yogic practice. From beginners stretching to meditative classes to aerial yoga, there really is something for everyone. Those looking to turn up the heat can choose from 11 different hot yoga classes, including Hatha, Vinyasa and even Silent classes. Classes are available to members of Pure Yoga, and membership programmes differ in duration, price, and accessibility to different studios, so it's best to contact a representative for further information or to arrange a trial pass.
PURE Yoga, Various locations, including 16/F, The Centrium, 60 Wyndham Street, Central, (+852) 2971 0055
---

Yoga Room
Hot Flow classes at the aptly-named Yoga Room are tailored to help students improve both strength and flexibility, with a focus on breath work and posture during the Vinyasa flow session. The cleansing practice is designed to clear both body and mind. If you're new to hot yoga, the studio is a great place to start. Hong Kong ID card holders are eligible for a free trial, with drop-in sessions costing $280. Packages are available and start from $2,000 for ten classes, to be used within three months.
The Yoga Room, 3/F, 4/F, 6/F  & 16/F, 106 Jervois Street, Sheung Wan, (+852) 2544 8398
---
Amico Studio
This Wan Chai studio doubles up as a dance and yoga space, with a floor dedicated to each. Offering hot flow and hot stretch therapy classes, students work up a serious sweat, with the temperature cranked up to anywhere from 32 to 38°C. Whether you're looking to detox or do yoga for weight loss, or to benefit from deeper stretching and greater flexibility, these classes are rigorous in more ways than one, and you're likely to feel the benefits sooner rather than later. Classes are bi-lingual, and cost $180 for a trial or $150 per class for annual members.
Amico Studio, 2-4/F, 167-169 Hennessy Road, Wan Chai. (+852) 2827 9233
---
Yoga Aloha
With a focus on breath work and movement, the warm flow classes at Aloha Yoga aim to promote circulation and enhance the body's natural detoxifying capabilities. This is the perfect place to give your body a little kick-start in ridding the toxins and impurities that come with city living. Drop-in classes cost $250, while ten class packages start from $2,000, and are valid for up to 60 days. Private and corporate classes are also available from the studio on request.
Yoga Aloha, 1/F, Fu Tak Building, 367 Hennessy Road, Wan Chai, (+852) 2565 7088
---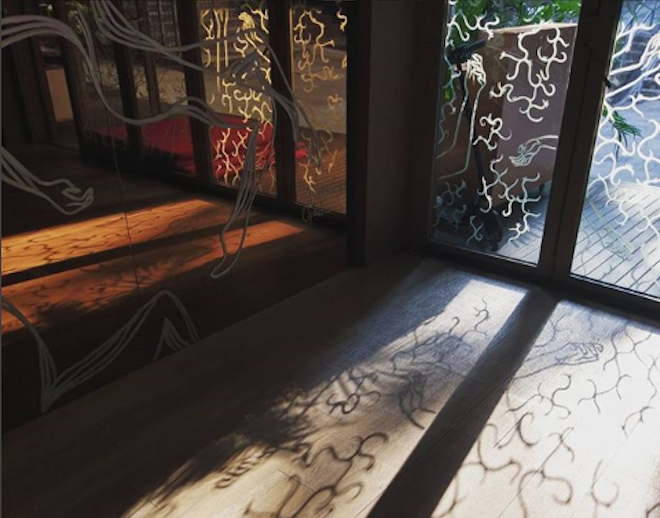 Yoga BamBam
Yoga Bambam offers a range of yoga classes from its studios in Sheung Wan and Central. Fully aware of our scorching summers, the brand has adopted an eco-friendly approach to hot yoga. Opening the doors of its Tai Ping Shan studio for the newly-launched Hong Kong Heat classes, the warm outdoor air slowly but surely has students working up a sweat while engaging in a slow Hatha session. Teachers diffuse aromatherapy oils during the heat classes, held at 6.15pm on Sundays in the Pound Lane studio, to relax and awaken the senses. Yoga Bambam is a non-membership studio, and classes cost $150 for first-time students and $200 for each visit thereafter. Loyalty discount cards are available on request.
Yoga Bambam, 28 Pound Lane, Sheung Wan, (+852) 5500 3117
10 Shin Hing Street, Central
---
Hot Yoga Tips by Holly Wong of the Yoga Room
Is there anyone who should avoid hot yoga?
I would suggest that pregnant women and people with diabetes or any sort of cardiovascular problem, including high blood pressure, avoid practicing it.
Do you have to be an advanced yogi to handle the heat?
No, you don't, but I wouldn't recommend taking a Hot Flow class unless you're already comfortable taking a Vinyasa Flow class in a normal temperature room.
Is hot yoga the most popular kind of yoga in Hong Kong?
It might be. Hot classes are definitely popular and are often full. Hot yoga lovers say that it helps them get rid of bloating, improve flexibility, and quiet the mind.
Should women remove their makeup first?
If you're a serious yogi, you know that the first tenet of niyamas (positive actions and attitudes towards personal refinement) is saucha (purity or cleanliness). If you have no clue or don't care what saucha means, wash your face anyway. It's better not to risk having makeup clog your pores and run into your eyes!
What is your advice to anyone considering hot yoga?
You know your body best. If you don't feel 100% well, drop the ego, and rest. Drink water if you need to hydrate yourself properly. In most circumstances, it's better to stay in the room so the teacher can keep an eye on you, but leave the room if you absolutely need to.
Read our full interview with Holly Wong.

---
Read more! Explore the rest of our Health & Wellness section on Localiiz.