You've chosen your junk boat company, got all your buddies on board (pun intended) and now there's the small task of stocking up your boat with enough food and drink to feed a small army. While there's no denying that all-inclusive junks have their appeal, especially if organisation is not your strong point, they often come with a hefty price tag. But that shouldn't stop you from having an epic party at sea, so we've sussed out the best junk catering companies to satisfy all appetites and budgets. Take your pick!
---
---

1. Bread & Beast
For quality, freshly baked sandwiches filled with all manner of delicious meats, turn to Bread & Beast (pictured above) for your junking munching. They have three delicious junk packages to choose from (ranging from $150 to $300 per person) which each include a selection of sharing dishes and some mains to choose from. Sharing dishes include things like pesto pasta salad, kola wings, chips and dip, and pineapple pops, while mains feature goodies like char siu pulled pork burgers, bolognese fusili, and chicken wild rice. Those who like to pick and mix their favourite bites might prefer to opt for the à la carte menu which serves between 8 and 10 guests. Whatever option you go for, you won't be disappointed – these bites are epic!
Bread & Beast, (+852) 9120 6869
Click here to see the menus and call the number above to place your order
2. Knead
Flying the flag for sandwiches is popular eatery Knead, which has a selection of breakfast sandwiches and croissants ($30/$25 each) with fillings like egg, bacon, tomato, and cheese, as well as hearty sandwiches ($65 each) and salad trays ($340 for 20 people) to share among guests. Alternatively you can opt for one of the three food packages which range from between $900 and $1,500 and feed around ten guests with a selection of sandwiches, pasta salads, fruit platters, and brownies. Delicious!
Knead, (+852) 2851 7778
Email [email protected] or call the number above to place your order
---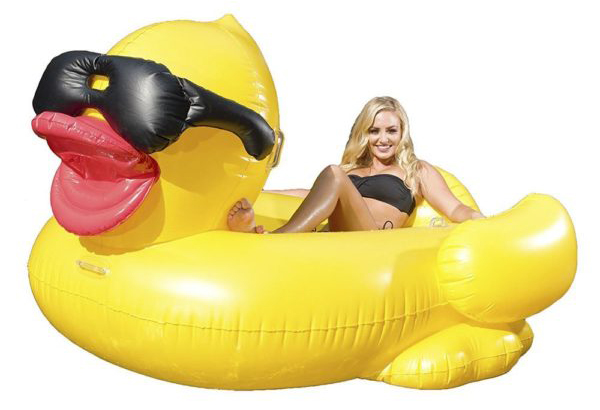 Float on! You're never too old for your rubber duckie! Check out these 10 Amazing Pool Floats that you need to take on your next junk party.

---
3. Cali-Mex
Taking over the city one outlet at a time, Cali-Mex also offers four different catering packages that are guaranteed to add a kick to your epic party at sea. You can choose from different foodie options, ranging from $98 to $208 per person, including various combos of burritos, tacos, quesadillas, and churros. Each package serves 10 people, and you can also choose to include Coke, Coconut Water, or Mexican beers.
Cali-Mex, (+852) 2904 7698
Click here to see the catering packages and order online
4. Shamrock Catering
You're pretty much spoilt for choice when you let Shamrock Catering (pictured above) come aboard. These junk boat pros offer four different junk party menus, which cater for a minimum of 20 people, and range from $220 to $320 per person. These include a huge selection of sandwich platters, salads, appetizers, mains, desserts, and a separate drinks menu to wash it all down with. You could be nibbling on everything from crab cakes and Tandoori chicken wings, to a hearty veggie lasagne or Thai green curry while you sip on a cold beer, cider, or glass of Prosecco. The selection seems endless, so if you're looking for the ultimate feast at sea, this is a winner!
Shamrock Catering, (+852) 2547 8155
Click here to see the food menu and here for the drinks menu

5. Invisible Kitchen
If you're looking for a classy addition to your junk then Invisible Kitchen is your ticket. These top-notch caterers offer three junk boat buffet packages for 15 people, which cost $200 to $350 per guest, and feature a selection of gourmet sandwiches, salads, pasta dishes, and desserts. Whether you opt for the 'Essentials' or the 'Classic' menu, or go all out with the 'Deluxe', which includes hot dishes such as traditional Italian lasagne and chicken tikka masala, you're onto a winner. In terms of drinks, the company will happily put together a bespoke package if you let them know your guest numbers and needs. What's more, sustainability is top of their agenda which means all their menus are WWF approved ocean friendly and they only use environmentally-friendly Vegware packaging and catering disposables – added bonus!
Invisible Kitchen, (+852) 2711 5788
Click here to see the full junk catering options 

6. Monsieur Chatte
Ooh la la! Add a bit of French flair to your day at sea and try out one of the three Junk Packages available from little French resto, Monsieur Chatte (pictured above). Homemade salads, quiche, breads, and French cheeses are up for grabs, with bottles of French wine available to buy for a very reasonable price too. The Chef's Menu costs $350 per head and caters for a minimum of 10 people, while groups of 20 plus can opt for two other menus which cost $150 0r $200 per person. All menus include free delivery to the pier, along with cutlery, plates, and napkins. Bon appetit!
Monsieur Chatte, (+852) 3105 8077
Click here to order online

7. TaKorea
K-pop chicken and Kimbap roll anyone? Bring a touch of Korean spice to your junk and order one of the four junk packages available from popular Korean joint TaKorean. Serving between 7 and 15 people and ranging from $600 to $2,000, these tasty menus cover 'Light Snacks' through to full on 'Ultra Feasts', depending on your budget – and appetite. They also offer add-ons such as chicken or japchae trays and extra burritos for those who love their Mexican food! You can also enjoy free delivery to Central Pier or self-pick up at their store in Central – bonus!
TaKorea, 1/F, 45A Graham Street, Central, (+852) 2488 8024
Click here to find out more and call to place your order
8. Paisano's Pizzeria
This epic pizzeria may not offer junk food packages as such, but with three different sizes of pizza available, and heaps of pasta and salad trays which cater for 8 to 10 people, Paisano's is an excellent crowd-pleaser for a day at sea. Depending on the length of your guest list, you can choose either 14 inch, 16 inch, or 24 inch pizzas with a range of mouth-watering toppings, costing between $134 and $340 each. Paisano's also has a range of bottled beers and wines (ranging from $30 to $150) that they will deliver to the ferry pier for a piddly $20 charge. Corono and a Manhattan Special anyone?
Paisano's Pizzeria, localtions vary 
Click here to see the full menu and place your order

9. Maison Libanaise
Junk parties don't always have to be about pizzas and burgers, why not dig into some traditional Lebanese food? If you and your guests are up for some exotic nibbles, then Maison Libanaise's junk boat package is the perfect choice. For $248 per head (minimum of 10 people required) they've got all your yummy needs covered, with everything from pita bread and baba ghanoush to roasted cauliflower and za'atar fried chicken and lamb kafta. And if you have room left, you can add a sweet fruit platter and baklawa into the mix. You can also place your order via the new delivery app, Black Sheep Restaurants GO, and they'll deliver it straight to the pier in Central.
Maison Libanaise, (+852) 2111 2284
Email [email protected] for more info and orders
---
10. Don't Forget the Wine!

WINE MOMENTS
No junk is complete without a few bottles of vino – or better still, sangria! Now making this epic drink can be a hassle, especially on a rocking boat, but the clever team at WINE MOMENTS have come up with the perfect solution in the form of their irresistible fresh sangria which comes with your very own wine bag (for $350) to keep it cool! Being the experts on which wines suit which occasions, they've also come up with a super selection of vino that's ideal for a BYOB party at sea – check it out, we love the Horny Rosé! With prices starting from just $80, this is a great and affordable option to quench your thirst and meet your budget. Make sure you place your order two days in advance of your junk and they'll even deliver it to the pier non the day. Now how's that for service!
WINE MOMENTS, (+852) 2111 9291
Orders over $500 are not charged with delivery across all of Hong Kong
Bidvino
We love a bundle buy – especially when it involves wine! Whether you're a red, white, or rosé drinker, premier wine retail and auction website Bidvino has got you covered. Their wines for events include tailored packs with fabulous names (The Rumours are True and The Italian Job are our favourites) and a selection of affordable glassware packs from Riedel, all at a very reasonable price. With wine packs ranging from $965 to $2,640, and tailored options just a quick call away, these are a surefire way to keep any party of pals happy, large or small.
Bidvino, (+852) 5803 3054
Click here to see the event packs and place your order

---
Read more! Check out Top 10 Junk Boat Companies, or explore our Food & Drink section.