Whatever your age or language level, the Hong Kong Institute of Languages is a one-stop-shop for mastering a new language and enriching your life. The Institute, which has been teaching seven languages – including English, French, German, Spanish, Mandarin, Cantonese and Japanese – to Hong Kong's families, corporations, and schools for 34 years, has a proven track record of successful learning through 100 percent face-to-face teaching in small groups or private lessons with only qualified native speakers.
Whether you want to learn or improve a second language, prepare for language examinations, meet professional job requirements, or simply enhance your personal life, the Institute can help you achieve your goals. The Institute provides language courses from beginner level to advanced for teenagers and adults, and has two subsidiary education businesses teaching languages to children, schools, and corporations.
---
A Highly Successful Teaching Approach
The Institute has developed a highly successful teaching approach, incorporating multimedia learning and oral communication skills, designing its courses to make learning as engaging and interesting as possible. Courses are taught by qualified native speakers and cater for students from beginner to advanced level.
The learning mode is either private classes or small group classes of up to 8 students, and the Institute also offers tailor-made private classes where students have specific language goals to achieve. Exam preparation courses are either private or small group classes and are designed to build confidence through learning exam techniques and practicing through mock exams. Courses are available 7 days a week from beginner to advanced level, so you can plan your learning around your busy schedule.
---
Express Learning
If you are pressed for time, the Institute has developed a new express learning method where the fundamentals of a language can be taught in just 24 hours. The Institute has commenced the new language offering with the French language and offers 7 products developed specifically around the needs of language learners who wish to learn a language quickly and efficiently. These include courses such as 'Intensive 24', where students can learn practical French language skills that can be put to use right away in social and formal settings, 'Cultural 24', where students will gain a foundation in the French language through connecting to the culture, and 'Travel 24', where students can gain the most from their holiday or work trip to French speaking countries.
---
Courses for Kids and Families 

The Institute offers a full range of courses for all ages and levels, all taught by qualified and caring native teachers. For kids aged between 1.5 and 12 years, the HK Kidz language school offers a fun and engaging way to improve their language skills through stimulating learning activities. HK Kidz has developed a creative proven approach to teaching languages, which focuses on giving youngsters positive reinforcement to boost their confidence while strengthening their ability to communicate in a different language. Classes are 100 percent face to face in dedicated facilities designed for children's learning, and the languages taught include English, French, German, Spanish, Mandarin, and Japanese.
Classes are available weekdays after school and the whole day on Saturday, and parents can choose from a learning mode of small group classes (4 to 8 children per class) or a tailor-made individual course for their child. Small group classes are organised by age and level to ensure a homogenous class dynamic that provides optimal linguistic progress. The school also offers tailor-made courses for the whole family, who can learn a new language together and enrich their life in Hong Kong.
---
New French Language Course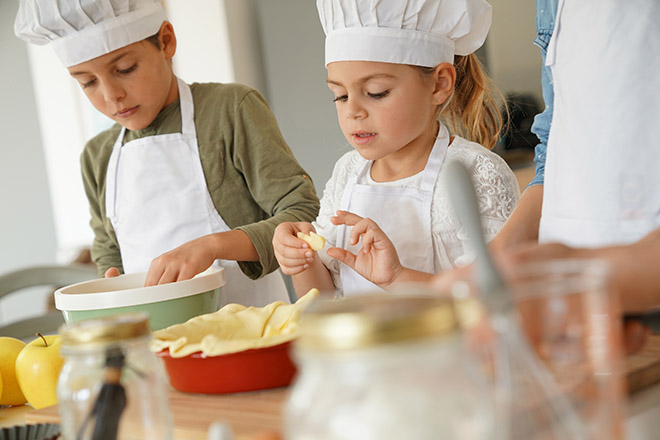 The Hong Kong Institute of Languages has also launched a new French Language Foundation course which is specifically designed for children aged 4 and 6 and 7 and 12, and aims to teach kids basic French and enhance their learning through the teaching of fundamental aspects of the French culture, such as French festivals, cuisine, iconic places, famous artists, and more. While each lesson is structured around a defined learning outcome, the course is fun and engaging and children learn through structured creative activities that bring the language to life. At the end of the course, students will be able to progress to Beginner 2 Level, which has the added benefit of assisting children with their applications to good Primary Schools that teach French as an optional language class.
---
Children's Language Activity Camps 
The school also provides dedicated language camps available during Easter, Summer, and Christmas. Aside from being culturally enriching, these camps are activity based and a lot of fun. The emphasis is on the spoken language to encourage children to speak as much as possible and become actively involved in each lesson.
---
Corporate Language Courses

HKIL Training Solutions is the corporate training arm of the Hong Kong Institute of Languages. Established in 1985, the Institute is one of the territory's leading providers of corporate language training with 34 years of experience in training professionals to develop their language potential and compete in today's multilingual global market. HKIL Training Solutions has taught the staff of many of Hong Kong's largest and most prestigious firms.
Located in the heart of Hong Kong's central business district, HKIL Training Solutions designs and delivers tailor-made language programmes in English, French, German, Spanish, Mandarin, Cantonese, and Japanese to corporate clients. Corporations can choose from a full range of courses for every need and business function from beginner to advanced. The services include employee testing and benchmarking as well as editing, proof-reading, and translation. Testing includes pre-employment assessment, BULATS, and Trinity tests.
All trainers are native speakers and qualified teachers with considerable experience of the Asia-Pacific corporate market and the needs and challenges faced by both Asian and European language users. HKIL Training Solutions currently has two courses registered with the Continuing Education Fund (CEF), which allows students to claim back up to 80 percent of your tuition fees. It also provides language training for schools, with courses including English, French, German, Spanish, Mandarin, Cantonese, and Japanese. Schools can choose from a full range of services including language assessments and benchmarking, language courses, including examination preparation, at all levels from total beginner to advanced.
---
School Locations
Central Campus: 3/F (children), 6F (adults), Wellington Plaza, 56 – 58 Wellington Street, Central
Wong Chuk Hang Campus: 306 – 307, Level 3, One Island South, 2 Heung Yip Road, Wong Chuk Hang (children only)
Corporations and Schools – teaching is provided onsite and at our Central location
Find out more! For more information about the different courses on offer visit the website or contact (+852) 2877 6160 |  info@hklanguages.com.
---