The sweltering season is once again upon us, and our diaries are filling up fast with beach days and junk parties – it's a hard life we know. So to help you look and feel fabulous in the waves this summer, we track down the hottest swimwear around to suit all budgets. From the cutest swimsuits to the funkiest trunks you can imagine, we've got you covered – quite literally!
---
---
For the ladies …
1. Flaming Flamingo

The flamingo craze is still going strong in the Kong with giant pink floaties, neon lamps, and countless garments paying homage to the quirky bird. If you're an avid follower of the trend, then this stylish Valeria Flamingo Swimsuit from Italian fashion brand Calzedonia is a must have. Grab one now before they fly off the shelves!
Where: Calzedonia
How much: $545
---
2. Peacock Dreams

We just can't get enough of birds can we, but whether or not you're bird-obsessed, this gorgeous asymmetric Peacock Swimsuit is a beautiful addition to your summer wardrobe. And with removable push-up padding and power lining for tummy control, it's practical too.
Where: Gourami Wan Chai, 176D Johnston Road, Wan Chai
Gourami Tsim Sha Tsui, 51 Carnarvon Road, Tsim Sha Tsui
How much: $799
---
 3. Summer Cutie
Channel your inner Marilyn Monroe with this adorable 1950s style scallop design Spring Halterneck Bikini. Dreamt up by the lingerie experts at local brand Sheer, this vintage beauty is as flattering as it is cute, providing all the support you need without sacrificing style. This halterneck top provides comfortable lift while the high waistline keeps your tummy nicely tucked in.
Where: Sheer, 13 Gough Street, Central
How much: $2,520
---
4. Club Tropicana
Summertime is all about rocking bright colours, and this vibrant Swimsuit with Frills certainly does the trick. At a very affordable $299, this frilly, sexy, and bolshy number is the ultimate summer buy featuring a cheeky wrapover V-neck design on the front, flirty frills, and narrow shoulder straps that cross and tie at the back.
Where: H&M (locations vary)
How much: $299
---
5. Miracle Maker

Thanks to the clever designers at US brand Miraclesuit, we can have our cake and eat it. Available in US size 10 to 16, this figure-flattering Miraclesuit Classics Isabella one piece works to lengthen the torso, minimise the waist, elongate the legs, and hold the tummy in for a slim silhouette. We love the pretty halter neck tie and flirtatious ruffles, but if frills don't float your boat, you can take your pick from 300 other options on their website to find a companion you'll love all summer.
Where: Miraclesuit online
How much: USD168 (approximately HKD1,300)
---
For the gents …
6. Junk Trunks
Going on a junk? Need some trunks? My do we have a treat for you. Inspired by the city we call home, these Junk Sunrise bathers from local brand Mazu Swimwear are adorable and practical. Not the cheapest trunks around, we'll be the first to admit, but come on – just look at them. If you love Hong Kong as much as we do, you'll snap these up in no time.
Where: Mazu Swimwear, (locations vary)
How much: $1,400
---
 7. Juicy Watermelons

Nothing screams summer like a big, juicy wedge of watermelon, and clearly, Topman feels the same way with these delightful trunks. We love a man who's confident enough to rock the pink, and these very affordable Pink Water Melon Swim Shorts are the perfect excuse to. Plus, online shopping means you can avoid the sauna-like streets of Hong Kong trying to find some trunks for your next junk. Win win.
Where: Topman online
How much: Approximately $200 (based on pounds sterling)
---
Read more! Browse our Top 5 Summer Sandals
---
8. Pineapple Pants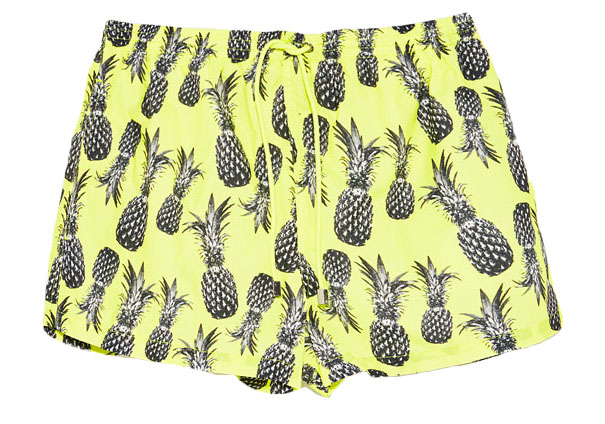 Who said pineapples were only for the ladies? You'll be hard to miss in these striking Printed Trunks from Zara, which scream summer fun in the sun. There's no excuse not to snap these bad boys up when they're on sale for a bargain $139. They're pretty bright though, so you might want to throw a pair of shades into your online trolley while you're at it!
Where: Zara online
How much: $139 (original price $199)
---
Read more! Make a splash at Hong Kong's Coolest Outdoor Pools
---
9. Burger Babe
Summer diet? Yeah right. Ditch the salads and hoard some calories with these adorable Pink Burger Print Swim Shorts from Next. We're loving the 80s vibe of these retro bottoms and while you may not look like a health freak, mouths will certainly be watering. At $108, they're an absolute steal, and they're also available in boys size in case you want to match your little side kick.
Where: Next online
How much: $108
---
10. Tarzan

Ooh, hello Tarzan! Be king of the jungle – or the junk – with these tropical Short Swim Shorts, which come in at under $150 – bargain! Now all you need to do is find your Jane – you never know, there could be a summer romance on the cards. Why not don these bad boys and find out!
Where: Zara online
How much: $149
---
Read more! Plan the ultimate party at sea with one of these Top 10 Junk Companies, and check out these amazing Pool Floats.