We sink our teeth into a selection of traditional Chinese dishes at the quirky new restaurant that claims to "bring Hong Kong's DNA to life".
---
If you're looking for modern Chinese food with a touch of drama then you'll love new restaurant Dragon Noodles Academy. Located in a prime location on Des Voeux Road Central, this quirky dining spot boasts a five-metre long dragon at its entrance, 12 handmade lion heads along its walls, and a Chinese clinic-themed bar with spirits and liqueurs presented in antique Chinese herb containers.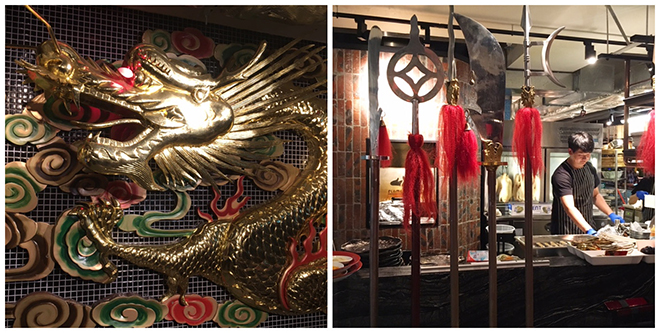 The theatricals don't stop at the decor either – the restaurant's open kitchen showcases a lobster noodle station where you can watch chefs prepare four varieties of handmade noodles, paired with a slow-cooked broth and lobsters cooked three ways – claw, grilled tail, and tail meat wontons. If you're seafood mad, then this is the spot for you.
The Crispy Lobster Puff ($69 per piece) makes an adorable starter, while the Lobster Tail Soup Noodle ($149) is a must order. The real winner, however, is the Wood-Over 8-Week Whole Peking Duck with Pancakes ($499/12 pieces), which steals the show with both taste and presentation. Served right at your table in three different ways – crispy golden skin, tender meat, and skin with meat – and paired with cucumber, melon (yes, melon), leeks, and pink cabbage, this quacker is delicious, non-fatty, and totally worth coming just for this. Just make sure you pre-order before you arrive, and be prepared to choose a second course to use up the remaining duck – if there is any!
Aside from the duck, we must give a shout out to the adorable Baby Cabbage Florets with Ham ($99) which are almost too pretty to eat, as well as the wholly edible Tiramisu Garden ($49) which tastes as divine as it looks! Great value for money, great aesthetics, great location – what more could you want!
Dragon Noodles Academy, Shop G04, G/F Man Yee Arcade, Man Yee Building, 68 Des Voeux Road Central, Central, (+852) 2561 6688
---
Still hungry? Read our other restaurant reviews, or explore our Food & Drink section.