If the sight of snakes and boggly-eyed reptiles makes your skin crawl then you might want to look away now, because Hong Kong's first wildlife inspired cafe has set up shop on Hollywood Road, and we went to meet its residents.
---
---
Snakes, and lizards, and tree frogs… oh my! If you grew up loving rainforest critters, then you'll be thrilled to know that some of them have moved in at number 19 Hollywood Road – aka Cafe Animojo. Founded by wildlife conservationist, animal presenter, and wildlife photographer "Goatee" Toni Kingston, the new cafe gives Kongkongers the rare opportunity to come face to face with animals they don't usually encounter and learn about their natural environment.
Among the new residents are Matthew the snake, Spike the lizard, and Amy the hedgehog – just to mix things up a bit. All hand-reared by Toni himself (and legally imported or adopted, we must add) these "nature ambassadors" will be displayed in rotation, to allow them some healthy downtime away from the spotlight, and to give diners the chance to see a good selection of Mother Nature's most exotic specimens.
Raising animals domestically to help ensure that the species have continuity is something close to the founder's heart, and he hopes the concept will pique people's interest in important bio-diversity hotspots around the world, and raise their awareness of the need to protect them.
Seated among six glass terrariums which house the colourful creatures, guests can tuck into a modest menu with simple home-style dishes such as Mediterranean Vegetable Stew with 16-grain rice ($168), Typhoon Chicken Kara-age ($88), Tomato Sukiyaki Spaghetti ($188), as well as Tea Latte ($46) made with coffee beans from Kenya.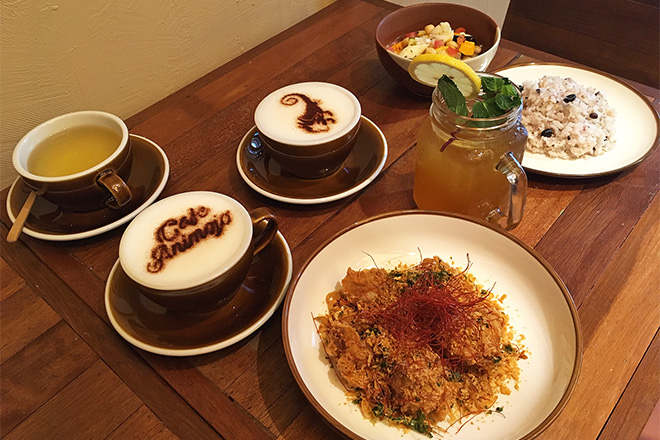 So, if you're looking to get a quick caffeine fix (because let's face it, with these hefty prices you'll probably want to stick with just a coffee), or you want to keep the kids entertained, then swing by and meet your new neighbours… just don't get too close!
Café Animojo, 19 Hollywood Road, Central, (+852) 2986 8289
---
Read more! Discover more fun Themed Cafes in Hong Kong.