When it comes to kids parties, decking out your home, welcoming hoards of little ones, and facing the ensuing disaster zone after the fun is over isn't everyone's cup of tea – we hear you loud and clear. Not to worry, Hong Kong has loads of kid-friendly venues available for rental. A plain canvas, a pre-decorated space, a helpful team in tow – you name it, we found it.
---
---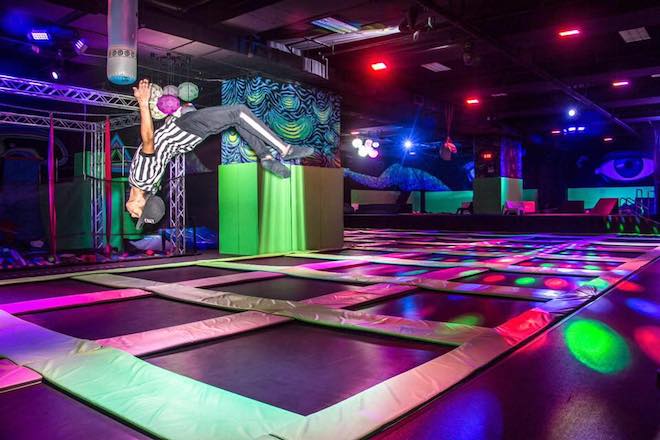 1. Ryze Ultimate Trampoline Park

Featuring 40 trampolines spanning 7,000 square feet of interconnected jumpy goodness, Ryze is a surefire way to get the adrenaline pumping at your kid's next birthday bash. Birthday packages include a one-hour flight pass, exclusive use of the party room for 45 minutes after flying, a party hostess to assist with setup and cleanup, table covers, plates, utensils, cups, napkins, and a special shirt for the birthday boy or girl.
Ryze Ultimate Trampoline Park, Kodak House 1, 321 Java Road, Quarry Bay, (+852) 2337 8191
How much: $2,700 – $6,200 depending on the number of guests

---

2. Techbob Discovery Center
Throw your kid's birthday party at Techbob Discovery Center's impressive 4,000 square-foot space at The Pulse, where they can enjoy activities such as robotics, web coding, interactive games, and architectural building. With four game zones to explore, as well as a Discovery Game Screen that lets kids play different motion sensing games, little party guests are guaranteed to have a fun day to remember.
Techbob Discovery Center, Shop 206-208, 2/F, The Pulse 28 Beach Road Repulse Bay, (+852) 6218 2306
How much: Weekdays full-day pass: $240, Weekends and school holidays 3-hour pass: $350 / Full-day pass: $390 (includes 1-hour workshop)

---

3. Panda At Home
Ball pool? Check. Slides? Check. Space tunnel? Check. Professional photographer? Check. This modern, 1200 square-foot venue in Lai Chi Kok offers everything you need to keep energetic party guests entertained, along with your very own photographer to capture all the fun moments during the day. Now you won't have to scramble around for your phone every two seconds trying to snap the cuties having a blast.
Panda At Home, Room 1104, 11/F, Block A, Wing Kut Industrial Building, 608 Castle Peak Road, Lai Chi Kok, (+852) 2332 3153
How much: $3,980 – $5,680 per three hours

---

4. EpicLand

Biggest doesn't always mean best, but when it comes to party venues, EpicLand's 14,000 square-foot indoor playground is a mecca of fun. This vibrantly coloured setting has it all – slides, obstacle courses, mini golf, and even a dedicated laser tag room for the big kids. The only catch is that you will have to make your way over to Discovery Bay if you want your kids to have their birthday bash in this incredible playroom – it's definitely worth it though!
EpicLand, G/F, 31 North Plaza, Family Recreation Centre, 96 Siena Avenue, Discovery Bay North, Lantau, (+852) 2441 0098
How much: $148 – $168 on weekdays, $188 – $200 on weekends (contact for quotes on party packages)

---

5. Messy Jam
Any parent or educator will know that there are fewer things kids love more than making an absolute mess. So why not give your children the best birthday gift by throwing them an art jamming party where they can unleash their creativity at the Messy Jam art studio. The best thing about this kind of party is you will only have to worry about cleaning up their little paint-stained hands and faces afterwards.
Messy Jam, Flat D, 2/F, Tai Fat Building, 37 Ko Shing Street, Sheung Wan
How much: $600 – $3,800

---
6. Maggie & Rose
With vibrant entertainers, tasty food, and dedicated party planners on offer, the lovely team at Maggie & Rose will make sure your child's every whim is taken care of, allowing you to kick back and relax on your little one's special day. This beautiful beach club in Repulse Bay offers an impressive 9,000 square-foot internal space on the 3rd floor, as well as a 7,000 square-foot roof terrace that overlooks the stunning beach. If this is too far for you though, Maggie & Rose have also recently opened up a hip new space in the prestigious Lee Gardens Two in Causeway Bay.
Maggie & Rose, 301 The Pulse, 28 Beach Road, Repulse Bay, (+852) 2638 7191
How much: Contact for quotes on party packages
---
7. Treasure Island Group Campsite
Fresh air, the great outdoors, and songs around the campfire – sounds good to us. Hire out Treasure Island Group's campsite near Pui O Beach and watch little party-goers get to grips with tent poles, explore the surrounding natural area, and cool down in the nearby ocean. As the sun sets, it's time to fire up the barbecue and fill up on sausages and marshmallows. Alternatively, you can choose between a curated beach party, adventure party, or watersports party, where the staff can help you out with everything from qualified instructors, beach games, watersports equipment, and even snacks.
Treasure Island Group, Pui O Beach, Lantau, (+852) 2546 3543
How much: $5,000 for half-day / $8,500 for full day (contact for quotes on party packages)

---

8. Baumhaus Playroom
A birch wood treehouse is the star of the show at spacious playroom and coffee lounge, Baumhaus. The party package includes two hours in the playroom, with a 45-minute drama, music, or movement session included. And while all the youngsters are busy, you can lay out your homemade party spread over three reserved tables in the coffee lounge. We hear news of a second branch opening soon in Tsim Sha Tsui too, so keep your eyes peeled for more information if a Kowloon-side venue is what you're after.
Baumhaus, 36 Queen's Road East, Wan Chai, (+852) 2321 5898
How much: $3,500 for 10 children (an extra $150 per additional guest, maximum of 10)
---
Read More! Check out 10 Best Children's Party Entertainers, or explore the rest of our Family section.