As much as playing host to a dinner party speaks to the accomplished event organiser in us, we've all run into issues before while entertaining friends and family. If we're eating out, there's a time or space restraint; if we're at home, we're too busy cooking and cleaning to properly spend time with our loved ones. But there's a simple solution to these logistical issues: hiring a private chef to do the work for you.
Now, before writing it off as a luxurious commodity that lies beyond your entertaining budget, hear us out. MobiChef, a personal chef hiring platform based in Hong Kong, gives us their top insights on why indulging in serviced gourmet dining at home does not equal breaking the bank.
---
Why hire a private chef?
Serviced gourmet dining at home was created as a convenient alternative to dining out. It's so much easier to keep an eye on the little ones when you're not shuttling to and from the kitchen and dining room, and you have ample time to socialise. Corkage concerns are also a bygone, as you can source your own favourites to pair with your meal. Potential diners can book a private chef online and kick back as the professionals do their thing. With hiring private chefs, it's easy to get together and experience a world of fine cuisine in the most comfortable place of all—your own home. 
---
How do I hire a private chef?
Actually, hiring a private chef in Hong Kong is as easy as clicking a button. As one of the leading serviced gourmet dining platforms in Hong Kong, MobiChef matches private chefs to diners looking for an exceptional dining experience at home with just several simple procedures.
On MobiChef's website, simply input your desired date for a dinner party and mealtime preference (lunch or dinner), and see what menus are being offered by private chefs. Looking for something more specific? Choose your preferred cuisine to narrow down your menu results. Your selected private chef will confirm your booking within 24 hours. On the day, your chef will arrive in advance to prepare your meal, you can kick back and enjoy exquisite gourmet food, and the chef will handle the cleaning of cookware. Easy peasy!
---
What added benefits do I get from using MobiChef?
Aside from an indulgent experience of being catered to by a private chef, regular gourmets on MobiChef are rewarded for their excellent palates, too. Dining Rewards points can be collected to redeem a MobiChef e-voucher. Gourmets receive a point every time a private dining experience is completed, with a 180-day validity. The validity is extended by another 180 days when a new point is earned. Collect five points before the expiry date and Gourmets will receive an e-voucher with a value equal to the average menu price per person of their five home restaurant experiences.
Nothing catching your fancy as you're browsing the MobiChef menus? The private chefs on the platform also offer tailor-made menus for every occasion. Simply ask the Concierge to help match your needs to their handpicked personal chefs. Fill in the form on the site or WhatsApp them at (+852) 6115 3175, and all your concerns will be addressed within two working days.
But that's enough shop talk for now; let's see what fabulous creations we got to try over lunch, courtesy of three private chefs. If these dishes get you drooling, you know where to turn to for a taste—the booking platform on MobiChef, of course!
---
From Chef Marc: Chilled Abalone with aged Chinese wine marinade, and Ginger Soy-Glazed Fried Fresh Water Eel
From Chef Giuseppe: Beef Tenderloin with Green Pepper Sauce
From Chef Giuseppe: Pan-fried Hokkaido Scallops with Asparagus and saffron sauce
Chef Hazel's Mango Sticky Rice with Mangosteen Wafers with butterfly pea flower rice
Chef Hazel's Sesame Crusted Ahi Tuna with Thai chillies & lime dressing
---
We had the pleasure of sitting down with Chefs Marc, Hazel, and Giuseppe after they prepared our delicious lunch to talk about their favourite meals, what they love about being a private chef, and how MobiChef has helped to expand both their own and Hong Kong's culinary horizons.
From left to right: Chef Giuseppe, Chef Hazel, and Chef Marc
Every private chef sources their own ingredients when they receive a booking, and this ensures that the chefs can create fresh, seasonal dishes using the best produce available to them. Chefs have a high amount of freedom working for MobiChef, from designing their own diverse customised menus and experimenting with different flavour combinations to fusing cuisines from all parts of the world. MobiChef aims to be a stage for chefs to share their creations with foodies and the wider culinary scene. Hazel, in particular, was invited to cook a private lunch and dinner at a resort in Chiang Rai. Since they don't have to worry about rent and overhead costs like a regular restaurant would, they can focus more on the ingredients, cooking, and personalised services. Feel free to interact with the chefs during your event as well to glean some of their culinary insights.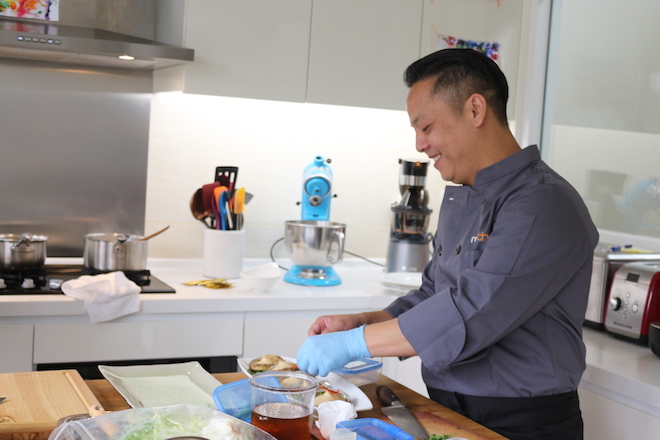 Chef Marc
Experience: "I've been cooking professionally since I was 15."
Cooking style: Traditional Cantonese and Shanghainese cuisine with Korean and Japanese influences, inspired by his time growing up in California
Favourite meal: "I grew up in Yuen Long, so the seafood restaurants at Lau Fau Shan were my family's go-to area for family gatherings and other special occasions. It's a must-visit, they have the freshest, highest quality seafood in the whole of the city. Although I may be biased as my family has connections and we get the catches of the day reserved for us."
Favourite meal ever made: "I moved back to Hong Kong from California in 2011 and I wasn't working in the kitchen at the time. When I finally decided to get back into cooking, I had the opportunity to prepare a Mid-Autumn Festival dinner for my entire extended family of about 20–30 people. I made some family favourites and my signature dishes, such as Shanghainese Lion's Head (Braised Pork Meatballs) and Chilled Abalone. It was my last chance to cook for my grandfather, who passed away shortly after, and it meant the world to me to make them smile with my cooking. Family is the most important thing to me."
Chef Hazel
Experience: "I've been cooking since I was a child, studied nutrition science in university, then furthered my studies at a culinary school in Hong Kong while working in Italian restaurants. I was also the demi-chef at the Football Club."
Cooking style: Authentic Thai and Thai-Italian fusion
Favourite meal: "Any meal I've made and eaten with my mum and grandmother back home in Thailand, with ingredients picked from our own fruits and vegetable garden. I believe in healthy, wholesome cooking—no GMOs, no pesticides, clean and nutritious."
Favourite meal ever made: "I surprised my fiancé for his birthday with a home-cooked dinner. I made his favourite dishes: a Thai-Style 3-Month Dry-Aged Rib-Eye Steak, my special recipe Pineapple Fried Rice, and a Blueberry Zabaione for dessert. The best way to a man's heart is to his stomach after all, and there's a reason we're getting married now!"
Chef Giuseppe
Experience: "More than 10 years in many different places. I started in Sicily then had my own restaurant in Moscow and now I cook with MobiChef when I'm not taking care of my baby daughter."
Cooking style: Italian, Mediterranean and contemporary European
Favourite meal: "I was very impressed by Tate Dining Room & Bar in Hong Kong as well as Don Alfonso 1890 on the Amalfi Coast."
Favourite meal ever made: "A carrot cake with apricots and berry cream for my daughter's 1st birthday. It was an experiment as I had been working on a cake for a client, then I remembered that my daughter loves pumpkin, so I made a pumpkin jelly layer in the cake. I don't use sugar to sweeten the cake, just apricots so the cake isn't grainy. A close second would be the first dish I ever made for my wife. She was a guest at my old restaurant in Moscow and she ordered a Spaghetti alle Vongole. I went to speak to her at her table and we've been in love ever since."
Fun fact: Chef Giuseppe was a judge on MasterChef Junior Russia in 2016!
---
Interested in being a MobiChef yourself? Register yourself as a candidate on the MobiChef website. Suitable private chef candidates will be invited for an interview, where their work experience and background is thoroughly checked. If you make it through to the next round, a trial dinner experience is arranged for the team can get to know you better, as well as provide the potential private chef with a chance to showcase their serving skills. As of August 2019, over 40 private chefs have registered on the MobiChef platform, offering 20 diverse styles of international cuisines!
MobiChef
Find out more on MobiChef or Whatsapp (+852) 6115 3175
---