Halloween makeup can make or break a costume. Add the perfect amount of forward planning, practice runs, and water to your face painting palette, and you could end up being the evil belle of the ball. Take a wrong turn and get carried away, however, and you could end up stuck in a gooey, messy nightmare.
To avoid a makeup mishap, why not just take a page out of our spooky spell book and hire the professionals to do the job? We literally jumped at the chance to go under the brush and receive a freaky makeover with the talented team of Face Slap body painters, whose quirky, creative, and often downright wacky designs have grabbed the attention of Hong Kong party goers since the company launched here in 2015.
Whether you're going for 'sexy' or 'creepy', these girls sure know how to pull off the look you're after – and naturally, we went for the latter. One hour with our magical unicorn makeup artist, Jesa Mae Amparo (pictured above), and we were ready to hit Phocus Selfie Station for our spooky dooky photo shoot – and maybe scare some children along the way!
So ladies and gentlemen, without further ado, may we present to you the Cirque Du Soleil and Mexican Sugar Skull duo who are the Localiiz ladies …
Aren't we beautiful? …
It didn't take us long to get into character …
With the help of a little teddy bear …
That was until we got distracted by the colourful props!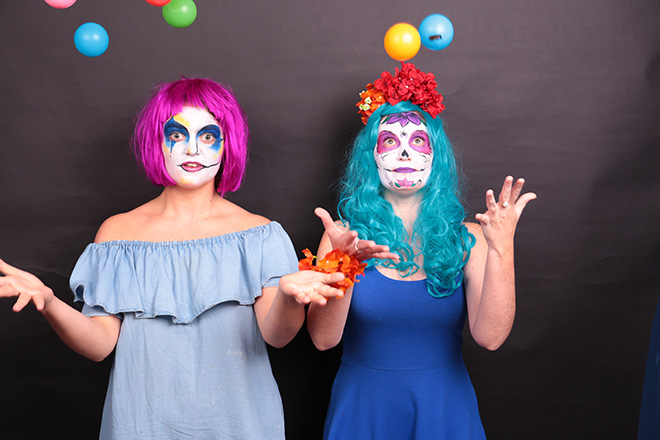 Of course! It wouldn't be Halloween without a giant banana …
… or a pilot's hat!

Happy Halloween Hong Kong!
Will you join the freak show?
---
About Face Slap – Face Slap offers fantastic and high-quality face painting services in Hong Kong, Beijing, Shanghai, and Macau for all occasions, including children's birthday parties, product launches, corporate events, weddings, and Halloween. Painters range from senior to intermediate and juniors, depending on your budget and what suits your party best. Contact the team to find out more.
About Phocus Selfie Station – The Phocus Selfie Station is not a traditional photo booth, it is a professional studio packed in a box. The station comes complete with high-quality photography equipment and all the fun props you need to create your own photos by simply pressing a single button. Contact the studio to find out more, or visit their studio in Mong Kok.
---
Read more! Check out this year's spookiest Halloween Happenings around town, and explore the rest of our Style & Beauty section.