The first few weeks of a baby's life is a time of wonder, hope, and unexplainable love, and one talented girl is here to capture it all. We spend five minutes with newborn, maternity, and family photographer, Janelle, who spends her days snapping adorable nippers around the city and immortalising precious family moments to treasure forever.
---
Advertisement
---
How did you get started in newborn photography?
After spending a few years in New York City, I returned to Hong Kong and reacquainted with a friend of mine who had recently given birth. Having studied photography in college, I had the opportunity to make my first attempt in taking newborn photos for my friend – and the rest is history.
Is this something you always knew you wanted to do?
Ever since I was little, I have always loved art and known that I would be in the creative field. I was blown away by the photography works that were created by some of my favorite artists such as Cindy Sherman, Diane Arbus, and Richard Alvedon while at university. I also have an interest in people and being a portrait photographer seemed to be a perfect choice.
So what does a typical day for you look like?
When I'm not doing a photo shoot, most of my days are involved in communicating with clients. Since I tailor every session to their desires, I need to get a good sense of what the clients are looking for before the session. Besides that, I'm editing photos, generating new ideas, and learning more about my industry through some of the art/photography blogs.
Do you shoot in a studio or at the homes of the babies?
For newborn sessions, the shoot is done on site at my clients' homes since the babies are too young (less than 10 days old) to travel and it's where the families feel most comfortable. For maternity sessions, 3-9 month-old babies, toddlers, and family portrait sessions, we can either shoot at home or somewhere outdoors like at a park or beach. My style is very natural and I'm normally not a fan of shooting inside a studio.
Do you use a lot of props in the shoots?
I keep my props very minimal since I don't want to take away the focus from the baby. I love to capture the relationship between the baby and parents, siblings, and their pets.
What equipment would I find in your camera bag or studio for a typical shoot?
A Canon Mark IV, Canon 50mm F1.2, Canon 100mm F2.8, and Canon 24-70mm F2.8.
What about lighting? What do you favor and why?

All natural light – it's the best way to bring out the softness and natural skin tone with newborns. Apartments with big floor-to-ceiling windows are absolutely my favorite. Generally, I don't need a lot of space and I'm able to make any environment work for me.
How much digital touch up do you do after each shoot?

It varies from photo to photo. I focus mostly on skin smoothening and color adjustment. It's quite common that newborns have jaundice and acne and both issues takes quite a bit of time to touch up. For maternity photos, I often need to soften the skin around the belly and emphasise the curvature of the moms.
What happens if the baby is crying or screaming uncontrollably? Any magic soothing techniques?
I partner up with Stella, a certified newborn nanny (pui yuet) and a grandma of a six year-old, to assist me and my clients on every newborn photo session. From our experience, one of the best ways to comfort a crying baby is to give them a little back scratch or massage while holding them in your arms. I also suggest to my clients before each session that the baby is well-fed before we begin.
Are there any memorable images or shoots you could share with us? What made them special for you?

On one occasion, we put a little pop corn on the baby's face to try and persuade her big brother to kiss her. Unfortunately, he took and ate the pop corn with no kisses in return and then ran away. We shared a good laugh during this moment. The whole scene was captured in sequence and the parents loved the photos. They now have a good story to tell the kids when they are older. Photos of breast feeding is always loved by moms. Who doesn't want to preserve this special moment in life?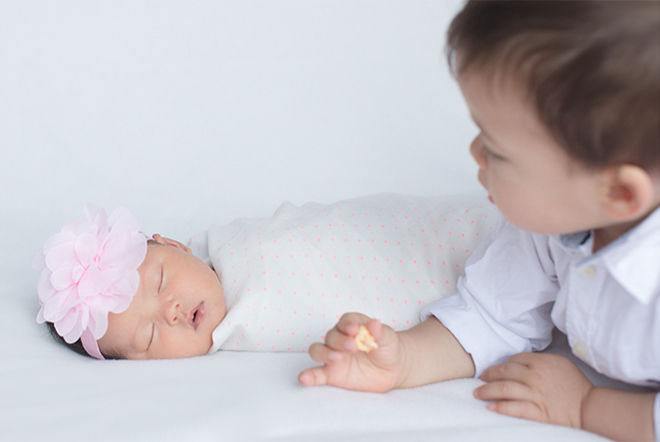 What's the strangest request you've had for a shoot?
Haha. That's a good question! The baby was fully nude and peeing suddenly in the middle of the session. Normally, we would stop and start cleaning up the space, but the mom insisted that I continue to capture her baby peeing on the bed. It was a baby boy and resulted in a huge mess! Apparently, a baby peeing on their parents' bed is considered to be good luck in some parts of the Chinese custom.
What do you think it takes to be a good newborn photographer?

Patience. Babies are highly unpredictable and they can be happy and fussy all at once! You can't pose or ask a baby to smile so you must genuinely love working with babies and people in general to be a good newborn photographer. Also, women deal with a lot of physical and emotional change after giving birth. Being mindful of their changes and encouraging (not forcing) them to be an active presence in the photos with their newborn are equally important.
How do you keep productive and retain your creative edge in Hong Kong's competitive environment?
I love visiting art shows and museums, especially when I travel, to stimulate my creative side. Working closely with many different parents often pushes me to create new ideas and different ways to conduct a photo shoot. I also do a lot of internet research to keep up. My style is very natural, clean, and minimalist which differentiates me from the crowd.
What has been some of the best advice given to you by another photographer?
Always listen carefully to what your clients are looking for. I'm not saying that I need to give up my style to please every client – normally clients who come to me are the ones who love my style already. When I say I listen to my clients, I'm describing a collaborative effort between me and my client to create photographs that we both love, while using their inputs and personal preferences as a main guide.
What special advice would you like to share with other photographers?
Find your niche and style and don't change yourself to whatever happens to be popular or trendy at the moment.
---
More about Janelle!

Janelle's attention to detail, bespoke photography service, and keen eye for naturally styled shoots make her photography a wonderful experience for the whole family. Knowing her clients' personal stories helps her to create a unique photo shoot experience and incredibly significant shots. And that's not all – all her post-shoot products that appear in print, framed photos, and albums are all custom designed especially for you. She also takes maternity and family photos so you can capture your family's journey in beautiful pictures and create a keepsake for your loved ones.
Want to create your own? Check out more of Janelle's stunning newborn and family photography on her website and get in touch to find out more and make a booking.
---
Read more! Spend Five Minutes With some of Hong Kong's most colourful characters, or explore our Family section.