Being multilingual is beneficial for numerous reasons, no matter what your age. For kids, learning a new language is best done at an early age as their minds are more receptive during these formative years. It also encourages them to be more open to foreign cultures which serves them well in adulthood. As for grown ups, it's super handy for when you're travelling, it allows you to meet new people, and employers love it when you are fluent in several languages. So, without further ado, here are some of the best foreign language courses for kids and adults around Hong Kong.
---
---
HK Kidz
Offering tuition in Cantonese, Mandarin, Spanish, French, German, Japanese, and English, the HK Kidz language school offers a fun and engaging way to improve their language skills through stimulating learning activities. Classes are available weekdays after school, and all day on Saturday for children aged between 1.5 to 12 years old. HK Kidz offers a creative proven approach to teaching languages, which focuses on strengthening children's ability to communicate in different languages and building more confident learners. Parents can choose either small group classes (capped at a maximum of 8 students), or a tailor-made, private course for their child.
HK Kidz, 6/F, Wellington Plaza, 56-58 Wellington Street, Central, (+852) 2877 6160
Units 306-307, Level 3, One Island South, 2 Heung Yip Road, Wong Chuk Hang
Contact for more details on prices
Berlitz
Students are spoiled for choice in terms of the languages on offer, which include French, German, Italian, Dutch, Mandarin, and Cantonese. Berlitz believe that youth is the easiest time to learn a language, and offer a wide range of programs for children and teenagers designed to stimulate and entertain while instructing. All are taught by highly trained, native-fluent speakers who are experienced with and enjoy teaching young people. The programs group children of similar ages, who learn while playing and participating in other activities.
Berlitz, 2/F, Lee Garden Six , 111 Leighton Rd, Causeway Bay (+852) 2157 2222
$485 for 45 minute Private Tutoring, $310 for 45 minute Semi-Private Lesson


Spanish Cultural Association of Hong Kong (SCAHK)
Spanish Cultural Association's Spanish courses stand out from the rest due to the small class set-up that they use. With adult group courses limited to a maximum of six students and the typical class size of three to four students for kids and teenagers, the school can ensure that each student's progress can be closely followed, while allowing plenty of interaction between teachers and classmates. SCAHK is also one of the very few officially accredited schools for the SIELE exam in Hong Kong, where students can get officially certified by the Spanish Ministry of Education.
Spanish Cultural Association of Hong Kong, Unit A, 13F, Eastern Flower Centre, 22-24 Cameron Road, Tsim Sha Tsui
1305 Cameron Commercial Building, 458 Hennesy Road, Causeway Bay, (+852) 3611 5904
Excellence in Languages
Excellence in Languages offers a wide array of languages you can choose from, including English, French, Spanish, German, Mandarin, Cantonese, Korean, Japanese and even Latin. The languages can be taught through courses, lessons, tutoring, and is available for all levels and ages. Their experienced team will cater to your individual needs, whether your child is taking their first step into learning a new language or is in need of examination support. Excellence in Languages (EIL) will also make sure that you will discover the differences and similarities in the culture and customs between your native country and the country of the language which you are studying.
Excellence in Languages, Unit A, 6/F, CKK Commercial Centre, 289 – 295 Hennessy Road, Wanchai, (+852) 2866 0608
Lessons start at $180 per hour


The Spanish Academy
Taking the crown as the second most widely spoken language in the world, Spanish is a strong choice when choosing an additional language for your child to study. Plus, at The Spanish Academy, classes are full of excitement and creativity – whether you're singing, painting, or cooking! Welcoming little ones through the door from playgroup age, The Spanish Academy's team of native teachers will be with your budding Spaniards every step of the way – with the opportunity to study abroad in Spain or Latin American when they hit their teenage years.
The Spanish Academy, Suite 701, Keen Hung Building, 80 Queen's Road East, Wan Chai, (+852) 6899 5497
Classes start at $1,200 per month.
Call A Tutor

Mastering Cantonese and Mandarin is a skill which will open a world of opportunity to your children as they grow up in Hong Kong, and the wider Asian region. Whether you're looking for a private tutor, a Chinese nanny, or a regular group session, Call A Tutor offers a range of teaching methods to help your little ones develop their skills. You can even arrange a playgroup with your youngsters and their friends in the comfort of your own home!
Call A Tutor, Unit 2101- 2102, 21/F, Wing Tuck Commercial Centre, 177 – 183 Wing Lok Street, Sheung Wan, (+852) 2572 8989
Contact for more details on prices
Excellence in Languages
Excellence in Languages offers a wide array of languages you can choose from, such as French, Spanish, German, Mandarin, Cantonese, Japanese, Korean, and Latin which are taught using three different methods. Private classes and semi-private classes (with two students) allows you to polish your existing language skills, enhance your career opportunities, or prepare for your studies abroad, while small group classes (no bigger than six) use a unique method of teaching you to familiarise yourself with the culture and customs of the country you are learning about. The centre offers the maximum degree of flexibility for students and provide tailor-made learning solutions that suit every student's needs – perfect for the Hong Kong lifestyle.
Excellence in Languages Education Centre, Unit A, , 6/F, CCK Commercial Centre, 289-295 Hennessy Road, Wan Chai, (+852) 2866 0608
Lessons start at $180 per hour
MI Learning
About a billion people worldwide speak Mandarin, a factor that is known to set you apart when applying for jobs. Realising that time is limited for many workers in Hong Kong, MI Learning is designed to work around your schedule to help you find the time to learn Mandarin, with classes available 24/7 around-the-clock – as long as you have a phone, an iPad, or desktop. They will also work with you to develop a program that will fit your needs in your daily life, making this a great option for busy bodies in Hong Kong.
MI Learning, Flat A, 2/F, On Dak Industrial Building, 2 Wah Sing Street, Kwai Chung, (+852) 3628 6388
Full online Mandarin Course costs $5,400
Hong Kong Institute of Languages
Hong Kong Institute of Languages has been at the forefront of teaching since 1985, catering to both adults and children. Whether you are beginner, or wish to improve a second language, meet professional job requirements, or want to study at an advanced level, they have the ideal course for you, be it French, German, Spanish, Mandarin, Cantonese, or Japanese. The Institute prides itself on creating a relaxed environment, with a philosophy that if students are enjoying the lesson and don't feel under pressure, this will lead to greater retention. Thus if you're looking to learn a new language in a fun, yet interesting way, this is the place for you.
Hong Kong Institute of Languages, Wellington Plaza, 56-58 Wellington Street, Central, (+852) 2877 6160
Prices start from $5,100 per module
Hong Kong Pro Language School
Hong Kong Pro Language School offers French, Mandarin, and Cantonese courses that are taught in three different formats. The Regular Course is centre based and available in either Mandarin or Cantonese, with the option to learn in the evening after you finish work. The Private Tutoring course is available in all three languages and can be taught anytime and anywhere, while the Corporate Training course ensures that teachers provide you with the set of materials needed to meet your learning requirements in Mandarin or Cantonese. This school is well known for enhancing its corporate clients' language skills to ensure maximum work efficiency.
Hong Kong Pro Language School, 3/F, Dah Sing Life Building, 99-105 Des Voeux Road, Central, (+852) 3702 1366
Prices start at $400 per hour for French, $300 per hour for Mandarin and Cantonese

International Language Centre
The International Language Centre takes the crown when it comes to the choice of methods you can use to study any of the seven languages it teaches, including Mandarin, Cantonese, Korean, Arabic, French, Russian, and Spanish. In total there are nine methods, including a Beginner Course, Writing Course, Company Training Course, and an Intensive Course. This centre has fully qualified and trained staff, and has the most updated teaching methods to make sure that you learn a new language in no time.
International Language Centre, 16/F, Man Yee Building, 68 Des Voeux Road, Central, (+852) 3796 2707
Fees range from $12,000 for a 30 hour package to 18,700 depending on the method

Language World
Understanding that you can be extremely busy and don't always have time to make it to class, Language World has set up a convenient transfer system where you won't lose any lessons. You won't be transferred to another teacher either, as they appreciate that establishing a strong teacher-student relationship is vital to your learning and achieving your goals. They offer Mandarin, Cantonese, and Japanese, and there are three teaching methods to choose from. All lessons last 50 minutes and can be taught as Group Lessons (with no more than 5 students), Private Lessons (where native teachers will focus entirely on your needs), and Business Classes (in groups or one-to-one). If you opt for the Private Business Class, the tutor will even come to your office and teach.
Language World, 10/F, Room C-D Cheuk Nang Plaza, 248-250 Hennessy Road, Wan Chai, (+852) 3460 5458
Group Lesson Package (24 lessons) starts from $5,500 and Private Lesson Package (24 lessons) start from $12,900

Sunny Day HK
Wish to be more immersed in the culture of Hong Kong or any culture of the language you choose? That's what Sunny Day HK specialises in – teaching students worldwide. They offer Arabic, Cantonese, French, Japanese, Korean, Mandarin, and Russia. All teaching methods will start with a personal consultation where you can determine your ideal package with flexible locations and hours. You can choose from Quick Start, which is taught in a lively and fast way, or the Beginner Course, which focuses on grammatical structures, communication in practical situations, pronunciation, and delving into country's culture. The Intermediate option is for students with prior knowledge.
Sunny Day HK, Room 1104 A, 11/F Kai Tak Commercial Building, 317-319, Des Voeux Road, Central, (+852) 3757 5550
Trial lessons start at $3,000 for four hours

Hong Kong Language School
If you already have the bare basics of either Cantonese or Mandarin, but lack confidence in speaking it, then Hong Kong Language School can help in both areas. The School focuses on building your confidence through group classes, allowing you to interact with your new classmates. The idea is that through group discussion you can also increase your creativity and learn from one another, including each others' mistakes. There are also group classes for corporate clients held under Corporate Training, which are designed to suit the needs of the company so the use of language targets your specific industry. However, if you are still too shy or simply lack confidence, there is the option to have Private Tuition which offers even more flexibility.
Hong Kong Language School, Room 1701-2, Tung Ciu Commercial Centre, 193 Lockhart Road, Wan Chai, (+852) 3622 2558
Course fees start at $2,900 for two weeks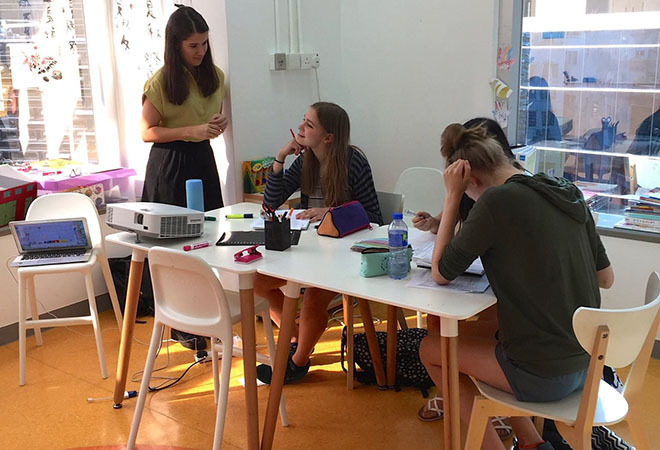 GAIA Language
Conveniently located between Central and Mid-Levels, GAIA Language not only offers English and Mandarin classes, but also Spanish and Latin in a clean, spacious, and bright environment. Its native Spanish teachers are uniquely qualified through the prestigious Salamanca Spanish Program, and bring the Salamanca International Spanish Curriculum (SISC) to Hong Kong. Recognising that language is not just about words, but about contexts, cultures, and mentalities, the centre focuses on content which is tailored to a variety of business industries including trading, banking, finance, tourism, medical, fashion, and design. Courses aim to inspire students with good literature at all levels. GAIA offers language classes for children too!
GAIA Language, G/F, 25B Caine Road, Central, (+852) 2530 9888
A one hour class costs $400
---
Read more! Explore the rest of our Family & Education section at Localiiz.