If the thought of hiking in the sweltering Hong Kong heat is too much to handle, then you might want to consider taking a scenic night hike instead. Adventurous blogger and night owl bluebalu shares her favourite Hong Kong Island trails with us in the hope of inspiring some after dark exploring around the 852.

---
---
There's nothing quite like taking a leisurely nighttime stroll to break up the working week, and I've got four favourite routes which are all on Hong Kong Island and take between 1.5 and 3 hours to complete. Let's get trekking!
Quarry Bay MTR Station to Tin Hau MTR Station
The distance is about 10km with an elevation of 600 metres. This hike takes me between 2 and 2.5 hours depending on how hot and humid it is.
Directions:
Quarry Bay MTR, turn right and follow King's Road
Turn right, walk uphill the Mount Parker Road for 3.5km
Once you reach Windy Gap (you can use the bathroom there) turn right and climb up Jacob's ladder to Mount Butler. That's part of the Hong Kong Stage 5
Walk halfway downhill and turn right (don't turn left to Jardine's Lookout, that's another hike). You are now on Wilson Trail Stage 2
After a short climb, walk downhill and turn left so you walk around the Quarry (not downhill back to Quarry Bay MTR)
Follow the foot path that leads you to the houses next to the Quarry
From there just follow the Sir Cecil's Ride road and Mount Butler Road downhill, for about 3km
I'll take a short-cut past the fenced-off government area (it's difficult to describe where it is, I'll have to show it to you or take pictures next time) to reach Tai Han Road and walk downhill to Tin Hau to have lunch/dinner
---
Quarry Bay MTR Station to Parkview
The distance is about 6.5km with an elevation of 550 metres (and about 1,800 steps!) to Parkview. This hike takes me between 1.5 and 2 hours depending on the heat and humidity. You can extend this hike to Violet Hill and the Twins, or you could walk downhill to Wong Nei Chung Gap Road and Bowen Road.
Directions:
Quarry Bay MTR, turn right and follow King's Road
Turn right, walk uphill the Mount Parker Road for 1km
Then turn right (at marker MPK42, which is at the small water fountain/basin) and climb the steps uphill until they end at Sir Cecil's Ride footpath. At this point, turn left and follow the path through the woods for about 1km
Now turn right and climb up all the steps to the top – there is a small food bridge to your left, you'll need to pass it and then climb Siu Ma Shan
Walk downhill, turn right and follow the Hong Kong Trail Stage 5 until you reach Jardine's Lookout
From there, you can walk or jog down Tai Tam Reservoir Road, turn right onto Wong Nei Chung Gap Road, jog downhill, then cross over to Bowen Road
---
Wan Chai via the Peak to the Central Ferry Piers
This is my route from the office to the ferry and it is about 13 to 14 km long. It takes me between 2.5 and 3 hours to complete. The elevation is around 1,000.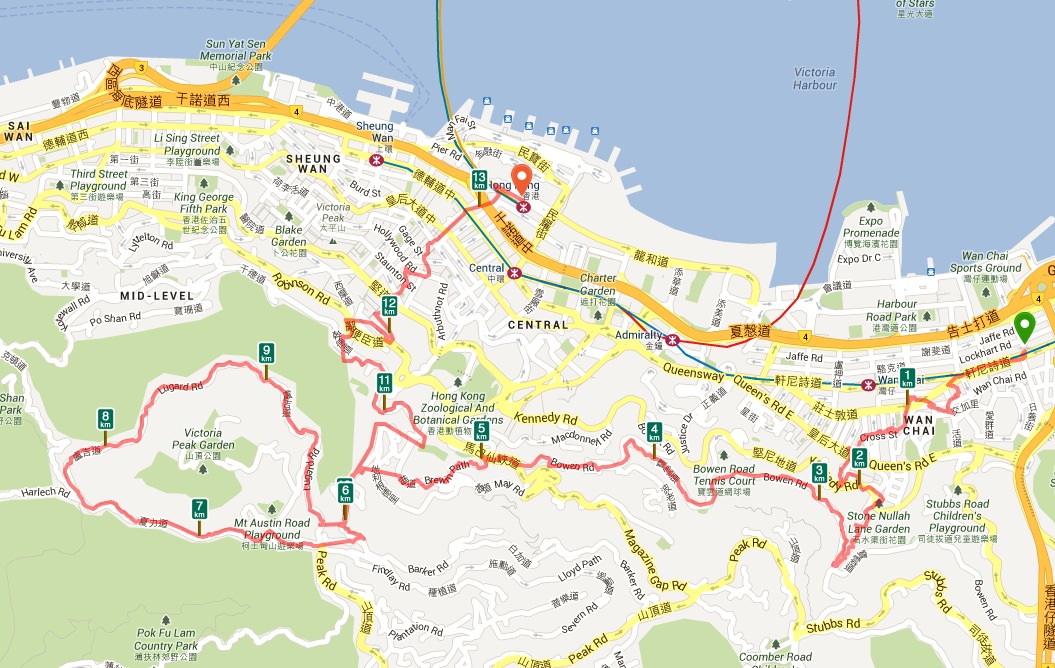 Directions:
Walk to the Hopewell Centre in Wan Chai and climb up the steps behind until Bowen Road
Follow Bowen Road all the way (3km) until you hit the Peak tram at Magazine Gap Road
From there walk uphill along May Road, Tregunter Path and all the way until the Old Peak Road
Once on the peak walk the 4km loop on Lugard Road (which is also the Hong Kong Trail Stage 1) – this part is easy as it is all flat, you just have to watch our for all the runners
Walk back down along the Old Peak Road  – I tend to turn left on Hornsey Road, walk past the Glenealy School until I reach the Mid-Levels escalator, and walk downhill to the IFC and ferry piers
---
Dragon's Back
This is an exciting hike to do at night time. It is about 10km long and takes between 1.45 and 2.15 hours to complete. Elevation is about 500 metres.
Directions:

The easiest way to get there is to take the number 9 bus from Shau Kei Wan MTR (exit A3) and alight at To Tei Wan
Climb up the hill and follow the final stage of the Hong Kong Trail
It is about 7.5km on the trail, before arriving at Big Wave Bay
There, turn left, walk across the beach, and start climbing up the 1,000 or so steps to join a path leading down to Island Resort in Siu Sai Wan
There are a few buses into Wanchai/Admiralty/Central or you can catch a mini bus to Heng Fa Chuen MTR
What are your favourite night hikes? Let me know, I'm curious to try them out.
Find out more about BlueBalu on Facebook page or follow her on Twitter.
---
Keep walking! Check out some our other Hiking articles, or take a gander at our Out and About section.