Whether you live in Hong Kong or not, the city is a well-known and frequently-visited business and leisure travel hub. While locals enjoy its proximity to exotic locations, many travellers from around the world enjoy stopping over on their way to destinations like Thailand or Indonesia, thanks to its unrivalled connectivity and direct flights. But beyond Phuket and Bali, there are a series of nearby destination hotels that are perfect for a quick weekend getaway from Hong Kong. Seasoned traveller and founder of luxury travel portal, The Suite Life, shares five of his favourites that lie within five hours of the 852.
---
---
1. Fusion Maia Danang, Danang, Vietnam
Danang is one of the most unique destinations within easy reach of Hong Kong, combining the tropical paradise appeal of sun, sea, and sand with the heritage and culture of Hoi An's Old Town. For those in search of a little R&R, Fusion Maia offers an ideal place to sit back and relax. Each of the 87 rooms here is a private-pool villa, with the option to have breakfast at your leisure at any time during the day. More importantly, the resort offers a 'blank cheque' approach to its spa – guests can indulge in as many spa treatments as they can handle in a day!
Total travel time: approximately 3 hours
Fusion Maia Danang, Vo Nguyen Giap Street, Khue My Ward, Ngu Hanh Son District, Da Nang, Vietnam, (+84) 236 3967 999
---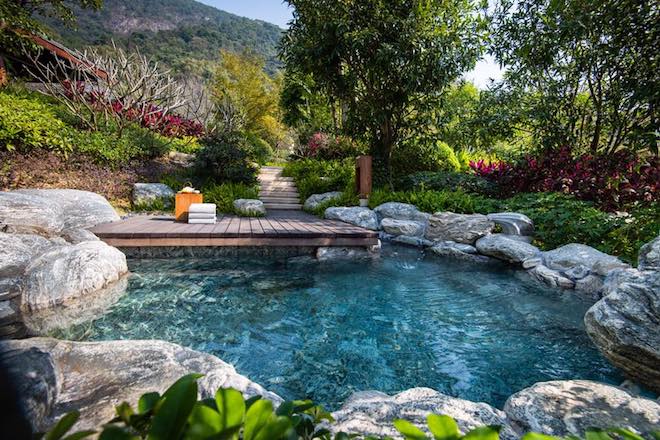 2. Imperial Springs, Conghua, China
Why fly and bother with the stress of airports and airlines at all? Most people haven't heard of Conghua, but may have heard of Guangzhou, which is only a two-hour train ride from Hong Kong. Guangzhou, a large bustling metropolis (several times the size of Hong Kong, and double the population!), is only a 60-minute drive from the hilly region of Conghua, which hosts famed hot springs and is popular for its fertile landscape that produces lychees. The Imperial Springs resort covers a large area and is inspired by ancient Chinese dynasties, featuring suites and several standalone villas with private pools and private hot springs, making it an idyllic summer and winter getaway.
Total travel time: approximately 4 hours
Imperial Springs, 1 Imperial Springs Avenue, Guangzhou, China, (+86) 20 3108 8888
---

3. Phum Baitang, Siem Reap, Cambodia
Angkor is a destination unto itself, with sprawling ancient monuments and temples, but Siem Reap, a 2.5-hour flight from Hong Kong, has become quite crowded. To escape the droves, head to Phum Baitang, just a 15-minute drive from the airport, where city life morphs into village life. Featuring 45 villas on stilts, modelled after traditional Cambodian wooden houses, the interiors and exteriors reflect a modern and understated luxurious take on Cambodian living, some with pools.
Total travel time: approximately 3 hours. Click here for The Suite Life's Video of Phum Baitang
Phum Baiting Resort, Sangkat Svaydangkum, Siem Reap 17000, Cambodia, (+855) 63 961 111
---

4. HOSHINOYA Kyoto, Kyoto, Japan
Designed like a modern-day ryokan (a traditional Japanese inn), HOSHINOYA Kyoto is set in the Arashiyama district of Kyoto, famed for its beautiful temples and Bamboo Grove. In this peaceful location, HOSHINOYA Kyoto offers a stay for the senses, with traditional Ryokan rooms overlooking the river and Kyoto's distinct seasons. The hotel also offers spa treatments with deep roots in Zen Buddhism, and a refined contemporary twist on classic banquet cuisine featuring the freshest of local ingredients.
Total travel time: approximately 5 hours
HOSHINOYA Kyoto, 1-2 Arashiyama Genrokuzancho, Nishikyo Ward, Kyoto, Kyoto Prefecture 616-0007, Japan, (+81) 570 073 066
---
5. Amanpulo, Palawan, Philippines
A private island resort with its own landing strip, this slice of paradise is surprisingly easy to reach – by Amanpulo's private twin-propeller plane. The destination resort is an hour's flight from a private hangar in Manila, which itself is only a two-hour direct flight from Hong Kong. With one of the softest, white-sand beaches and crystal-clear waters, this is a more accessible and arguably better alternative to anything in the Maldives. The resort's scheduled charter arrivals and departures are synched with international arrivals for Hong Kong, so a morning flight will leave you enjoying a drink by the beach in time for a late lunch.
Total travel time: approximately 5 hours. Click here to read The Suite Life's review of Amanpulo
Amanpulo, Pamalican Island, Sulu Archipelago, Palawan, Philippines, (+63) 2 976 5222
---
About the Author
Chinmoy spends his spare time travelling around and staying at the best hotels and resorts – all "part of the job" for his luxury travel portal The Suite Life, that covers the luxury travel segment. Check out his stunning Instagram feed at @chinmoylad
---
Read more! Check out our top picks for last minute holidays around the region, and explore the rest of our Travel section on Localiiz.