Forget Planes, Trains, and Automobiles, in Hong Kong transport is a much more varied affair. Not sure what to do when you've left something in a taxi? Want to discover how to escape to the outlying islands, or what you can use your Octopus card for? To help you get from A to B with no stress along the way, we've gathered together all the essential information you need – from timetables to special offers – and even some historical facts in this handy guide to public transport in Hong Kong. You'll be whipping around the city like a pro in no time, trust us.
Octopus Card | MTR | Airport Express | Buses | Minibuses
Taxis | Ferries | Trams | Ngong Ping 360 | Hong Kong International Airport
---
Octopus Card
Octopus Cards are a must-have for getting around Hong Kong. By tapping these smart cards on designated electronic readers, residents and visitors can use most of Hong Kong's public transit services without worrying about carrying the right amount of change.
You can also use these cards to make small transactions at convenience stores (7-Eleven, Circle K) and grocery stores (Wellcome and PARKnSHOP), as well as cinemas, racecourses, public swimming pools, theme parks, and public sports facilities. 
You can buy these cards at most MTR Stations. To recharge them, go to an 'Add Value' machine at any MTR Station, or approach the cashier at any 7-Eleven, Circle K, Wellcome, or PARKnSHOP store and hand them the value (in cash) you want to load.

Quick links:
Octopus Hong Kong
Where Can I Use It?
---
MTR
Serving as Hong Kong's main mode of transport, Hong Kong's Mass Transit Railway (MTR) Corporation boasts one of the world's most successful metro systems. MTR's sprawling 218-kilometre transit network carries over 5 million passengers a day. Car interiors are clean and comfortable and during peak hours, urban lines have trains running every 2 to 3 minutes, with prolonged delays extremely rare.
MTR commuters need simply tap their Octopus Card on the turnstiles at their origin and destination stations. Those without cards can purchase tickets at the automated booths or information desks in every station.
Be sure to look out for special schemes and frequent user passes:
Student, Senior Citizens, and Persons with Disabilities holding Personalised Octopus Cards can travel paying reduced rates
Hong Kong is dotted with MTR Fare Savers. Each of these electronic booths corresponds to a particular MTR station. Wave your card over the reader get $2 off your next trip from that station. Click here for a full list of MTR Fare Saver locations
With the Monthly Pass Extra, you can not only enjoy unlimited rides between designated stations during the valid month, but also get a 25% discount off the normal fare between non-designated stations
The MTR City Saver scheme allows cross-harbour commuters to receive a 40-single-journey pass valid for 30 days for just $425
Quick links:
MTR Website
Tickets and Fares
Journey Planner
Lost Property
Octopus Cards
Monthly Extra Pass
MTR Fare Saver Locations
MTR City Saver
Post Boxes

---
Airport Express
Scrambling to catch your flight? MTR's Airport Express lets passengers flying on selected airlines check-in at the Hong Kong and Kowloon stations. In the heart of the city, you can drop off your luggage, collect your boarding passes, and sit in for a relaxing 20-minute ride to Chek Lap Kok. If you are traveling in a group of 2, 3, or 4, you can enjoy reduced rates by heading over to any Airport Express Customer Service Centre (except at AsiaWorld Expo) and purchase an Airport Express Group Ticket.
To plan a trip and learn more about MTR service lines and ticket fares, visit the metro system's official website.

Quick links:
Airport Express
50 Percent Off Airport Express Offer
Octopus Cards

---
Buses
The majority of Hong Kong's public buses are double-deckers. Everyday, thousands of them pass through Hong Kong's narrow and winding roads to keep the city moving. Interiors are clean and air-conditioned.
Passengers board through the front of the bus and tap their loaded Octopus Card on the reader by the driver seat. On the handlebars are small red buttons with the word 'STOP' inscribed on them. Press these when the station at which you want to get off is next on the route.
There are three major public bus operators: Citybus, New World First Bus (NWFB) and Kowloon Motor Bus (KMB). Originally rivals, Citybus and NWFB are now both jointly owned by Chow Tai Fook Enterprises and NWS Holdings. They share a website that allows travelers to comfortably plan trips and view bus schedules. Both mainly operate in Hong Kong Island and Kowloon, while KMB – the largest of the three by fleet size and number of routes offered – mainly operates routes in Kowloon and the New Territories.
For those living in the New Territories who find it difficult to reach an Airport Express station, getting to the airport by bus offers a convenient alternative. Long Win Bus Company provides transport services connecting Hong Kong International Airport and North Lantau with the New Territories.
For traveling within Lantau, New Lantau Bus Company runs buses linking Tung Chung with Mui Wo and other villages scattered throughout the island.
Quick links:
Octopus Cards
Citybus
New World First Bus
Kowloon Motor Bus
Long Win Bus Company
New Lantau Bus Company
Hong Kong International Airport

---
Minibuses
As extensive and efficient Hong Kong's standard bus network is, there are many places double-decker buses cannot reach – that's where minibuses come in. Carrying no more than 16 passengers, they're more agile and can more easily dodge traffic jams.
The beginnings of minibus services can be traced back to large-scale riots in 1967 when minivans stepped in to carry commuters around after a bus driver strike brought transportation to a halt.
Ever wondered why some minibuses have red tops while others have green tops? The difference has to do with the types services that different minibus license-holders are allowed to provide. Franchised by around thirty different companies, Green minibus (GMB) services are more tightly regulated and their drivers are employees with fixed salaries. On the other hand, red minibus (RMB) drivers either own or rent the buses they use. GMB drivers operate on fixed fares, routes, bus stops, and schedules. However, RMB drivers can set their own routes and charge any fare they like. Red minibus drivers therefore have a financial incentive to step harder on the accelerator and make as many runs as possible – which might explain why they tend to get a bad reputation for being rowdy and aggressive on the road.
Many minibus drivers cannot speak English so it helps to know a few Cantonese phrases. When you want to get off, call out, "yau lok m'goi" (stop please) to the driver. Make your voice loud and firm so the driver can hear you over the roaring engine and chattering passengers. Although GMBs allow you to pay with your Octopus Card, not all red minibuses do, so be sure to bring enough change if you ride the latter.
Keep you eyes peeled for the Localiiz Number 22 minubus (pictured above), which runs from Caine Road, Central to Pok Fu Lam Gardens.


Quick links:
Octopus Cards
Transport Department Minibus Page
Green Minibus Route Finder
16seats.net Unofficial Minibus Routes Directory
---
 Taxis
Compared to those in cities like London, Paris, and New York, taxi cab services in Hong Kong are relatively affordable. Taxis here come in three different colours – red, green, and blue – each of which correspond to that taxi's designated operating area. Red taxis operate throughout most of Hong Kong, but are mainly found on Hong Kong Island and Kowloon. They are not permitted to operate on Tung Chung Road and the south side on Lantau Island. Green taxis operate in the New Territories, while blue taxis only service Lantau Island. For the first two kilometres, red taxicabs offer a starting fare of $22, green – $18.50, and blue – $17.
Taxis are quite easy to hire on the street. Just wave out your hand in front of any approaching cab displaying a small, bright red circular 'FOR HIRE' sign on its dashboard and inform the driver of your destination. Make sure you aren't standing by a road with double yellow lines lining its curb – cabs are not allowed to stop along these areas.
Every day, there is a major shift change from 15.30 to 16.30, which means that finding a cab around this time becomes hard. So don't be too surprised if around these hours, vacant taxis refuse to stop for you. Those seeking to cross the harbour often have an especially tough time finding a taxi willing to take them. The Transport Department has created special cross-harbour taxi stands throughout Hong Kong and Kowloon.
Strapped for time and can't find a cab in sight? Try calling one. Click here to view the Transport Department's list of authorised taxi call stations.
Top Tip! If you believe you have left something in a taxi, use the Transport Department's Lost Property 24-Hour Free Hotline: 187 2920
Uber
Depending on where you are and where you want to go, hiring an Uber cab might be a quicker and even cheaper option than hiring a taxi. If you haven't downloaded the app, visit Uber Hong Kong to look at the different services available and get an idea of the fares you'd be paying.

Quick links:
Cross-harbour Taxi Stands
Uber Hong Kong
---
Ferries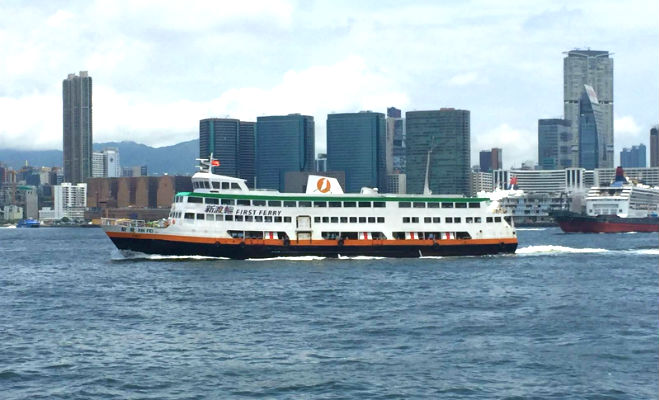 Hong Kong is essentially a cluster of 263 rocky islands laid out on the edge of the Pearl River Delta. The arterial tunnels and bridges that now link Hong Kong Island with Kowloon and the New Territories only came into being after the 1970s. Before that, ferrying across the deep and murky harbour waters was the only way to get around. Many populated islands remain only reachable by boat. Naturally then, Hong Kong boasts an expansive network of ferry lines and services to keep us connected.
The Star Ferry
To enjoy a quick, yet pleasant ride while crossing the harbour between Hong Kong and Kowloon, take the Star Ferry from Central Pier to Tsim Sha Tsui. Sit on the upper deck to fully appreciate Victoria Harbour's breathtaking scenery for $2.5 on weekdays, and $3.4 on weekends and public holidays.
Outlying Islands
Cheung Chau and Mui Wo (Lantau) – For those in the city centre who want escape the urban sprawl and visit the laid-back fishing villages in the Outlying Islands, New World First Ferry Services Ltd runs ferries every 30 minutes during peak hours linking Central (Pier 5) with Cheung Chau and Mui Wo.

Top tip! Make sure to take a fast ferry as they can take half the time it takes for normal ferries to complete the journey.
Lamma Island (Yung Shue Wan and Sok Kwu Wan) and Peng Chau – The Hong Kong & Kowloon Ferry Ltd operates routes from Central (Pier 4) to different villages on Lamma Island, including Yung Shue Wan and Sok Kwu Wan. It also runs ferries between Central and Peng Chau, and from Peng Chau to the islet of Hei Ling Chau.  
Discovery Bay (Lantau) – Discovery Bay Transportation Services Ltd ferries its fleet of catamarans between Central and Discovery Bay 24 hours a day. Ferries leave every 30 minutes. During the day, the journey takes around half an hour. At night though, expect the ride to take two to three times as long. Click here to view the latest ticket prices and current schedule.
Park Island – Check out Park Island Transport Company Ltd's website to explore services between Central and Park Island (just off the Eastern tip of Lantau Island).
Smaller Islands – If you're looking for adventure and want to head out to some of Hong Kong's smaller islands such as Tung Lung Chau or Tap Mun, you'll find ferry schedules on the Transport Department's website.
Macau
Want to try your luck in the 'Las Vegas of Asia'? Two main high-speed ferry services, TurboJet and Cotai Water Jet, can take you from the heart of Hong Kong straight to Macau in less than an hour.
Macau – To reach the Macau Ferry Terminal, ride with Turbojet. From 7am until midnight, a new ferry frequents the Hong Kong Macau Ferry Centre in Sheung Wan every 15 minutes. The standard fare for a single journey during the day ranges from $153 to $177. Click here to view the latest fares.

Taipa – Cotai Water Jet's high-speed catamarans operate on the same route, but it also runs ferry services between Hong Kong and the Taipa Ferry Terminal – just a 10-minute bus ride from the casino-lined Cotai Strip. Depending on whether you're departing from Hong Kong or Macau, a single standard-class ticket will cost between $154 and $177. Click here to learn more about Cotai Water Jet's schedules and fares.
Quick links:
Octopus Cards
Star Ferry
The Hong Kong & Kowloon Ferry Ltd
Discovery Bay Transportation Services Ltd
New World First Ferry Services Ltd
Park Island Transport Company
Hong Kong Transport Department
Macau Ferry Fares
Taipa Ferry Schedule and Fares

---
Trams
Vestiges of early 20th century Hong Kong, "ding dings" slowly coast through Northern Hong Kong Island's traffic-swollen roads on their slick steel tracks. Hong Kong Tramways' double-decker trams run on lines stretching from Kennedy Town all the way to Shau Kei Wan. They follow a different set of traffic rules and offer a practical way to travel through the city centre's busy streets. No matter where you are headed, a single ride costs $2.30 for adults, $1.20 for children, and $1.10 for senior citizens (65+). Passengers can pay fares with their Octopus Card or in exact cash when disembarking from the tram's front exit.
Celebrating a special occasion? Charter a party tram! Red and green antique trams are partially open-air and cost $1,550 per hour from Monday to Thursday and $1,900 per hour from Friday to Sunday and on public holidays.
Visit Hong Kong Tramways' official website to find out more about tram routes, schedules, and rental options.
Quick links:
Octopus Cards
Hong Kong Tramways
Online Lost Property Form

---
Read more! Explore the city aboard Hong Kong's First Ever Tram Tour 
---
Ngong Ping 360
Sat atop the distant, cloud-swept highlands of Western Lantau, Ngong Ping is one of Hong Kong's most alluring tourist and weekend destinations. The tranquil site hosts the century-old Po Lin Monastery and the majestic Tian Tan Buddha – among many other attractions.
With the Ngong Ping 360 Cable Car, your journey becomes even more ethereal than the destination itself. Head over to the Tung Chung Cable Car Terminal (a short walk from the MTR Station) where you can purchase tickets. While the gondola glides through the sky for 25 minutes, passengers can marvel at the sublime vistas of Tung Chung Bay, Hong Kong International Airport, and Lantau North Country Park.
A round-trip in a standard cabin costs $185 for adults, $95 for children, and $130 for senior citizens (65+). We recommend you book your tickets from the Ngong Ping 360 website. By doing so, you can collect your tickets at the Tung Chung terminal and take the fast lane to bypass the standard queues.
Keep an eye out for special promotions and packages. Here are a few:
On their birthdays, local residents who present a valid Hong Kong ID Card get a free round-trip ticket on a standard cabin
Until the 31st of August, Ngong Ping 360 will be running the Ngong Ping 360 Summer Butterfly Fest – holding dance performances and visual art displays to celebrate the hundreds of butterfly species that call Hong Kong home. Local students get 50% off any single or round-trip ticket they buy
With a '360 – Fun Pass Attraction Package' ticket, you get a round-trip on a standard car and free admission to the fun-packed 'Stage 360', 'Modern 360', and 'Walking with Buddha' attractions. With this package, a standard cabin round-trip costs $255 for adults, $170 for children, and $200 for senior citizens. Pay an extra $70 each to ride a glass-bottomed Crystal Cabin. Book online to enjoy a 10% discount
Quick links:
Ngong Ping 360
Prices and Packages 
Online Booking

---
Read more! Explore Lantau with our Island Guide
---
Hong Kong International Airport
Hong Kong International Airport (HKIA) is the world's busiest cargo gateway and one of the world's busiest passenger airports. A modern engineering marvel, the airport is built on an artificial island, formed by flattening the rocky islands of Chek Lap Kok and Lam Chau with heavy explosives and reclaiming land off of Lantau Island's northern coast.
Despite being a 40-kilometre ride from Central, the airport is highly accessible. As noted above, the Airport Express can transport passengers from Central to Chek Lap Kok in just over 20 minutes. Expressways and enormous suspension bridges provide wheeled vehicles with smooth corridors out of the territory's dense population centres and into Lantau.
HKIA has often been lauded as the world's best airport by the likes of Skytrax and Airports Council International. But like at any other airport, flights can be subject to frustrating delays and cancellations – especially when the weather takes a sudden turn for the worst during the summer typhoon season. If you are unsure about your flight's status, the airport's official website provides real time flight information on passenger arrivals and departures.
Quick links:
Hong Kong International Airport
Arrival Times
Departure Times
Airport Express
50 Percent Off Airport Express Offer
Octopus Cards
---
Read more! Check out our Calendar of Holidays and Events or get active with Your Guide to Hiking and Running Races in Hong Kong.