Craving a little more kick in your food? If you've been struggling to find good Sichuan restaurants in Hong Kong that offer the real gulping-down-water, sweating-and-on-the-verge-of-tears kind of spice that these dishes are known for, then you're in luck. From dan dan noodles to spicy hotpot, we've scoured the city in search of Hong Kong's best tongue-numbing Sichuan food. Whatever it is you're in the mood for, this list of standout restaurants is calling your name.
---
---

Twelve Flavors
Behind Twelve Flavors' striking, traditional Chinese exterior is some of Hong Kong's best Sichuan Food. The must-try here is the Boiled Fish with Pickled Cabbage ($198), made with Hakka, Yun Nan, and Sichuan pickled cabbages, boiled in a soup with white raddish, ginger, pig oil, chili, and fish. If that doesn't sound appealing, go for the restaurant's signature Numbing and Spicy Dried Hot Pot ($38 per pot + $22-$48 per ingredient). Diners pick from 25 different ingredients, which are then stir fried in a secret sauce and 12 different kinds of spices.
Twelve Flavors, 10 – 14 Sands Street, Kennedy Town , (+852) 6061 6514
---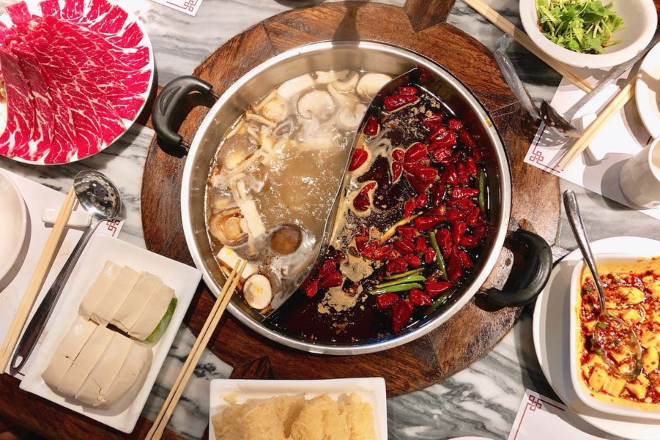 Man Jiang Hong
Named after a famous Song dynasty Chinese poem, Man Jiang Hong – which literally translates to "a pot full of red" – features dishes so spicy they will have you seeing red. The signature dish here is Spicy Chicken in Sichuan Chilli Sauce ($148 for half a chicken, $288 for a whole chicken), which is thought to be one of the best in Hong Kong. The cold, tender chicken slices are soaked in a deep pool of glistening red chilli sauce, and the spice hits you after a few seconds, but you keep on eating, because it's just so damn tasty.
Man Jiang Hong, 1/F & 2/F, Ka Wing Building, 27 Granville Road, Tsim Sha Tsui, (+852) 2312 0823
---
Read more! Discover the Best Food in Macau: Delicious Eats Every Foodie Must Try.
---

Liu Yi Shou Chong Qing Hot Pot
Recommended by Hong Kong's famous food critic Chua Lam, Liu Yi Shou Chong Qing Hot Pot, as you can guess by its name, is famous for its hot pot and mouthwatering variety of soup bases ($168 – $238) which you can mix and match. Die hard spice lovers should try the signature Spicy Soup Base for Hotpot in Original Chongqing Style ($84 for a half portion soup base, $168 for a full portion soup base), and choose between the mild, medium, and hot spice level. If you're with a friend who can't handle the heat, however, opt for a Yin Yang pot (two different half portion soups), and choose either the Nourishing Pork Bone Soup Base ($84 for a half portion soup base, $168 for a full portion soup base), or the Chicken and Coconut Milk Soup Base ($114 for a half portion soup base, $228 for a full portion soup base) to calm your palate.
Liu Yi Shou Chong Qing Hot Pot, locations vary.
---

Deng G Bistro & Baijiu Bar
For those who like their spice to tingle their taste buds rather than burn their mouth, pay a visit to this G spot in Wan Chai. Brought to us by acclaimed Chengdu Chef Deng of Deng G Shanghai, restaurant-slash-bar Deng G serves an exquisite menu of Sichuan dishes divided by flavour profiles, including Lychee, Ma La (numbing spicy), Hu La (hot spicy paste), Yu Xiang (fragrant fish), Salt and Pepper, and Dry Pot. You can't go wrong with any of the classic Sichuan dishes here, such as the Sliced Pork with Garlic and Chilli ($78),  Kung Pao Chicken ($128), and the litmus test for Sichuan food, Ma Po Tofu ($98). Wash it all down the Sichuan way – with a shot of Baijiu ($130 – $180).
Deng G, 2/F, Weswick Commercial Building, 147 – 149 Queen's Road East, Wan Chai, (+852) 2609 2328
---

Crazy Noodles
Rocking a comedic name and authentic Sichuan decor, Crazy Noodles offers some of Hong Kong's most authentic dan dan noodles. The restaurants's signature Crazy Dan Dan Noodles ($73) are served dry (without soup) to retain the strong flavours. Instead of soup, the chef uses a rich, savoury, and thick sauce with a generous amount of roasted peanuts, cucumber slices, minced pork, and chopped spring onions. Another traditional Sichuan classic dish to try is the Bang Bang Chicken ($28) – an assortment of meat and veggies soaked in chilli sauce.
Crazy Noodles, 1/F, Kai Tak Commercial Building, 66 – 72 Stanley Street, Central, (+852) 2311 3905
---
Read More! Check out The Best Art-Inspired Restaurants in Hong Kong, or explore our Food & Drink section.