Craving a little more kick in your food? Sichuan cuisine is definitely your go-to, and there is no shortage of restaurants in the city offering that sweat-and-tears-inducing spice you crave. Once you get started, you'll find that there is more to Sichuan food than that oh-so-familiar mouth-numbing feeling: there is also a wide variety of cooling dishes that offset the adventurous flavour as well. From dan dan noodles to spicy hotpot, we've scoured the city in search of Hong Kong's best Sichuan food. Whatever it is you're in the mood for, this list of standout restaurants is calling your name.
---
---

Twelve Flavors
Behind Twelve Flavors' striking, traditional Chinese exterior is some of Hong Kong's best Sichuan food. The must-try here is the Boiled Fish with Pickled Cabbage ($198), made with Hakka, Yun Nan, and Sichuan pickled cabbages, boiled in a soup with white radish, ginger, pig oil, chilli, and fish. If that doesn't sound appealing, go for the restaurant's signature Numbing and Spicy Dried Hot Pot ($38 per pot and $22–$48 per ingredient). Diners pick from 25 different ingredients, which are then stir fried in a secret sauce and 12 different kinds of spices.
Twelve Flavors, 10–14 Sands Street, Kennedy Town | (+852) 6061 6514
---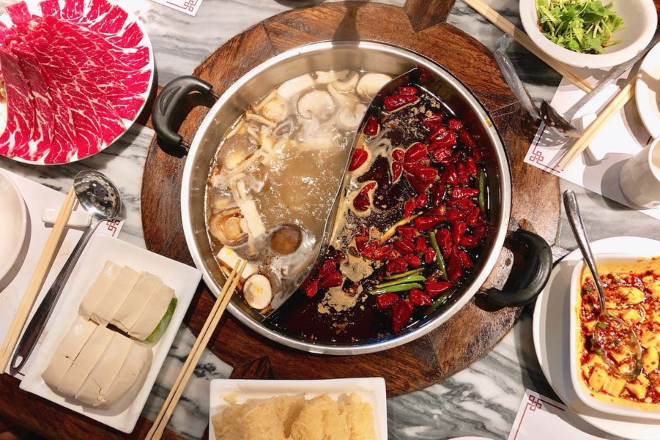 Photo courtesy of @yuuurie_1211
Man Jiang Hong
Named after a famous Chinese poem from the Song dynasty, Man Jiang Hong—which literally translates to "a pot full of red"—features dishes so spicy they will have you seeing red. The signature dish here is Spicy Chicken in Sichuan Chilli Sauce ($148 for half a chicken, $288 for a whole chicken), which is thought to be one of the best in Hong Kong. The cold, tender chicken slices are soaked in a deep pool of glistening red chilli sauce, and the spice hits you after a few seconds, but you keep on eating, because it's just so damn tasty.
Man Jiang Hong, 1/F & 2/F, Ka Wing Building, 27 Granville Road, Tsim Sha Tsui | (+852) 2312 0823
---

Liu Yi Shou Chong Qing Hot Pot
Recommended by Hong Kong's famous food critic Chua Lam, Liu Yi Shou Chong Qing Hot Pot, as you can guess by its name, is famous for its hot pot and mouthwatering variety of soup bases ($168–$238) which you can mix and match. Die hard spice lovers should try the signature Spicy Soup Base for Hotpot in Original Chongqing Style ($84 for a half portion soup base, $168 for a full portion soup base), and choose between the mild, medium, and hot spice level.
If you're with a friend who can't handle the heat, however (and why would you bring them to eat Sichuan food, anyway?), opt for a Yin Yang pot (two different half portion soups). Choose either the Nourishing Pork Bone Soup Base ($84 for a half portion soup base, $168 for a full portion soup base), or the Chicken and Coconut Milk Soup Base($114 for a half portion soup base, $228 for a full portion soup base) to calm your palate.
Liu Yi Shou Chong Qing Hot Pot, locations vary
---

Deng G Bistro & Baijiu Bar
For those who like their spice to tingle their taste buds rather than burn their mouth, pay a visit to this G spot in Wan Chai. Brought to us by acclaimed Chengdu Chef Deng of Deng G Shanghai, restaurant-slash-bar Deng G serves an exquisite menu of Sichuan dishes divided by flavour profiles, including Lychee, Ma La (numbing spicy), Hu La (hot spicy paste), Yu Xiang (fragrant fish), Salt and Pepper, and Dry Pot. You can't go wrong with any of the classic Sichuan dishes here, such as the Sliced Pork with Garlic and Chilli ($78), Kung Pao Chicken ($128), and the litmus test for Sichuan food, Ma Po Tofu ($98). Wash it all down the Sichuan way—with a shot of Baijiu ($130–$180).
Deng G, 2/F, Weswick Commercial Building, 147–149 Queen's Road East, Wan Chai | (+852) 2609 2328
---

Chuan Palace 
Not only is Chuan Palace a fantastic dim sum restaurant, it also boasts an impressive Sichuan food menu. It is designed and crafted by executive chef Lee Chi-Kwong, who boasts over two decades of experience at iconic Sichuan mala establishments like San Xi Lou and Golden Valley. The signature dishes here are elevated spins on beloved classics, such as the Sichuan Peppercorn Stewed Mandarin Fish with Green Chillies that's a lighter alternative to the traditional version with pickled mustard greens. The Prawns and Peppercorn Casserole is hard to find elsewhere and is mild enough that everyone can enjoy, while true mala enthusiasts can test their palates with the hearty Sichuan-Style Stewed Ox Tongue complete with sweet potato noodles, cucumber, peanut sprouts, and bamboo shoots. If you're looking to branch out from the usual suspects, Chuan Palace is sure to satisfy. 
Chuan Palace, Shop 501, 5/F, MOKO, 193 Prince Edward Road West, Prince Edward | (+852) 2339 1900
---

Chilli Fagara
The menu at Michelin Guide recommended Chilli Fagara is split into three sections according to flavour: Tang, the coolest option, perfect for those who still want to experience the rich Sichuan flavours without their sinuses watering; Ma, highlighting fagaras, the mouth numbing peppercorns; and finally, it's recommended by the chef to finish the meal with dishes from the La section, as its spice level is the highest.
For a simple side dish, go for the Mushu Wraps or Stir-fry Shredded Potatoes, and when you're ready to move on to something hotter, order the Kung Pao Chicken or Pan-Fried Mandarin Fish with Broad Bean Chilli Sauce. To round off the Sichuan exploration, the Michelin Guide recommends the signature Chilli Fagara Dungeness Crab and the chilli- and cumin-fried Leg of Lamb. Chilli Fagara is also a great option for those with special dietary requirements but still want a little spice in their life as it has extensive vegan, vegetarian, and gluten-free offerings. 
Chilli Fagara, 7 Old Bailey Street, Central | (+852) 2796 6866
---

Sichuan Lab
Sichuan restaurants can be speakeasies too, as evidenced by the secretive Sichuan Lab. Helmed by Chef Kenny Chan, a veteran chef formerly of classic Sichuan restaurant Yun Yan, Sichuan Lab offers modern takes on the broad Sichuan flavour profiles, unrestrained by region. Here you'll find classics like Sichuan Chicken and Ma Po Tofu, in addition to innovative options like Century Egg and Avocado Salad, Sichuan Green Peppercorn and Vanilla Gelato, and Spicy Mutton Stew.
However, it's the simple delights that stand out here, like the Poached Giant Grouper in Chilli Broth, Sautéed Peanut Sprouts, and Spicy Thick Soup with Vinegar and Kampot Peppers. Those who want to try your hand at cooking Sichuan food can also sign up for private cooking classes with Chef Chan himself. 
Sichuan Lab, G/F, 28 Tai Wo Street, Wan Chai | (+852) 3126 6633
---

Photo courtesy of @machiko8760
Yu
Yu is a not-so-hidden hidden gem that always has a queue going down the street for a table. Focussing on simple and rustic Sichuan dishes, they're famous for their Chongqing Sour and Spicy Noodles with minced beef, though we're partial to a bowl of their substantial Dan Dan Noodles or the milder Green Pea Puree and Spicy Minced Pork Noodle Soup. Get a couple small plates to share, like their classic Sichuan snacks like Chung Du Spicy Pork Dumplings and Chilled Garlic Pork Belly, served with unparalleled efficiency. You can tell they've been doing this for a long time, as they never disappoint. Wash everything down with a cold glass of cucumber soya milk to cut through the heavy spices, and you'll be ready for another round.
Yu, G/F, 4 Yiu Wa Street, Causeway Bay | (+852) 2838 8198
---

Da Ping Huo
No Sichuan restaurant list should omit Da Ping Huo. If you're a Sichuan cuisine connoisseur, you should already be familiar with this artistic restaurant that's stood the test of time, as it's one of Hong Kong's first private kitchens and has been in business for over 20 years. The Sichuanese owners, painter Wang Hai and his wife Wong Siu King (who is an accomplished Chinese folk singer) continue to blend their passion for art and Sichuan cuisine and Da Ping Huo is a full service restaurant and art gallery tucked away in Soho. The affordable set lunch, in particular, is popular with the Central office crowd. The staff here are very accommodating and are happy to adjust the spice level of the dishes. For a taste of traditional Sichuan flavours, you can't go wrong with the La Zi Chicken and the Sliced Beef in Chilli Broth. 
Da Ping Huo, Shop F & H, G/F, Garley Building, 53A Graham Street, Central | (+852) 2559 1317
Originally published on March 27, 2019, by Sarah Moran. Updated on October 8, 2019, by Inés Fung.
---
Read more! Check out the best sour and spicy noodles in Hong Kong, or explore our Food & Drink section.