Dubbed by the Hong Kong Government as one of its 480 intangible cultural heritages in June 2014, pineapple buns are an iconic part of the city. Named after the appearance of their crispy top, which resembles the skin of a pineapple, these delicious treats make a perfect breakfast or afternoon snack, and our friends at Sam the Local just so happen to know where to find the best ones in town.
---
The perfect traditional pineapple bun should be golden brown, sweet, and crispy on the top yet soft, fluffy, and not sweet on the bottom. Although mostly made by machines now, pineapple buns can take as along as 24 hours to make to ensure the correct fermentation time for the dough. Here are some of the best ones around the city.
Add Butter 加油! 菠蘿油

Another popular and traditional form that pineapple buns come in is with a thick slab of butter in the middle. Instead of buying these at a bakery, pineapple buns with butter are more often ordered at a traditional Hong Kong style café because it needs to be served hot in order for the butter to melt. As with anything that has a lot of butter, pineapple buns with butter have an aromatic and flavorful taste.
Where to get one: Kam Wah Café is a quaint restaurant popular among the locals for their pineapple buns and milk tea. They serve a mean pineapple bun with butter because aside from being extremely crispy and gooey, the butter actually has a slight lemon flavor!
Kam Wah Café, G/F, 47 Bute Street, Prince Edward, (+852) 2392 6830
---
Pineapple Flavored Pineapple Buns 菠蘿味菠蘿包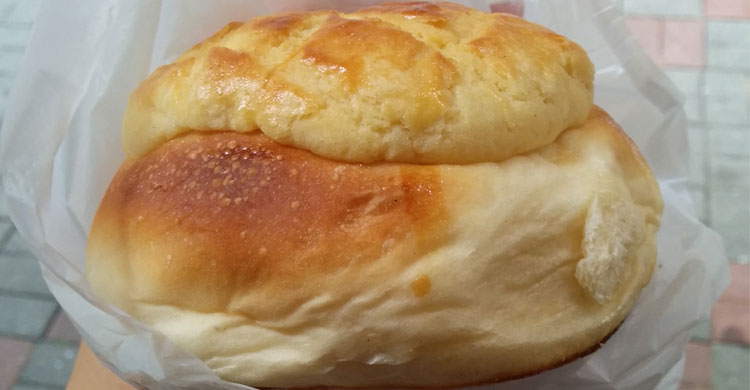 We previously said that pineapple buns get their name from their appearance and not their flavor, but pineapple flavoured pineapple buns actually exist – and boy are they tasty! Don't be deceived though, there still isn't real pineapple in this one, just the flavour.
Where to get one: The only place that serves this special pineapple flavoured pineapple bun is at a Hong Kong style café in a small alley in Central called Lok Heung Yuen Coffee Shop (also nicknamed Snake Den). This local, loud, and chaotic café has a fun and lively atmosphere.
Lok Heung Yuen Coffee Shop, G/F, No.8-12 Gilman's Bazaar, Central, (+852) 2522 1377
---
Pineapple Bun with Pineapple 菠蘿菠蘿包

This is what you might have originally expected a pineapple to be – a bun with pineapples inside. Although not our favourite of the pineapple bun variety, it's still worth mentioning that this type of pineapple bun does exist.
Where to get one: Tai Tung Bakery in Yuen Long has been in business since 1943, and their Tai Tung pineapple bun is the only one we've found that has this pineapple filling. They were one of the main drivers of making pineapple buns one of Hong Kong's 480 intangible cultural heritages. They are also famous for their wife cakes, a flat, flaky cake that has a winter melon filling.
Tai Tung Bakery, G/F, No. 57, Fo Choi Street, Yuen Long, (+852) 2476-2630
---
Pineapple Bun with BBQ Pork 脆皮焗叉燒包

Now this is when things really start to get interesting. All of the previously mentioned pineapple buns have all been sweet varieties, but this is the magical combination of sweet and savoury! Being a huge fan of BBQ pork, this incredible bun hits the spot every time.
Where to get one: Tim Ho Wan is rumoured to be the pioneer of this tasty treat. They are famous for being one of the cheapest Michelin starred restaurants. Although they have a smaller menu than most other dim sum joints, everything they make is solid and worth a try.
Tim Ho Wan, Shop 72, G/F, Olympian City 2, 18 Hoi Ting Road, Tai Kok Tsui, (+852) 2332 2896
---
Pineapple Bun Sandwiches 菠蘿包三明治

Another crazy way to eat pineapple buns is to cut them in half and make a sandwich with it! What is sandwiched inside could be anything under the sun, but popular things are pork chops, satay beef, and eggs. This is a picture of a pineapple bun sandwich that has the thick cut butter, eggs, and tomatoes. Heaven!
Where to get one: This famed café in Yuen Long called 華嫂冰室 always has a wait, but is well worth it. The topping on the pineapple bun is really crispy and the bottom is very airy and fluffy. The fried egg is cooked so that it's just barely runny and the tomatoes are super fresh. Pro tip: There are only 100 tickets for each of their two daily seatings (8:00am – 1:00pm and 2:00pm – 5:00pm). If you don't get there near the start of one of the seatings, I wouldn't even waste my time trying to go. They're also closed on Sundays.
華嫂冰室, Hang Tau Tsuen, Ping Shan, Yuen Long, (+852) 2617 2232
---
Eggs, Pork Floss, and Tomato Pineapple Bun Sandwich

Up and coming areas such as "PoHo" in Sheung Wan have a wide range of trendy restaurants, bars, and cafes. And even these new and trendy cafes are getting in on the pineapple bun action. This is a pineapple bun sandwich with pork floss, roasted tomatoes, and scrambled eggs – and it's absolutely delicious!
Where to get one: Opened by a tea-obsessed former lawyer, Teakha is nestled in the PoHo area and offers a very relaxing and slow ambiance. It is furnished with open, communal tables and raw light bulbs. In addition to their amazing selection of tea, they also offer a unique variety of pastries and foods.
Teakha, Shop B, 18 Tai Ping Shan St., Sheung Wan, (+852) 2858 9185
Drooling yet? Happy pineapple bunning!
---
Read more! Explore the rest of our Food & Drink section.