The quintessentially Hong Kong egg tart, or dan tat, arrived in Hong Kong during the 1940s and has been an afternoon tea staple ever since. A good egg tart should fulfil a few simple requirements. A puff pastry tart should be soft and loose, with clear, separated layers, while a buttered crust egg tart should also be soft and fluffy but not so soft that it falls apart at first bite. And no matter which filling, the egg custard should runny and fragrant. Be it puff pastry egg tart or buttered crust egg tart, the custard tart like classic Hong Kong egg tarts or Portuguese egg tarts, whichever it is you're hankering after, we've got you covered with our list Hong Kong's top 9 egg tarts.
---
---
1. Tai Cheong Bakery
Treat yourself to Tai Cheong Bakery's rich, decadent egg tarts. Established in 1954, Tai Cheong is considered the innovator of the beloved butter flavoured shortcrust pastry that's tender yet firm, and is famous for having some of the best egg tarts around town. Not only is the custard filling smooth and creamy without being too sweet, but the crust also crumbles right in your mouth with the perfect balance of buttery goodness. Plus, if they were good enough for our former Governor, Chris Patten, a famous fan of Tai Cheong's egg tarts, then they're good enough for us too.

Tai Cheong Bakery, Shop C, G/F, Lyndhurst BLDG 35 Lyndhurst Terrace, Central, (+852) 2544 3475
---
2. Honolulu Coffee Shop
This old-school establishment, which has been around since the 1940s, takes pride in its mouth-wateringly delicious egg tarts. The fragrant egg custard filling of Honolulu Coffee Shop's tarts are runny and velvety smooth, yet not overly sweet. The secret to the delectable light, flaky, crispy crust is a special blend of butter and lard, as well as nearly two hundred layers of puff pastry. Fun fact: this cafe was one of the main filming locations for the 2010 Hong Kong film Crossing Hennessy!
Honolulu Coffee Shop, G/F, 176-178 Hennessy Rd, Wan Chai, (+852) 2575 1823
---
3. Kam Fung Restaurant
If you're a fan of small, sweet bites, then Kam Fung Restaurant is your go-to for egg tarts. These dainty little morsels are smaller in size compared to your usual egg tarts, but the taste factor sure makes up for it. The puff pastry crust is buttery, flaky, and thin, while the heavy filling is eggy and sweet. It's no secret that egg tarts always taste better straight out of the oven, and this is often the case at Kam Fung. While you're there, don't forget to wash them down with a cup of Kam Fung's silky milk tea too – some folks would argue this is even better than the famous Lan Fong Yuen's.
Kam Fung Restaurant, G/F, Spring Garden Mansion, 41 Spring Garden Lane, Wan Chai, (+852) 2572 0526
---
4. Cheung Heung Tea Restaurant
The bold red Chinese characters on the right side of Cheung Heung's front door says it all – "famous egg tarts". This old-school cha chaan teng is rumoured to sell over a thousand egg tarts a day. These much sought-after tarts have a thick, buttery flavoured shortcrust that is soft and crispy, complementing the light and creamy egg custard filling. This one is definitely a must-try.
Cheung Heung Tea Restaurant, 107 Belcher's Street, Kennedy Town, (+852) 2855 7911
---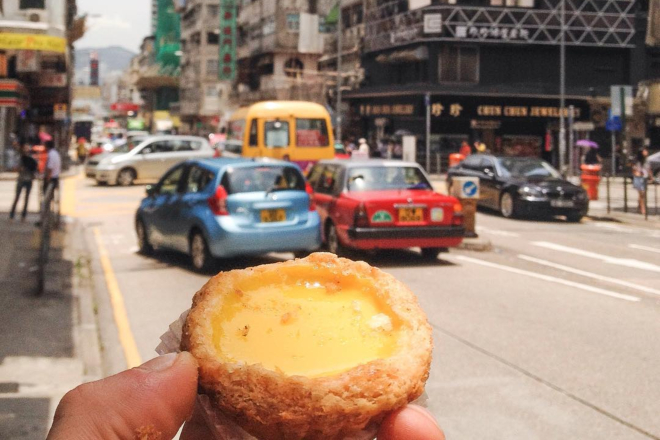 5. Hoover Cake Shop
Hoover Cake Shop is acclaimed by many as Hong Kong's egg tart king. Using duck eggs instead of normal eggs, the custard filling of these velvety baked treats are smoother and stronger-flavoured, with a rich yellow hue and glossy shine. The heavily layered puff pastry crust tastes almost like a croissant but crispier, while the shortcrust is soft, buttery, and crumbly. If you want to learn how to recreate these delicious egg tarts at home, the bakery hosts baking classes taught by the shop's very own master chef!
Hoover Cake Shop, 136 Nga Tsin Wai Road, Kowloon City, (+852) 2382 0383
---

6. EXpresso
Situated in the lobby of The Excelsior Hotel, EXpresso is a stylish café offering authentic Italian coffees and delicious light bites. Among its light snacks are Macau's famous Lord Stow's Bakery egg tarts. These legendary Macau Portuguese egg tarts are considered a trademark and tourist attraction in Macau, and EXpresso is the only place where you can find them in Hong Kong. With the appearance of a creamy crème brûlée in a pastry crust, these tarts are Portuguese in style but English influenced. The puff pastry crust is flaky and crisp, while the thin caramelised top complements the sweet, creamy egg custard filling inside.
EXpresso at The Excelsior, 281 Gloucester Road, Causeway Bay, (+852) 2837 6777
---
7. Bakehouse
Opened only this year  by former Four Seasons executive pastry chef, Grégoire Michaud, Bakehouse is the new kid on the block. Among Bakehouse's many delicious offerings is a creative twist on the traditional egg tart – the sourdough egg tart. Made with the same dough as the shop's celebrated sourdough croissants, the tart's caramelised crust is thin, buttery, and flaky, with a slight tang of the sourdough. The filling is sweet, fluffy, silky and eggy without being runny. Overall, it tastes more like the traditional Pastel de Nata than the Macau style Portuguese tart that's usually found in Hong Kong. These sourdough egg tarts come out of the oven at around 8am everyday, and are available until around 1 or 2pm in the afternoon, so make sure you grab one (or two, or three…) while they last!
Bakehouse, 14 Tai Wong Street East, Wan Chai
---
Read more! Explore the rest of our Food and Drink section for more delicious treats.