Excitement is sweeping over the city this weekend, with al fresco parties, dramatic performances, international sports tournaments, and unique art exhibitions filling up our fun schedules. Rest up while you can folks, because it's going to be a busy one.

---
HKCF Citi Soccer Sevens

Hong Kong's favourite seven-a-side football tournament, the HKFC Citi Soccer Sevens, is coming to town for a weekend of stiff competition, nail biting penalties, and epic goals. Featuring the youth and academy teams from clubs around the world, the Main Tournament is your chance to see the future stars of the pitch in action. From Aston Villa to Thailand, and Singapore to our very own Discovery Bay, Hong Kong Football Club will see hundreds of players challenge reigning champions, Atletico Madrid, for the title. First held at HKFC in 1999, the event also features a Masters Tournament, with the big names of today battling each other in this tough category (click here to see the full schedule). He shoots, he scores! 

When: May 20 – 22, (times vary)
Where: 3 Sports Road, Happy Valley
How much: $160 – $300
Click here to buy your tickets
---
Comedy
Get your weekend off to a hilarious start with the stage adaptation of Whose Line is it Anyway? (pictured above), the hugely popular British TV show which challenges comedy stars to improvise their way through a series of wacky, imaginary scenarios. Touching down in Hong Kong for one weekend at Punchline Comedy Club in Wan Chai, funny men Andy Smart, Stephen Frost, Steven Steen, and Ian Coppinger are guaranteed to keep you entertained with their performances. If you're feeling peckish, you can tuck into the pre-show buffet for an additional $150, and wash it down with a happy hour drink or two.
The fun doesn't stop there either, with a side-splitting line up of performances courtesy of award-winning comedian, Paul Ogata. Returning to Hong Kong for the 23rd time, Ogata's dry observations and sarcastic take on daily life has proved to be a big hit. Regularly entertaining audiences on stage at TakeOut Comedy, Ogata has definitely earned his reputation as our city's favourite international comedian.
When: Whose Line is it Anyway? May 19, (8pm); May 20 – 21, (9pm)
Paul Ogata – May 20 – 21, (times vary)
Where: Whose Line is it Anyway?, Tamarind, 2/F Sun Hung Kai Centre, 30 Harbour Road, Wan Chai
Paul Ogata – TakeOut Comedy Club, 24 Elgin Street, Central
How much: $250 – $350
Click on the links above to buy your tickets
---
Read more! Laugh your way through the week at these Comedy Nights in Hong Kong.
---
DJ Revolution Presents: Dimitri Vegas and Like Mike
Smash hit music producers and chart-topping remixers Dimitri Vegas and Like Mike are bringing the party to Asia-World Expo this weekend. Driving crowds wild with their Dance and EDM beats, the venue will come alive with music and dance as this DJ duo takes to the decks. Named by DJ Mag as the 'No.1 DJs of 2015', as well as securing their place as the resident DJs of Tomorrowland festival, these music maestros promise massive tunes, special effects, and their signature MC-ing. Reserve a table for the VIP wine and dine experience, or grab yourself a standing ticket and take to the dance floor. Come on Hong Kong, it's time to Eat, Sleep, Rave, Repeat. 

When: May 20, (8pm)
Where: Hall 10, AsiaWorld-Expo, Lantau
How much: $780 – $2,000
Click here to buy your tickets
---
Little Burro Presents: Block Party Vol. 9
Live music? Check. Ice cold margaritas? Check. Freshly rolled burritos? Check. It sounds like a winning combination to us. Little Burro's Block Party series has proven so popular that we're now on volume nine. Yet, with a delicious line up of food, drinks, and entertainment courtesy of DJ Preservation, DJ Re:Flex, and Kel & Paul, it's no wonder the crowds continue to flock to Upper Station Street for a laid back afternoon of fun and socialising. In addition to Little Burro's speciality margaritas, a refreshing pint of Oldfields Cider will be available – the perfect accompaniment to a spicy Mexican treat. Ariba! 

When: May 21, (12 noon – 6pm)
Where: Little Burro, 1 Upper Station Street, Sheung Wan
How much: Free
Check out the Facebook event page
---
Urban Farming Workshop Series
Trowels at the ready! Join the green-fingered team at Rooftop Republic and take to the rooftops in pursuit of a leafy, sustainable future in this urban jungle. Eggplant is the focus of this hands-on workshop, during which you will learn about pest control, harvesting, and storing your crops. In light of the shocking statistic that Hong Kong imports over 90 percent of it's food, now is the perfect time to get to grips with the chaotic climate and sow the seeds for an organic future. If you enjoy this afternoon of leafy learning, make sure you sign up for the final instalment in the Urban Farming Workshop Series next week, which will focus on crop rotation, companion planting, composting, and nurturing okra.
f
When: May 21, (3pm – 5.30pm)
Where: Rooftop Garden, Fringe Club, 2 Lower Albert Road, Central
How much: $380 per workshop
Click here to buy your tickets
---
How Cool is That?!
Have a drink and help the homeless – could it get any easier? Wine, beer, and house shooters will be available for just $55 a piece at Peel Fresco Music Lounge on Saturday evening. More importantly, for every beverage you buy, one meal will be donated to Hong Kong's homeless community. Last month's event, organised by humanitarian movement impactHK, funded 380 meals – now how cool is that?!
When: May 21, (5pm – 9pm)
Where: Peel Fresco Music Lounge, 49 Peel Street, Soho
How much: Free entry and $50 drinks
Check out their Facebook event page

---
BottlesXO's Rooftop Sessions
Our favourite 60-minute wine delivery service, Bottles XO, is taking to the roof in the first of their summer sessions, following a house-warming party to remember at Soho Printing Press last month. All you have to do to get yourself on the guest list is download the free Bottles XO app, order the tipple that takes your fancy, and use the code PICBXO to bag yourself a 10 percent discount. Then, it's up to the rooftop we go, for an evening of Latino entertainment and delicious wine with deliciously low price tags. Pick up your complimentary glass of Prosecco or rosé, tuck into a range of South American snacks, courtesy of Picada, and enjoy the live salsa band and DJ lineup. We'll see you there!
When: May 21, (6pm – 10pm)
Where: Garage Society QRC, 19/F, 299 Queens Road Central
How much: Free entry with purchase of a bottle through the app, or $100 on the door
Check out the Facebook event page
---
Read more! Order food and wine to your door with these Online Grocery Delivery Services.
---
The Met Presents: The Magic Flute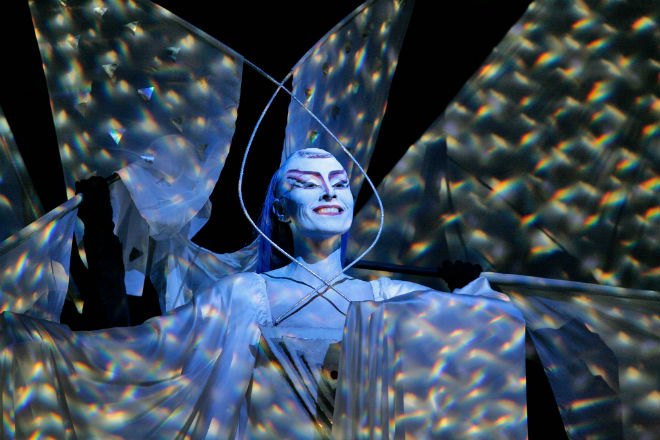 From rooftop parties to a night at the opera – there really is something to suit all tastes this weekend. As part of the Met's award-winning Live in HD series, Wolfgang Mozart's operatic masterpiece, The Magic Flute, will be screened in the intimate Wellcome Theatre on Saturday night. Join Prince Tamino on his adventures though this colourful make-believe world, as the dreamy musical soundtrack and stunning vocal performances fill the venue. First performed in 1791, The Magic Flute is a timeless classic which continues to delight audiences across the world. Julie Taymor is the visionary behind this shortened, English production which runs for around two hours with an additional 45 minute interval, whilst the orchestra falls under the guidance of James Levine. Encore! 
When: May 21, (6pm – 8.45pm)
Where: Wellcome Theatre, Béthanie Campus, 139 Pok Fu Lam Road, Pok Fu Lam
How much: $210
Click here to buy your tickets
---
A Starry Night Run
Night owls will be in their element this weekend as A Starry Night Run kicks off under the cover of dark in Sha Tin. Organised by the WWF, as the latest instalment of the Run for Change series which raises funds for its invaluable conservation and education projects, the beauty and diversity of our planet are as good a reason as any to pull on your running shoes. Unfortunately, registration is full for this unique sporting event. However, onlookers are welcome to cheer participants over the finish line as they complete the 3km, 4km relay, and 10km courses, and you can donate online. Plus, if last year's event is anything to go by, there might be a panda on call for photo opportunities.
When: May 21, (6pm – 9.30pm)
Where: Pak Shek Kok Promenade, Sha Tin
How much: Free
Click here for more information
---
Read more! Get active with our Guide to Hiking and Running Races in Hong Kong.
---
Import Beer Club
How well do you know your beer? Whether you're a professional pint drinker or keen to expand your horizons, this relaxed evening gathering is the perfect opportunity to kick back with new friends. Korean bottles are stepping into the spotlight this time around, with a selection of up-and-coming brands waiting for you to try. Each ticket covers the cost of all beer as well as some snacks to cleanse your palate in between each tasting. At the end of the evening, all participants will vote for their favourite pint and the champion beer will be announced. Plus, we hear that Import Beer Club has an exciting surprise arranged before the evening is over – bottoms up! 

When: May 21, (8.30pm – 10.30pm)
Where: PLATFORM, 1/F, 120 Connaught Road West, Sai Ying Pun
How much: $200 (includes beer and snacks)
Check out the Facebook event page
---
Read more! Check out these Bars Under the Stars.
---
Food Markets
We hope you're feeling hungry, because a mouth-watering selection of food markets are popping up across our city. A delectable selection of Hong Kong's finest eateries, including Golden Pig and MAMA Burger and Lobster, are rustling up their signature dishes every Sunday until June 12 at the returning Tong Chong Street Market, alongside some new, exclusive creations. In addition to tasty food, there will be a delicious range of fresh farmer produce on sale, tips for growing your own crops, and a sustainability corner selling seeds to raise money for Hong Kong charity, Food Angel. Pooches are welcome to join in the fun, but please remember to bring your own bags!
With an impressive track record of sell-out Southside Markets (pictured above) under its belt, The May Southside Market looks set to continue the trend. This time around, an estimated 400 guests will enjoy a delicious buffet lunch courtesy of host restaurant, The Butchers Club, and other selected vendors. Veggies and meat-eaters alike will love the lunch spread, which has earned its reputation as one of the most delicious events around. As the season finale, it's only right that there's live music and a free-flow bar, as well as a temporary tattoo stall to keep little ones entertained.

When: Tong Chong Street Food Market – runs every Sunday until June 12, (11am – 5pm)
The May Southside Market – May 22, (12 noon – 5pm)
Where: Tong Chong Street Market – Taikoo Place, Tong Chong Street, Quarry Bay
The May Southside Market – The Butchers Club, 16/F, and Rooftop, Shui Ki Industrial Building, 18 Wong Chuk Hang Road, Aberdeen
How much: Free – $550
Click on the links above for more information
---
Read more!  Tuck into our Restaurant Reviews.
---
 Tapas by the Beach
The feasting continues with an outdoor celebration of all things Spanish, courtesy of The Spanish Academy. Tapas by the Beach will descend on Shek O Beach for a fun-filled day of cooking workshops, delicious food, and drinks-a-plenty. Signature Spanish dishes, including paella, croquettes, and tortillas, are the perfect accompaniment to a day on the sand. Each ticket includes free-flow tapas and paella, which will be cooked throughout the day to ensure your plate is full of fresh goodness, as well as five drinks tokens. Olé! 
When: May 22, (1pm – 9pm)
Where: Shek O Beach
How much: $368
Click here to buy your tickets
---
Read more! Craving Spanish cuisine? Check out our La Paloma Restaurant Review.
---
Move with the Pacific Sunday Series
After three months of tropical, workout fun, Mahalo Tiki Lounge is to host the final instalment of the Move with the Pacific Sunday Series. Over the weeks, GuavaPass and Pololi have treated us to yoga, Zumba, and Hawaiian dance classes. Now it's time to feel the burn with a muscular strengthening and toning class courtesy of Barre 2 Barre, whilst soaking up the breathtaking view of the lush, green mountains and towering skyscrapers. In addition to an al fresco workout on Mahalo's terrace, each ticket includes a welcome drink and a delicious poke lunch set redeemable at anytime in the two weeks following your class. Just remember to bring your own mat!
When: May 22, (3pm)
Where: Mahalo Tiki Lounge, 29/F, QRE Plaza, 202 Queens Road East, Wan Chai
How much: $300 – $35o
Click here to buy your tickets
---
Le French May
The annual celebration of all things French is in full swing with markets, performances, and parties popping up around the city. Like musique to our ears, the unique five-piece band Paris Combo are stopping by on their global tour to delight audiences with their newest album, '5', which fuses brass tones with cute lyrics and gypsy influences. Meanwhile, DJ Reverend P will be filling KEE Club with the sounds of Motown in the French Touch Legacy Serie, whilst the talented Extrêmité acrobats of Cirque Inextrêmiste (pictured above) perform a series of balancing acts, with a little help from their trusty props. Don't forget to check out our roundup of Le French May events, because tickets are selling faster than you can say "ooh lá lá!"

When: Runs until June 30
Where: Locations vary
How much: Prices vary
Click on the links above to find out more and get your tickets
---
Art Pop Up Presents: Out of Dream
Give artist and collector Ng Lung-Wai a collection of stickpin badges, and he can create incredibly life-like portraits of famous faces. Get down to Comix Homebase before May 28 to see Queen Elizabeth, Audrey Hepburn, JKF, and more in a totally new way. In addition to his unique portrait pieces, Lung-Wai is presenting his 1,000-strong, vintage Hong Kong matchbox collection, as well as 'Dazzled, Filled with Bank Notes' – a room entirely covered in ten dollar notes. Open every afternoon, the Out of Dream exhibition is a colourful and totally unique display of artistic talent that's definitely worth a trip.
When: Runs until May 28, (1pm – 7pm)
Where: 3/F Comix Homebase, 7 Mallory Street, Wan Chai
How much: Free
Check out the Facebook event page
---
Read more! Check out our past interview with Ng Lung-Wai.
---
Plan Ahead …
Don't miss your chance to grab tickets for these up coming events before it's too late.
Sign up!
Green Run – June 5, (8am)
Buy tickets!
Italian Market – May 28 – 29 (12 noon – 8pm)
Soul Sisters Gala Dinner – May 28, (7.30pm)
James and the Giant Peach – June 3 – 5
Limewood Summer Party – June 8, (4pm – 10pm)
Chitty Chitty Bang Bang – June 10 – 12
Shrek The Musical – July 22 – August 7
Clockenflap – November 25 – 27
WICKED – December 8 – January 1
Check out our annual calendar of holidays and events.