It's officially summer, which means things are hotting up in the city. From free harbour side yoga to rooftop fiestas, and more barbecues than you can shake your tongs at, now's the time to grab an ice cream, admire the weather, and stuff your diary with the coolest events Hong Kong has to offer.

---
Le French May
Le French May is coming to an end very soon, so we must make the most of the final performances. Embark on a Voyage with Anne Queffèlec as she tinkles on the ivories in the Amphitheatre. Widely regarded as one of the most talented pianists of our time, Queffèlec's haunting repertoire encompasses a whole range of France's most talented composers including Erik Satie. Prepare to be enchanted by minor, spine-tingling melodies!
Then, like musique to our ears, David Greilsammer & Hong Kong Sinfonietta (pictured above) are stepping into the spotlight the following evening. Famed for his eclectic and truly unique performances, Israeli pianist Greilsammer seamlessly links baroque and contemporary pieces. Playing for the first time in Hong Kong, alongside the talented Hong Kong Sinfonietta orchestra, Greilsammer's performances of works by Rameau, Haydn, Ligeti, and Mozart promise to deliver a truly spectacular evening.

When: Voyage with Anne Queffélec – June 24, (8pm)
David Greilsammer & Hong Kong Sinfonietta – June 25, (8pm)
Where: Voyage with Anne Queffélec – Amphitheatre, Hong Kong Academy for Performing Arts, 1 Gloucester Road, Wan Chai
David Greilsammer & Hong Kong Sinfonietta – Concert Hall, Hong Kong City Hall, 5 Edinburgh Place, Central
How much: $150 – $380
Click on the links above to buy your tickets
---
HK Philharmonic Presents: Bach and Beyond
It's all about classical performances this weekend, with a musical journey from the baroque period of Johann Sebastian Bach to the baroque-inspired, contemporary works of György Ligeti. Violinist Caroline Goulding and pianist Colleen Lee will join the HK Philharmonic Orchestra to perform a varied repetoire of pieces under the baton of prize-winning conductor Case Scaglione. Delighting audiences with concertos and chaconnes, you don't want to miss these global musical stars.
Make your way to the Foyer at the slightly earlier time of 8.15pm for a very rare and unique performance of Ligeti's Poème Symphonique for 100 Metronomes, featuring 100 wind-up metronomes which have members of the public have very kindly donated for the evening.

When: June 24 – 25, (9pm)
Where: Concert Hall, Hong Kong Cultural Centre, 10 Salisbury Road, Tsim Sha Tsui
How much: $180 – $380
Click here to buy your tickets
---
IRIS Your Escape
Find your inner calm at Hong Kong's largest health and wellness festival, IRIS Your Escape. With 48 free sessions to choose from, and deliciously healthy food courtesy of Deliveroo, you'll be glowing inside and out after this two-day experience. You can browse the market, adorn yourself with body paint, and have a go at family yoga with your nearest and dearest too! There's no need to sign up for individual classes, simply register for the event, bring along your yoga mat, and get stuck in.
When: June 25 – 26, (9am – 9pm)
Where: Central Harbourfront Event Space, 9 Lung Wo Road, Central
How much: Free
Click here to register
---
Read more! Get active with these 8 Wacky Workouts.
---
Fear and Loathing in KOKO Lounge
We love a good party theme, and Koko Lounge has hit the nail on the head with this one. Transforming into a hub of psychedelic madness in honour of the timeless novel and film Fear and Loathing in Las Vegas, you'll most likely forget you're on Wyndham Street. Channel your inner Johnny Depp, race around Pottinger Street in search of a Hawaiian shirt and yellow aviator sunglasses – and don't forget the super-fashionable bucket hat. The entrance fee includes sake on arrival, Japanese nibbles, and a truly surreal afternoon journeying into the heart of the 'American dream'.
When: June 25, (12 noon – 5pm)
Where: KOKO, 5/F, Commercial Carfield Building, 77 Wyndham Street, Central
How much: $200 advance; $250 on the door
Check out the Facebook event page
---
Read more! Sip on Hong Kong's 10 Coolest Summer Cocktails.
---
The Great Big Summer Disco
Grab your dancing shoes, because our favourite kids entertainers, Rumple and Friends, are welcoming the whole family to join them for an afternoon of fun, games, and boogying at The White Loft party venue. When the clock strikes 7pm, it's time to wave goodbye to mum and dad and let the tweens (aged 10 to 14) have some fun at the kids-only disco. With a photo booth, tasty snacks and drinks, and a DJ playing their song requests, your only problem might be persuading them to come home!

When: June 25, (2pm – 10pm)
Where: The White Loft, Unit D, 10/F, Yally Industrial Building, 6 Yip Fat Street, Wong Chuk Hang
How much: $150 – $250
Check out the Facebook event page
---
Read more! Check out these Academic and Creative Classes for Kids.
---
Hong Kong Dog Rescue Summer BBQ Party
Summer wouldn't be complete without the sound of sausages sizzling on the barbecue. Inviting both humans and pooches to tuck in, Hong Kong Dog Rescue (HKDR) is taking over the spacious rooftop at The Pulse for a truly delicious afternoon. With an all-you-can-eat BBQ, vegetarian options, free-flow booze, and an ocean view, HKDR has got all bases covered. If you're a pup, make sure you brush your fur and don your fanciest collar, because the best Summer BBQ Party snap featuring food and a furry friend will receive a grooming voucher for The Dog's Garden! Book online to enjoy discounts for groups of two or more.

When: June 25, (3pm – 9pm)
Where: Rooftop, The Pulse, Repulse Bay
How much: $598 for adults; $298 for kids
Click here for more information
---
Read more! Find out How To: Choose a Pet Responsibly. 
---
New Works Forum: Multimedia and Dance Dialogue
Multimedia technology has added a whole new dimension to dance, and is really something to behold. Traveling to Hong Kong for a forum and discussion about the future of this modern art form, multimedia choreographer Hirokai Umeda will share his background in the world of dance and his unique journey as a choreographer. There will also be a series of multimedia dance performances by local dancers and performers who have taken part in his workshop.
When: June 25, (3pm – 6pm)
Where: Multimedia Theatre, G/F, Run Run Shaw Creative Media Centre, School of Creative Media, 18 Tat Hong Avenue, City University of Hong Kong, Kowloon Tong
How much: Free
Click here to register online
---
Read more! Get active with Hong Kong's Best Dance Classes.
---
Wine Music Jam
Whether you're a wine connoisseur, a lover of all things jazz, or on the hunt for a laid-back afternoon with a catchy soundtrack, the Wine Music Jam ticks all the boxes. Tucked away in the heart of Lan Kwai Fong, this popular event combines two of our cities greatest loves – good music and great wine. Refreshing European tipples are the star of the show this time around, with deliciously low price tags to match. Plus, one tasting glass of your choice is included in the entrance price. If you fancy having a jam on the Orange Peel stage, make sure you book your slot online.

When: June 25, (3pm – 8pm)
Where: Orange Peel Music Lounge, 2/F, Ho Lee Commercial Building, 38 – 44 D'Aguilar Street, Central
How much: $80 (includes one tasting glass of wine)
Click here to buy your tickets
---
Read more! Love your wine? Check out Localiiz Meets BottlesXO: A Tasting with Tiago.
---
Munchies 1st Birthday Block Party
Free donuts? Check. Free ice cream? Check. Free tipples? Check. Celebrating its first birthday in the most delicious way possible, you definitely won't be going hungry at Munchies' block party. Whilst guests lose themselves in a sugary haze, DJ Soulfunkee, DJ $hortee, and Gibson will be filling the air with tunes. If you dance along, that counteracts all calories consumed – right? Make sure you tag #munchiesH1B on Instagram with all your sweetest snaps. Oh, and remember to brush your teeth when you get home too.
When: June 25, (4.20pm – 7pm)
Where: Munchies, 4 Shin Hing Street, Sheung Wan
How much: Free
Check out the Facebook event page
---
Muévete Tropical Rooftop Fiesta
The secret's out! After a series of hush-hush events, Muévete is welcoming everyone to join in the fun at their biggest fiesta yet. Taking over the Ovolo Southside Hotel for a whopping nine hours, this Rooftop Fiesta will be bursting at the seams with live music, ranging from dance to hall to reggae, and hip hop to salsa. With all that dancing, the Caribbean BBQ will definitely go down a treat – as will the special sundowner promotions on drinks between 5pm and 7pm. We've also been assured that horns and whistles will be provided – and though we're not entirely sure what they're for, it's sending our excitement levels through the roof. So come on, don your most tropical outfit, and let's fiesta like there's no mañana.

When: June 25, (5pm – 1am)
Where: Ovolo Southside Hotel, G/F, 64 Wong Chuk Hang Road, Wong Chuk Hang
How much: $200 (includes two drinks)
Click here to buy your tickets
---
Read more! Have a tipple at these Bars Under the Stars.
---
The Met: Live in HD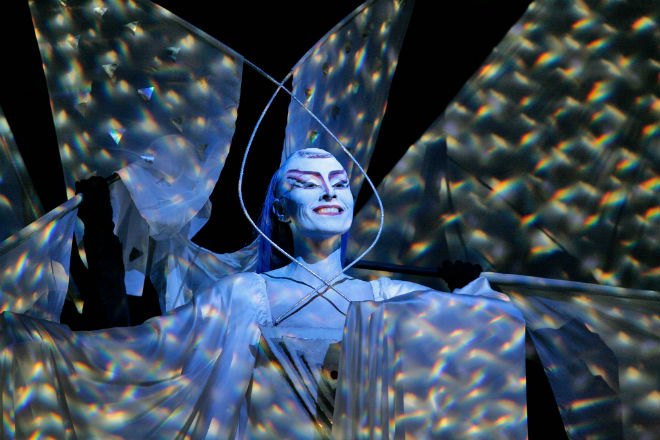 As part of the Met's award-winning Live in HD series, Les Pêcheurs de Perles (translated as The Pearl Fishers) is coming to Hong Kong. A total of 14 cameras filmed this dramatic performance in the world-class Metropolitan Opera House, which ensure that this HD screening is an opera experience like no other. A tale of forbidden love and lust between a beautiful Hindu priestess and a common fisherman, Bizet's masterpiece will unfold over the course of three hours and 15 minutes at the Béthanie Campus, with themes of unconditional love, betrayal, and struggle flowing through the musical manuscript. Feeling peckish? For an additional $315, you can enjoy a delicious selection of French dishes, including Coq Au Vin and Madeleines during the interval (reserve your dinner spot via email).
Wolfgang Mozart's operatic masterpiece, The Magic Flute (pictured above), will be screened in the intimate Wellcome Theatre on Sunday night. Join Prince Tamino on his adventures though this colourful make-believe world, as the dreamy musical soundtrack and stunning vocal performances fill the venue. First performed in 1791, The Magic Flute is a timeless classic which continues to delight audiences across the world. Julie Taymor is the visionary behind this shortened English production which runs for around two hours with an additional 45 minute interval, whilst the orchestra falls under the guidance of James Levine.

When: Les Pêcheurs de Perles – June 25, (6pm)
The Magic Flute – June 26, (5.30pm)
Where: Wellcome Theatre, Béthanie Campus, 139 Pok Fu Lam Road, Pok Fu Lam
How much: $210
Click on the links above to buy your tickets
---
Hot Streak Pool Party
Fancy a dip? If there's one thing that makes the outrageous humidity in this city bearable, it's pool party season. Taking over the city's highest outdoor pool, which clocks in at a whopping 76 floors, the ever-popular W Summer Pool Party series is back for its second instalment. As always, the drinks will be flowing, the music will be pumping, and all ticket holders will have access to the 6/F WOOBAR party until 4am. Fancy a pre-party workout before the madness? Get stuck into the complimentary boxing session between 8pm and 9pm. Make sure you get there in plenty of time, because it's a first-come-first-served affair.
When: June 25, (8pm – 3am)
Where: WET Swimming Pool, W Hong Kong, 76/F, 1 Austin Road West, West Kowloon
How much: $350 (includes one drink)
Click here to buy your tickets
---
Read more! Take a dip at Hong Kong's Cleanest Water Spots.
---
Together We Dance at Pacha Macau
Touching down in Macau with his underground, electronic sound, Malaysian DJ Kuma is spinning the decks at Pacha Macau this weekend. Taking over one of the city's most prestigious party venues, those looking for an early night should look else where. The electro fun kicks off at 9pm, with DJ Kuma and a host of Pacha's resident DJs spinning the decks until the early hours of Sunday morning.

When: June 25, (9pm – late)
Where: Pacha Macau, Studio City, Estrada Flor de Lotus, Macau
How much: $100 (includes one drink)
Click here to buy your tickets
---
Sausage Sizzle
If there's one nation that knows how to barbie, it's the Aussies. Join the Hong Kongers from down under on Shek O beach for a belated Australia Day celebration. With the summer sun shining down, now's the perfect time for a spot of beach-side cricket – and a cheeky dip after of course. All family members, both two and four-legged, are invited to join in this afternoon of sandy fun, which hopes to raise money for The Fred Hollows Foundation. With your toes in the sand, sausages sizzling on the barbie, and a chilled beer in hand, you'll be living the dream.
When: June 26, (1pm – 4pm)
Where: BBQ Pits, Shek O Main Beach
How much: $150 – $350
Click here to buy your tickets
---
Plan Ahead …
Don't miss your chance to grab tickets for these upcoming events before it's too late.
Next weekend!
Carlos Acosta – A Classical Farewell – June 30 – July 2, (7.45pm)
Smile Utopia – July 1, (2pm – 11pm)
Friday Night Lights with Adam Weirick – July 1, (7.30pm – 9pm)
Don't Let Daddy Know – July 1, (8pm)
Sesame Street Live: Make a New Friend – July 1 – 3, (2.30pm and 5.30pm)
Sign Up!
Sheko Challenge – July 9, (12.30pm)
AVOHK 5k Series – August 27, September 10, September 25, and October 8
Central Rat Race – October 16, (9am)
Buy tickets!
International Arts Carnival – July 8 – August 7
The Good Life Junk – July 10, (10am – 6pm)
Italian Wine and Pizza: A North to South Voyage – July 15, (6pm – 10pm)
Fatboy Slim at Pacha Macau – July 15, (9pm – late)
Outlook Festival 2016 Hong Kong Launch Party – July 16, (4pm – 1am)
Let It Be Musical – July 22 – 24
Shrek The Musical – July 22 – August 7
Blue Man Group in Macau – August 11 – 28
Disclosure DJ Set in Hong Kong – August 12, (8pm)
Arnold Classic Asia Multi-Sport Festival – August 20 – 21, (10am – 6pm)
Arnold Seminar – August 21, (11am – 12.30pm)
Jimmy Carr – Funny Business Live in Hong Kong – August 24 – 25, (7/8pm)
The Hunting of the Snark – September 20 – 25
Hong Kong ePrix – October 8 – 9
Clockenflap – November 25 – 27
Roald Dahl's The Twits – November 25 – 27
WICKED – December 8 – January 1
Save the date!
The Pontiac's 2nd Annual Red, White, N' Rainbow Celebration – July 3, (3pm – 11pm)
The Melbourne International Comedy Festival – July 18 – 24
Check out our annual calendar of holidays and events, or Your Guide to Hiking and Running Races in Hong Kong.