At last, another glorious three day weekend is upon us, and the social calendar is jam-packed with goodies to help us make the most of it. From endurance races to rooftop soirees, and everything in between, variety really is Hong Kong's forte.
---
Youth Hockey 5's Hong Kong
Pucks at the ready! The pitch may be cold, but the competition will be hot as 1,500 junior players from across the world battle it out for the Youth Hockey 5's title. The largest and most competitive ice hockey event in Asia, the Hockey 5's tournament is taking over Mega Ice, the city's largest ice rink which boasts epic views over Victoria Harbour. All are welcome to cheer on the junior athletes as they pursue the perfect goal. If you're left hungering for more ice hockey action, head back to Mega Ice next week for the adult divisions of the Hockey 5's.

When: Runs until April 30, (times vary)
Where: Mega Ice, Unit 1, 10/F, MegaBox, 38 Wang Chiu Road, Kowloon Bay,
How much: Free
Click here for more information
---
Tin Hau Festival
A wave of colourful celebrations are sweeping over Hong Kong this weekend in honour of Tin Hau, Goddess of the Sea. Owing to our city's traditional economic reliance upon the ocean, there are almost 70 temples dedicated to Tin Hau scattered across the territory – particularly in areas where fishing continues to play a vital role in the local economy. A spectacular three hour long parade will snake through the streets of Shap Pat Heung on April 29, fishing boats will be adorned with decorations in Cheung Chau, and pop-up bamboo stages will be filled with dramatic Cantonese Opera performances in Lamma.

When: April 29 – May 11, (times vary)
Where: Locations vary
How much: Free
Click here for more information
---
Read more! Keep exploring with our Island Guide: Cheung Chau.
---
A Tale of Two Cities: Blood For Blood
From celebration to crisis, British theatre director and playwright Jonathan Holloway's much-anticipated production of A Tale of Two Cities: Blood For Blood looks set to wow audiences as it takes to the stage for a second weekend of performances. Originally set during the French Revolution, Holloway has reworked the Dickensian tale as a 21st century exploration of grief, self-sacrifice, and loss. A packet of tissues might be a good idea for this one guys!
When: April 29 – 30, (8pm); May 1, (3pm)
Where: The Hong Kong Jockey Club Amphitheatre, Hong Kong Academy for Performing Arts,
How much: $220 – $420
Click here to buy your tickets
---
Le French May 2016 Opening Celebration
Kicking off Le French May with a bang, the PMQ courtyard will be transformed into a French village over the public holiday weekend. The French Fun Brass and Dancers from Cirque Eloize will be dazzling guests with their creative acrobatic and music performances, while graffiti artists Bao and Miguel perform artistic shows to document the special occasion. Of course, no French party is complete without a feast! Browse the booths of Le French GourMAY restaurants and shops, and savour authentic flavours from France and Midi-Pyrénées – aka tuck into a whole load of cheese and delicatessen products, and wash it down with a glass (or three) of the regions' most sumptuous wine. Santé!

When: April 30 – May 2, (10am – 7pm)
Where: PMQ Courtyard, 35 Aberdeen Street, Central
How much: Free
Check out the Facebook event page
---
Read more! Check out our roundup of the most exciting Le French May events.
---
Hard As Nayls
Returning for round two, it's one of Hong Kong's toughest and most environmentally friendly races. In honour of runner Andy Naylor, families are invited to take part in the 4km and 8km trails, held on Saturday, and climb Tin Ha Shan – no easy feat, don't be fooled by the short distance! Come Sunday, it's time for the endurance experts to take on the Hard As Nayls half marathon and marathon challenges, touring the hills and sights of Clear Water Bay, near Hang Hau. The deadline for entries is April 27, so make sure you sign up before it's too late. Good luck everyone! 

When: April 30, (3pm); May 1, (9am)
Where: Tin Hau Temple Pier, Clear Water Bay, Sai Kung
How much: $400-$550 per person; $350 per family team
Click here to sign up
---
Read more! Get active with our Guide to Hiking and Running Races in Hong Kong.
---
Urban Farming Workshop Series
Trowels at the ready! Join the green-fingered team at Rooftop Republic and take to the rooftops in pursuit of a leafy, sustainable future in this urban jungle. Herbs are the focus of this hands-on workshop, which is the first of a four-part series. With the temperatures rising and the ever-increasing problem of feeding the growing global population, now is the perfect time to get to grips with Hong Kong's chaotic climate, and sow the seeds for an organic future.
When: April 30, (3pm – 5.30pm)
Where: Rooftop Garden, Fringe Club, 2 Lower Albert Road, Central
How much: $380 per workshop; $1,200 for four sessions
Click here to buy your tickets


---
Bottles XO Presents: Rooftop Session Vol.1 Featuring Little Burro
UPDATE: In light of the rather unpredictable weather, and dreary forecast, this event has been relocated to Soho Printing Press. 
Our favourite 60-minute wine delivery service, Bottles XO, is throwing a house-warming party to remember on the rooftop of their new office this weekend. Featuring local DJs Guistadt, Kouro, and Phaënara, and discounted food courtesy of Little Burro, we reckon these rooftop sessions are going to be something special. So, if you're a fan of delicious wine, burritos-a-plenty, and banging tunes, get down to Sheung Wan in good time as space is limited. Plus, you'll receive a Bottles XO goodie bag upon arrival. Cheers! 
When: April 30, (7pm)
Where: Soho Printing Press, G/F and M/F, 6 – 7 Tank Lane, Soho
How much: Free
Check out the Facebook event page
---
Read more! Order food and wine to your door with these Online Grocery Delivery Services.
---
TakeOut Comedy 1,500 Show

Have a laugh at TakeOut Comedy to celebrate it's milestone 1,500 show! The first full-time comedy club in Asia, TakeOut Comedy has established itself at the very heart of Hong Kong's stand-up comedy scene. It's no surprise, then, that such a hilarious line up of comedians will be taking to the stage this weekend. Seasoned regulars including Tamby Chan, Gus Tate, and Big Ben, will be joined by some new faces for a night of side-splitting jokes and hilarious anecdotes. Hosted by TakeOut Comedy's founder and leading funny man Jameson Gong, you'll be laughing the night away.
When: April 30, (9pm)
Where: B/F, 34 Elgin Street, Soho
How much: $100
Click here to reserve your tickets
---
Read more! Laugh Your Way Through the Week with our roundup of comedy nights in Hong Kong. 
---
Food Markets
Restaurant app FeedMe Guru will be showcasing 11 of Hong Kong's most delicious cafés and restaurants, supported by Justina R, every Saturday afternoon for the next eight weeks. From Korean Fried Chicken by Moyo, to the experimental Liquid Nitrogen Popcorn of Zuc.cch.ero, prepare yourself for a seriously mouth-watering day at the Alley Street Food Market. Guru Notes are the designated currency, with one Guru Note equating to $10 and dishes costing between four and ten Guru Notes apiece.
Make the most of the long weekend and spend a day browsing the vibrant, rustic offerings at the indoor Sai Kung Sunday Market (pictured above). From clothes to condiments, over 70 vendors will be displaying their products as you leisurely wander around the stalls, enjoying the slower pace of Sai Kung life. Pick up some chutney from Pantry Providore or bag some unique jewellery and make a head start on those upcoming birthdays. If you've got a soft spot for furry friends, then you might end up coming home with more than just condiments, as Catherine's Puppies, a local rescue shelter, will be on site with a host of pooches on the hunt for a new home.
Riding high on the popularity of its debut last October, the Tong Chong Street Market is back for round two. A mouth-watering selection of Hong Kong's finest eateries, including Golden Pig and MAMA Burger and Lobster, will be rustling up their signature dishes every Sunday until June 12, alongside some new creations crafted exclusively for the market. In addition to tasty food, there will be a delicious range of fresh farmer produce on sale, tips for growing your own crops, and a sustainability corner selling seeds to raise money for Hong Kong charity, Food Angel. Pooches are welcome to join in the fun, but please remember to bring your own bags!

When: Alley Street Food Market, runs every Saturday until June 11, (12 noon – 7pm)
Sai Kung Sunday Market, May 1, (11am – 5pm)
Tong Chong Street Market, runs every Sunday until June 12, (11am – 5pm)
Where: Alley Street Food Market, Alley @ PMQ, Bread n Butter Cafe, 35 Aberdeen Street, Central
Sai Kung Sunday Market, Hong Kong Academy, 33 Wai Man Road, Sai Kung
Tong Chong Street Market, Taikoo Place, Tong Chong Street, Quarry Bay
How much: Free – $330
Click on the links above for more information and to buy your tickets
---
 Read more! Make sure you've got the 6 Hong Kong Apps You Can't Live Without.
---
Clean Up Our Own Backyard Hong Kong!
Postponed from last weekend due to dreary weather reports, litter-warrior, jet pilot, and keen hiker Lachlan 'Locky' Lawford and his team of volunteers are set to clean up waste and rubbish tainting the picturesque Golden Coast area of So Kwan Wat this Sunday. Organised in association with goldcoastonline.hk, the event aims to highlight the issue of illegal waste disposal and the need to educate adults and children about the importance of looking after our environment. If you can't make it this time, but still want to help out, donations of litter bags and rubber gloves will be greatly appreciated!

When: May 1, (9am – 12 noon)
Where: So Kwan Wat village pond, Tuen Mun
How much: Free
Click here for more information or email admin@goldcoastonline.hk if you would like to volunteer
---
Lamma 500 International Dragon Boat Festival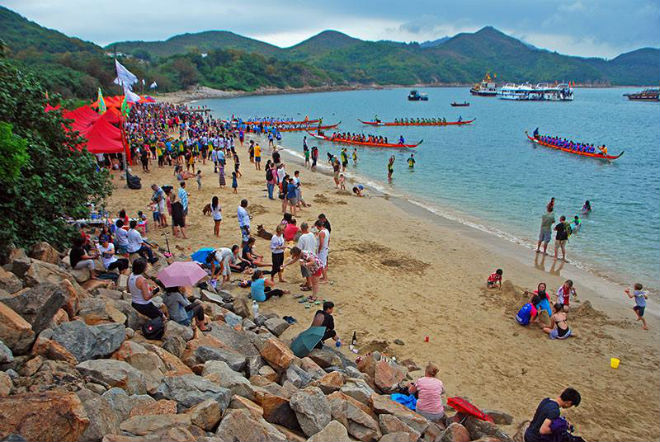 This year marks the tenth anniversary of the annual Lamma 500 International Dragon Boat Festival. In addition to an exciting schedule of competitive racing over a standard 500m course, there will be an after party at Tai Wan To Beach. Expect celebrations, festival drinks, and delicious food. Plus, keep your eye out for the Localiiz team who will be handing out merchandise and cheering the paddlers across the finish line, as well as providing an online hub for event photos and results. We'll see you there!


When: May 1, (9pm – 6pm)
Where: Tai Wan To Beach, Lamma
How much: Free
Click here for more information
---
Read more! Get out and explore with The Island Series: Lamma Guide. 
---
Rewind Presents: DJ Alex Niggemann
Kicking off a second year of sunny rooftop music sessions, the Rewind team is back for the eighth installment of their hugely popular Sunday parties. Returning to the Armani/Privé terrace, German producer, DJ, and found of music label Soulfooled, Alex Niggemann will be leading the celebrations with his house and techno tunes. Nestled among the towering Central skyscrapers, we can't think of any better way to welcome in the public holiday.
When: May 1, (3pm – 9pm)
Where: Armani/ Privé, 2/F and Terrace, Landmark Chater, Chater House, 8 Connaught Road, Central
How much: $100, advance tickets, $100; $150, on the door
Check out the Facebook event page
---
Plan Ahead … 
Don't miss your chance to grab tickets for these up coming events before it's too late.
Sign up!
C3fit Action Asia Challenge Trail Run – May 8, (7.15am)
Stanley Dragon Boat Warm Up Races – May 14, (8am-5pm)
Run Light Paddle – May 15, (9am – 1pm)
TakeOut Comedy Basic Standup Comedy Class – May 16, (7pm – 11pm)
Run for Change: A Starry Night Run – May 21, (6pm – 9.30pm)
Buy tickets!
Swan Lake on Ice – Runs until May 8, (times vary)
Hushup Social #2 – April 28, (7pm – 11pm)
Le French May 2016 – May 1 – June 30, (times vary)
Rosé Revolution 2016 – May 7, (1pm – 7pm)
Olivia Newton-John Live in Hong Kong – May 12, (8pm)
Lil John: Time to Get Loose – May 13, (9pm)
Rum & Bass Junk – May 14, (10am – 5.30pm)
Peppa Pig Live! Treasure Hunt – May 14 – 15, (times vary)
Clash of Champions – May 14, (7pm)
Esencia Flamenca Presents: La Partida – May 14, (8pm) 
The Philadelphia Orchestra – May 19 – 20, (8pm)
Soul Sisters Gala Dinner – May 28, (7.30pm)
WICKED (Centurion Member and American Express Card Member tickets on sale now) – December 8 – January 1, (times vary)
Save the date!
WICKED (general ticket sales) – May 19
Check out our annual calendar of holidays and events.