The biggest and most prestigious sporting event in the world is back for a fortnight of world-class performances, nail-biting finishes, relentless determination, and of course those all important medals. You could kick back on the sofa and catch all the action, but where's the fun in that? We say grab a Caipirinha, munch on a wedge of pineapple, and samba right through the Rio 2016 Olympics at one of these 10 popular venues.
---
1. The Island Bar
If you're looking for somewhere to watch the Opening Ceremony, then look no further! Early birds can watch all the Rio action live from 6.45am at The Island Bar on Lamma. With 5,500 outfits, live music, and more Samba dancers than you can shake a stick at, this colourful opening performance is well worth the early morning alarm. Start steady with a tea or coffee, and then get stuck into the celebrations with Buck's Fizz and Bloody Marys. The rest of the games will be shown every evening, with Lamma locals expected to gather for the 8pm daily roundup.
Special offers: On $20 Tuesdays all beers, house spirits, and mixers will set you back just one 20 dollar note. Of course, it's always Happy Hour at The Island Bar anyway, with beer, wine, and prosecco checking in at under $40 per glass all day, every day!
The Island Bar, 6 Main Street, Yung Shue Wan, Lamma, (+852) 2982 1376
---
Read more! Explore Lamma with our Island Guide.
---
2. Ciao Chow
Nestled in the heart of Lan Kwai Fong, Italian hangout Ciao Chow will be screening all the action going on during their opening hours. If you're in it for the long-haul, there's no fear of going hungry with pizzas served fresh until 2am during the week and 4am on Friday and Saturday nights! Don't panic if you can't cut the late night showings, as there will be plenty of highlights and replays thrown into the mix throughout the day too.
Special offers: Take advantage of 50 per cent off on pizza on Mondays, and 25 percent discount for post-midnight diners wanting to catch the action over some good quality Italian grub.
Ciao Chow, G/F, California Tower, 30 – 32 D'Aguilar Street, Central. (+852) 2344 0005
---
Read more! Tuck into Hong Kong's Tastiest Late Night Bites.
---
3. Arnold Classic Asia Multi-Sport Festival
Cheering on the Olympic athletes by the side of Arnold Schwarzenegger might sound like a wacky idea, but that's exactly what you can do at the very first Arnold Classic Asia Multi-Sport Festival. There will be big screens around Asia WorldExpo, ensuring that all guests at the three-day sporting event (which runs from August 19 to 21) catch the biggest moments. Then, with the inspiration of world-class athletes fresh in your mind, you're in the perfect place to get stuck into a whole range of sporting activities, demos, and workshops.
Arnold Classic Asia Multi-Sport Festival, AsiaWorld-Expo, Lantau
---
Read more! Find out more about the Arnold Classic Asia Multi-Sport Festival.
---
 4. Grand Central
Grand Central is ahead of the game with a full schedule of Olympic showings already planned. From tennis to gymnastics, and athletics to rugby, a full range of disciplines will be shown from around 8pm every evening until August 21. Plus, you're guaranteed a good atmosphere at this Tsim Sha Tsui hangout. Click here to see the full schedule.
Special offers: Make the most of the daily Happy Hour, between 3pm and 8pm, which includes a 2-4-1 deal on all draft beers.
Grand Central, Shop R001, 3/F and Roof, Civic Square, Elements, Tsim Sha Tsui, (+852) 2736 4888
---
Read more! Spend Five Minutes with: Olympic Swimmer, Claudia Lau.
---
5. Rúla Búla
Opening its doors at 4pm every day, long-standing LKF favourite, Rúla Búla, will be playing a mixture of live events and replayed action on the big screen throughout the evening. Plus, when night falls you're in the perfect place to celebrate Olympic victories – or drown your sorrows of course.
Special offers: Make the most of Happy Hour which slashes 50 percent off standard drinks, bottled beers, and wine between 4pm and 9pm every day – swing by on a Wednesday and you can enjoy All Day Happy Hour.
Rúla Búla, G/F, 58-62 D'Aguilar Street, Lan Kwai Fong, Central, (+852) 2179 5227
---
Read more! Put your trivia to the test at Hong Kong's Best Pub Quiz Nights.
---
6. The Jockey
If Happy Valley is your hangout of choice, then The Jockey is right on your doorstep. With a jam-packed schedule of evening showings in a full variety of events, outdoor space for four-legged friends to join the party, and a hearty English menu to tuck into, this place looks set to be a bustling spot throughout the Olympic fortnight. Click here to see the full schedule.
Special offers: Tuck into the Burger of the Month, and throw a pint of beer into the mix for $198.
The Jockey, G/F, 33 Wong Nai Chung Road, Happy Valley, (+852) 2572 2266
---
Read more! Check out Hong Kong's Top 10 Dog Friendly Hangouts.
---
7. McSorley's
If you're looking for something a little more laid-back, then pull up a seat at McSorley's in Discovery Bay. With Tai Pak Beach just a stones throw away, a refreshing selection of pale ales and ciders, and a classic gastro menu, it's easy to keep the whole family entertained at this Lantau local while the Olympic action unfolds. Click here to see the full schedule.
Special offers: This classic Irish establishment has delicious deals every night of the week, including an all-you-can-eat Indian buffet, discounted Guinness, and a classic Fish Friday Feast. One thing's for sure, you won't go hungry here!
McSorley's, Block B, G/F, D'Deck, Discovery Bay, (+852) 2987 8280
---
Read more! Explore Lantau with our Island Guide.
---
8. The Dog House
At the very heart of Wan Chai's drinking area sits the self-proclaimed "home for live sports" – The Dog House. Showing all the Rio action during opening hours on nine TVs around the venue, this go-to sports hub is the obvious choice if a pint in hand is your main priority.
Special offers: Pick up a half-price pint during Happy Hour which runs between 5pm and 10pm every day.
The DogHouse, 72 – 86 Lockhart Road, Wan Chai, (+852) 2528 0868
---
 9. Trafalgar
We're still in Wan Chai, and only about four steps away from The Dog House, however Trafalgar has the added bonus of a terrace. Now, while we're not promising a quiet evening, at least you are slightly removed from the Wan Chai madness. This traditional British pub will be juggling a mixture of live and replayed Olympic action, while pouring drinks and serving up hearty pub grub classics.
Special offers: Get in the Jaegar shots for just $30 a piece between 11pm and midnight on Wednesday evenings – if the Olympics doesn't call for celebrations, what does?
Trafalgar, 5/F, The Broadway, 54 – 62 Lockhart Road, Wan Chai, (+852) 2110 1535
---
10. Devils Advocate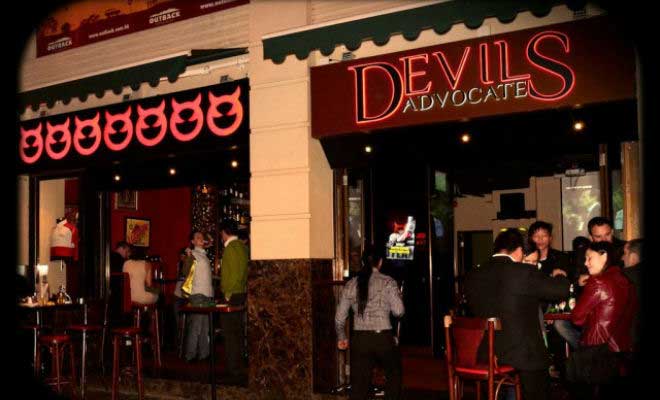 Yes, it's still Wan Chai, but we couldn't leave out Devils Advocate – one of the district's most popular sports bars. This open-fronted bar will be streaming the Olympics throughout the two week period, welcoming all to cheer on the athletes with a drink in hand.
Special offers: The Happy Hour deals are deliciously long here, running from 12 noon to 10pm throughout the week and until 9pm on Fridays and Saturdays.
Devils Advocate, G/F, 48 – 50 Lockhart Road, Wan Chai, (+852) 2865 7271
---
Read more! Get the lowdown on Sailing and Rugby in Hong Kong, or try these 8 Wacky Workouts.