Well, the Island Series has proven to be quite an adventure, hasn't it? From riveting rock formations to friendly cows, we really have seen it all. For the final instalment (hold back the tears guys), we're giving you the lowdown on a couple more tiny islands dotted around our city. Join us as we visit Ma Wan and Tung Ping Chau – two very different islands, each with their own individual charm. With the sun shining and a scattering of public holidays ahead of us, now's the perfect time to plan a trip and get a feel for life on these hidden gems. So grab your swimmers, put on your sunnies, and let's get going.
---
---
Ma Wan
Not the most bustling of areas, Ma Wan is a largely residential area, with a sizeable population of plastic animal couples. If that's not reason enough for you to schedule in a visit, then we have no idea how to please you.
Good for: An alternative day out, either with the family or light-hearted friends. Ensure you've got a fully charged camera to capture the inevitable and hilarious shots with the animal statues.

How To Get There
Either hop on the ferry from Central Pier 2, which takes around 20 minutes, or shun the high seas in favour of an MTR experience. The yellow MTR line whisks you from Hong Kong MTR Station to Tsing Yi MTR Station in just 15 minutes. Head out of Exit C, and hop on Bus NR330 to Park Island. Depart after roughly 10 minutes at Kei Wai Primary School and hey presto – you're in Ma Wan.
Click here to see the ferry schedule
Beach
Ma Wan is home to a couple of sandy spots which are reached by walking along a rather lovely, leafy boulevard. To reach Ma Wan Beach, head left out of the ferry pier and bear down the left-hand side path. This coastal spot is the secret of Park Island residents, and though they'd rather keep it that way, we want to lap up some of the sandy fun. With views of the Tsing Ma Bridge to your right and popular hangout Cafe Roma just behind you (perfect for a leisurely tipple on the light up seating), Ma Wan Beach is a place where we're more than happy to while away the hours.
 
Noah's Ark
A truly unique experience, Noah's Ark (pictured above) is, without doubt, the highlight of Ma Wan. If you've never spent the afternoon with 67 pairs of life-sized animal statues, then you've got a real treat coming your way. In a city where Instagram is king, you can only imagine the hilarity that ensues when provided with such an array of animal statues. Can't bear to tear yourself away after just one day of plastic-animal fun? Book yourself into the Noah's Ark Hotel and extend your fun by another day. There's also an outdoor tightrope adventure course available for reservation if you're on the hunt for an alternative day out or a celebration venue.
Tickets cost $168 for adults and $138 for kids
Noah's Ark, 33 Pak Yan Road, Ma Wan, (+852) 3411 8888
---
Read more! Discover 20 Fun Things to Do with Your Kids in Hong Kong
---
Tung Ping Chau
The most far-flung of our island spots, and arguably the most beautiful, Tung Ping Chau is a bit of a trek on the ferry, clocking in at just under two hours. With stunning sunrises, untainted beaches, and glistening water stretching for miles before you, the slightly longer ferry journey certainly doesn't play on your mind for long. Forget plane tickets and costly hotels, Tung Ping Chau is our new holiday destination of choice.
Good for: A cheap beach holiday with unforgettable sunrises. You'll return to the city with a laid-back attitude, a natural glow, and a beachy aura. Probably.
How To Get There
Ma Liu Shui Ferry Pier in Sha Tin is the departure spot for the ferries to this beachy oasis. Running only on weekends and public holidays, private charters are the only option if your city escape falls outside of these days, but obviously, this will set you back substantially more than $90 each way. Back to the scheduled services, the Saturday service sets sail from Ma Liu Shui at 9am and 3.30pm, with just one returning service at 5.15pm. On Sundays and bank holidays, the early outbound 9am start is your only option. Much the same as Saturday, however, there's only one chance to get back to Hong Kong, and that's at 5.15pm. Habitually late people beware.
Click here to see the full ferry schedule (scroll down to Ma Liu Shui – Tung Ping Chau)

Beaches
If you're looking for paradise, then look no further than this sandy spot. Tung Ping Chau (pictured above) boasts some, if not the, most idyllic beaches in Hong Kong. Owing to the extra effort it takes to get there, the sandy stretches and irresistibly clear waters remain untainted. Take a dip, catch some rays, tuck into a picnic – just make sure you clean up after yourself and maintain the coastal perfection.
It's a bit of a trek compared to the other islands, so understandably most explorers arrive with a tent in tow so they can spend the night. And boy is that a good idea because Tung Ping Chau is infamous for its beautiful sunrises. We're feeling zen just thinking about it.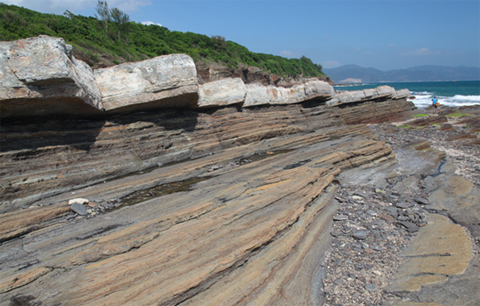 Hike
The round island route incorporates the majority of must-see things on Tung Ping Chau, and isn't long or taxing. Turn right out of the ferry pier and head through the woods, gazing over the crystal clear ocean which stretches out before you. Then it's onwards to appreciate the island's famous jagged rock formations; Lung Lok Shui (pictured above) is said to look like a dragon crawling down into the ocean (this requires the use of your imagination). In no time at all, you'll find yourself back at the ferry pier.
Distance: 6km
How long: 2 hours
---
Read more! Take a dip at Hong Kong's Cleanest Water Spots.