If you're looking for a weekend escape from the beeping cabs, heaving pavements, and built up streets, then grab a pal and explore Hong Kong's outlying islands. In part two of our Island Series, we give you the lowdown on Lamma, a picturesque, undulating island off the south west coast of Hong Kong, which boasts sandy beaches, hiking trails, fresh seafood, and quaint cafés. Rather surprisingly, however, no llamas.
---
---
How To Get There | Activities | Beaches
Festivals | Hikes | Restaurants: Yung Shue Wan
Restaurants: Sok Kwu Wan | Sights
---
How To Get There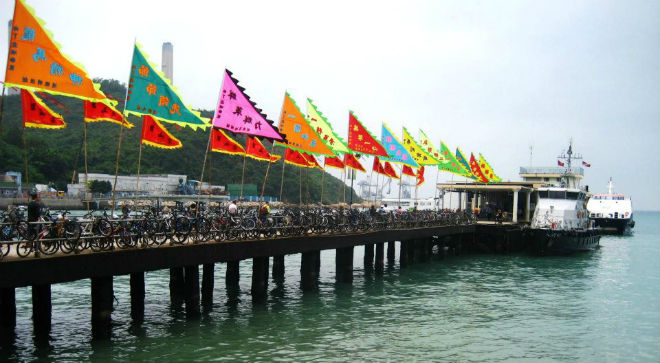 When you head down to Central Pier 4, there are two popular options. Either hop on the ferry to Yung Shue Wan (pictured above), which runs every 20 to 30 minutes, or ride to Sok Kwu Wan on the less regular ferries (roughly every hour and a half). Canine pals are welcome to board all ferries but are asked to park themselves on the front row to avoid covering all other passengers with fur.
Click here to check out the ferry timetable
---
Activities
Herboland
If embarking on the Family Trail, make sure to swing by the lusciously green oasis that is Herboland (pictured above). Described by our very own Lamma Localiizer as "a tropical jungle within the tropical jungle", this charming tea shack is the place to pick up your organic bathroom essentials and rustic gifts. Mint soap and herbal tea? Yes, please. Just make sure you check out the Facebook page before you set off, as Herboland only opens on weekends and public holidays, and even this can be subject to change.
Opening hours: 11am – 5pm on weekends and public holidays only (check the Facebook page for updates)
Herboland, Hung Shing Ye Beach, Lamma, (+852) 9094 6296
Fisherfolk Village
A celebration of the continuing importance of fishing to Lamma's economy, Fisherfolk Village combines local history with hands-on activities. Hop on a shuttle boat from Sok Kwu Wan Public Pier, and in just over a minute you'll be on the Sok Kwu Wan fish raft. Forget fancy gadgets, a hookless fishing rod is all you need to keep little hands happy throughout the afternoon. Plus, whilst the youngsters fish around in the water, you can relax with a cup of freshly brewed tea.

Opening hours: 10am – 7pm
Full day tickets cost $80 for adults and $60 for kids
Fisherfolk Village, Sok Kwu Wan Fish Raft, (+852) 2982 8585
---
 Read more! Check out part one of our Island Series: Cheung Chau Guide. 
---
Beaches
Hung Shing Yeh
Fire up the BBQ and grab the sausages, there's no better place for a sundown feast than the barbecue pits at Hung Shing Yeh Beach. There are simple showers on site if you're warring with the sand, and the Concerto Inn is just behind if you decide to extend your Lamma staycation by one more day.
About 30 minutes walk from Yung Shue Wan
Lo So Shing
If you're dreaming of a quiet stretch of golden sand, bordered by luscious green forest, then Lo So Shing Beach on the west coast of the island is the spot for you. Clean sand, clear water, and not a crowd in sight, this oasis is ideal for a relaxing weekend escape.
About 20 minutes walk from Sok Kwu Wan
Mo Tat Wan
Popular with junk boat parties and island paddlers, Mo Tat Wan Beach (pictured above) is yet another picturesque spot to add to Lamma's collection. Bordered by private houses and popular Mediterranean restaurant, The Bay, it's well worth the extra effort to reach this out-of-the-way spot.
About 20 minutes walk from Sok Kwu Wan
Power Station Beach
If your ideal beach date has a furry body and four legs (oh come on, we've all eschewed the Hong Kong dating scene at some point), then trot down to Power Station Beach. As a non-government managed beach, canine pals can frolic to their hearts' content. There's usually a volleyball flying around on the weekends, and if you keep your eyes peeled, you might catch the Lamma Outrigger Canoe Club paddling by. Plus, listen out for news of the annual Lamma Fun Day, held in November, when stalls, activities, and live music pop up on the beach in aid of charity.
About 20 minutes walk from Yung Shue Wan
Sham Wan, aka Turtle Beach
One of Hong Kong's cleanest swimming spots, Sham Wan Beach on the south coast boasts water so clear, it's near impossible to resist going for a cheeky dip. Also a favourite spot of broody green turtles, however, the beach is strictly off limits from June 1 to October 31.
About 30 minutes walk from Sok Kwu Wan
Yung Shue Ha
If embarking on the Circular Lamma Island Family Walk, swing by Yung Shue Ha Beach (pictured above) en route. This rather desolate beach has just a few shops selling noodles on the weekends, and the occasional scattering of tents courtesy of ad hoc campers.

About 40 minutes walk from Sok Kwu Wan
---
Read more! Find the perfect beach with our Guide to Hong Kong's Cleanest Water Spots. 
---
Festivals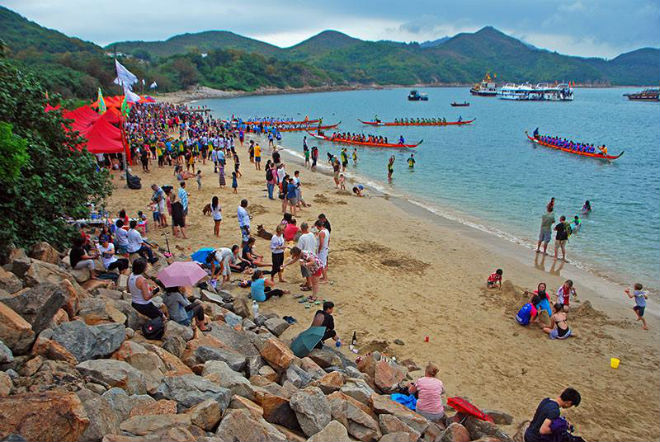 Tin Hau Festival
Lamma is well known as a hub of traditional celebration when the Tin Hau Festival comes to town. Colourful decorations, lion dances, and Cantonese opera appear in honour of the sea Goddess, Tin Hau, who has three colourful temples dedicated to her on this one island alone. Keep your eye out for fishing boats adorned with colourful ribbons thanking Tin Hau for past fortune on the high seas, and to welcome luck in the future.
Tin Hau Festival, April 27 2019

Lamma 500
In addition to an exciting schedule of competitive racing for the Lamma 500 International Dragon Boat Festival (pictured above), there will be an after-party at Tai Wan To Beach. Expect celebrations, festive drinks, and delicious food. Plus, keep your eye out for the Localiiz team who will be handing out merchandise and cheering the paddlers across the finish line, as well as providing an online hub for event photos and results. We'll see you there! 
---
Hikes
Circular Lamma Island Family Walk
If a pleasant, family-friendly tour of Lamma is what your feet desire, then grab your trainers and hop on the ferry to Sok Kwu Wan. Once you're hiking, the half-way point treat is a sandy stop off at Yung Shue Ha Beach, which is uninhabited bar a couple of ad hoc campers and noodle stalls. As a family walk, it's no surprise this trail is relatively buggy-friendly, apart from one set of stairs. Make sure you head around the circuit clockwise so that you can carry any accompanying buggies down these stairs, rather than tackling an upward struggle. Then it's back to Sok Kwu Wan for a celebratory seafood banquet. However, if you're still full of beans and fancy tackling another 4km, hop onto the Family Trail and head over to Yung Shue Wan.
Distance: 6km
Starting Point: Sok Kwu Wan
Finishing Point: Sok Kwu Wan
Family Trail
By far the most well-worn hike on the island, the Family Trail (pictured above) encompasses many of our recommended sights and activities, including Power Station Beach, Herboland, and Kamikaze Cave. Most people kick off their day in Yung Shue Wan and hike over the island to Sok Kwu Wan, however in our experience you are much better doing the whole thing in reverse. By getting your timings right and catching the less regular outbound ferry to Sok Kwu Wan, you will finish your day in Lamma's most bustling neighbourhood with the biggest variety of restaurants (because post-hike feeds are both deserved and necessary). If you get peckish mid-hike, there are a couple of food stalls en route selling pineapple and beancurd, among other things. And let us tell you, there is nothing more satisfying in this world than a ring of frozen pineapple on a summer's day. Nothing at all. 
Distance: 4km
Starting Point: Sok Kwu Wan Ferry Pier
Finishing Point: Yung Shue Wan Ferry Pier
Lamma Island Hike
If an experienced, knowledgeable tour guide would make a welcome addition to your island experience, sign up to the Lamma Island Hike with established tour guide company Walk Hong Kong. Catching a scenic boat from Aberdeen to the small village of Mo Tat Wan, this full-day excursion encompasses most, if not all, of Lamma's historical sites. From the feng shui woods to the unspoilt south, you'll experience the secret areas most people fail to find. Checking in at $800 per person, you'll know the island like the back of your hand after this in-depth exploration.

Distance: 7km
Starting Point: Mo Tat Wan
Finishing Point: Yung Shue Wan
---
Restaurants: Yung Shue Wan
In Yung Shue Wan, you are really spoilt for choice. From vegetarian cafés to Indian curry-galore, and mouth-watering Spanish tapas to good old American grill comfort food, you won't be going hungry in this neighbourhood.

Andy's Seafood/ Sau Kee Seafood Restaurant
For a more local experience, scout out Andy's Seafood, a less visible, and less expensive alternative to the restaurants directly in front of the ferry pier. It may not look like much from the street entrance, but walk past the tanks to the outdoor terrace, overlooking the bay, and you'll stumble upon the perfect setting for a seafood feast. The garlic broccoli is a must (except on date night) as is the Red Grouper.
Andy's Seafood, 43 Main Street, Yung Shue Wan, Lamma, (+852) 2982 0210
Book Worm Cafe
If a delicious, nutritious vegetarian meal is what you're after, then the colourful, friendly Bookworm Cafe (pictured above) is the place for you. Our editor loves nothing more than grabbing a book from the shelves and whiling away the hours with a plate of Green Goddess Lasagne. With such glowing reviews, it's no surprise that this place is bustling on weekends and holidays. During these busy periods, we recommend picking up the phone and reserving your spot.
Bookworm Cafe, 79 Main Street, Yung Shue Wan, Lamma, (+852) 2982 4838 
Candela
Formerly known as Carlos Tapas, Candela boasts an intimate atmosphere, a friendly host, and delicious Spanish food. Borne from a humble takeaway, this restaurant boasts authentic tapas on an ever-changing menu. Although this rather mysterious tapas joint has no website or Facebook page, it's an absolute gem. Olé! 
Candela, 23 Main Street, Yung Shue Wan, Lamma, (+852) 6344 5288


LaLa Mama's
Fresh juice on a summer's day is one of life's greatest pleasures, so it's no surprise LaLa Mama's has made it onto our must visit list of Lamma restaurants. Swing by and try out The Refresher, our ultimate favourite juice, with its orange, apple, and lemon flavours. In addition to great juice (can you tell we like it?), LaLa Mama's hosts cooking classes. There's no set schedule, so give them a call, sign up, and they'll let you know what date to pop in your diary.
LaLa Mama's, G/F, 27 Sa Po Old Village, Yung Shue Wan, Lamma, (+852) 9759 2553
Lamma Grill
From burgers to hot dogs, and BBQ ribs to buffalo wings, Lamma Grill (pictured above) is the island's authentic American restaurant serving up hearty meals every day of the week. The seasonal specials ensure that there's always something new and exciting to try, even if you're a regular. If you fancy a side portion of bingo, clothes swapping, and book stalls, then get down there on Wednesdays when exciting activities are planned.
Lamma Grill, 36 Main Street, Yung Shue Wan, Lamma, (+852) 2982 1447
Olive Leaf
Just the thought of an al fresco, Middle Eastern banquet makes our senses tingle with excitement. As a result, Olive Leaf is a winner in our books. When the weather is fine, fragrant, vegetarian dishes such as Shakshouka and eggplant adorned with pomegranate seeds, collect as you admire the surrounding leaves and vines. Brunches and cooking classes pop up every so often, so keep an eye on the Facebook page for news of the latest additions to the schedule. Please note that, as a private kitchen, Olive Kitchen requires forward planning and a reservation.
Olive Leaf, Pak Kok, Lamma, (+852) 9723 0459
The Island Bar
Just a hop, skip, and a jump away from the ferry pier, The Island Bar (pictured above) is a firm Localiiz favourite, with seafront seating making it both family and dog-friendly. Quiz night falls on the last Thursday of every month, and live music fills the cosy venue on Thursday evenings and Sunday afternoons. Plus, on $20 Tuesdays all beers, house spirits, and mixers will set you back just one 20 dollar note! Of course, it's always Happy Hour at this Lamma local anyway, with beer, wine, and Prosecco checking in at under $40 per glass all day, every day.
The Island Bar, 6 Main Street, Yung Shue Wan, Lamma, (+852) 2982 1376
 The Blue Goose Tavern
Relatively new to the Lamma scene, The Blue Goose Tavern is another restaurant with an unassuming shop front and beautiful terrace. Whether you're on the hunt for a Full English Breakfast on the seafront or a stacked, meaty burger, this ex-Wan Chai establishment will fill you up, no problem. Stand up comedy nights and acoustic music sessions are proving popular, and look set to become regular events. For the time being, however, keep your eye on the Facebook page for announcements of upcoming events.
The Blue Goose Tavern, G/F, 47 Main Street, Yung Shue Wan, Lamma, (+852) 2982 1688/ (+852) 9869 1919
The Waterfront 
Feeling spicy? Rustling up some of the best curries in Hong Kong, The Waterfront serves an eclectic mix of Asian and Western dishes with a strong Indian influence. With a cold beer in hand and the sun setting over the South China Sea, The Waterfront's terrace is the ideal place to round off your Lamma adventure. After taking a peek at the kid's menu, which includes Silly Sausages, Chish and Fips, and Rita Margarita Pizza, we reckon youngsters will be big fans of The Waterfront too.

The Waterfront, G/F, 58 Main Street, Yung Shue Wan, Lamma, (+852) 2982 0015
---
Read more! Check out Hong Kong's Top 10 Dog-Friendly Hangouts
---
Restaurants: Sok Kwu Wan
Over in Sok Kwu Wan, seafood is king. Wander down the pier and see which restaurant takes your fancy. If winging it isn't your idea of fun, however, pay a visit to one of our favourites, detailed below.
Lamma Hilton Shum Kee Seafood Restaurant
A well-established Sok Kwu Wan favourite, Lamma Hilton serves delicious food at deliciously low prices. From deep-fried squid to steamed scallops, and baked lobster to fried crab, this is absolute heaven for large groups of seafood lovers. If you fancy a tipple, you've got free rein to pick up your favourite drink en route to this BYOB establishment. Cheers!
Lamma Hilton Shum Kee Seafood Restaurant, 26 Second Street, Sok Kwu Wan, Lamma, (+852) 2982 8241
Lamma Rainbow
With a multitude of culinary awards tucked under its belt, Lamma Rainbow is sure to satisfy your hunger pangs. Specialities include Rainbow Fish, Fried Squilla, and Sweet and Sour Prawns. Why not take your Lamma Rainbow experience to the next level and hop aboard the Rainbow Boat? This ferry service takes satisfied guests back home to Central Pier 9 or Tsim Sha Tsui Pier 5 free of charge (click here to see the timetable).
Lamma Rainbow, 23-25 First Street, Sok Kwu Wan, Lamma, (+852) 2982 8100
The Bay
If you need to get away but can't get the time off work, then The Bay (pictured above) can offer you the next best thing. Popular with junk boat parties, this Mediterranean restaurant is well worth the half-hour walk from Sok Kwu Wan. Alternatively, you can catch the ferry from Aberdeen Fish Market to Mo Tat Wan and cut out the walk altogether (click here to see the ferry timetable). It's easy to forget you're in one of the world's most densely populated cities when feasting on Mediterranean dishes with the ocean stretching out before you. Expect fresh veggies, hummus-galore, and olives-a-plenty.

The Bay, 7 Beach Front, Mo Tat Wan, Lamma, (+852) 2982 8186
---
Sights
Kamikaze Cave
This rocky cave may not seem so exciting upon first glance, but once you learn the history behind it, we guarantee you'll want to take a second look. It's believed that Japanese soldiers occupying the island during the Second World War dug out the cave to hide their boats and ammunition from the Allies who were occupying Hong Kong Island. The Kamikaze Cave is well signposted along the Family Trail, close to Sok Kwu Wan, so check it out if you're passing by.
Lamma Winds 
Feeling green? No, not with envy – with environmentally friendly energy! Well, if you do have a soft spot for wind turbines and want to see Hong Kong's premier specimen, then Lamma Winds (pictured above) is an obvious place to schedule into your day. It will come as no surprise that this tester-turbine is located in one of Hong Kong's breeziest spots, which can provide light relief following the 30 to 40 minute uphill, signposted walk from Yung Shue Wan.
---
Read more! Check out part one of our Island Series: Cheung Chau Guide.