Fancy an adventure? Then why not escape the metropolis and explore Hong Kong's beautiful outlying islands? In the first of our five-part Island Series guides, we check out what's going on over on the island of Cheung Chau. Now, this fishing community may be small, but there are plenty of things to do. From walks and hikes to hiring bikes – it's the perfect place for an active, feel-good weekend away from the city.
---
How to Get There
Ferries run from Central Pier 5 at half-hour intervals throughout the day and less regularly in the early hours of the morning. Standard ferries take about one hour, whereas the fast ferries cut the travel time to 40 minutes (click here to see the schedule). If your four-legged friend is joining you on your day trip, you have to take the slower, standard ferry (sorry pooches!). 
---
Activities

Cycling
As the main mode of transportation on this vehicle-free island, you will have no problem finding somewhere to pick up your own set of wheels for the day. With no motorised vehicles, bar a fire engine and ambulance, pedalling your way around the island is a stress-free way to see the sights. If you're feeling strong, you could tackle a tricycle with two of your pals in tow on the backseat bench. Rentals generally clock in at around $10 per hour, with discounted daily rates, a deposit, and small, extra charges for helmets and locks.
Walks
As a relatively flat island, touring Cheung Chau by foot is enjoyable for people of all ages and abilities. There are a number of routes which encompass various sights, and all of which boast breathtaking views of the water. Coasting the south west of the island, the Cheung Chau Family Walk can be found to the right of the ferry exit. Along the way, you will stumble upon Italian Beach, Cheung Po Tsai Cave, Reclining Rock, and Tin Hau Temple. As indicated by the name, this two-hour route isn't too strenuous and perfect for a family outing.
For a slightly bigger serving of unusual rockery, walk straight ahead out of the ferry exit, turn right onto Cheung Chau Beach Road, and head to the south-east of the island. The Mini Great Wall Trail encompasses a whole range of oddly shaped (and imaginatively named) stones, including Loaf Rock, Human Head Rock, and Vase Rock.
Watersports
The Cheung Chau Windsurfing Centre (CCWC) is the go-to for getting out on the high seas. Whether you fancy a scenic trip out on a double kayak, testing your balance on a stand-up paddleboard, or giving windsurfing a whirl, CCWC has got you sorted.  Hong Kong's gold medalist, windsurfer Lee Lai-shan, did train there after all. Equipment rental varies between $120 and $180 per hour, with additional costs for harnesses and wetsuits checking in at around $25 to $35, plus a $500 deposit.
Cheung Chau Windsurfing Centre, 1 Hak Pai Road, Cheung Chau, (+852) 2981 8316
---
Beaches
Small, secluded beaches can be found all around the small island of Cheung Chau, and are relatively easy to stumble upon by tapping into your inner adventurer. If you are looking for beaches with facilities, such as changing rooms and equipment hire, then these are the places you want to go.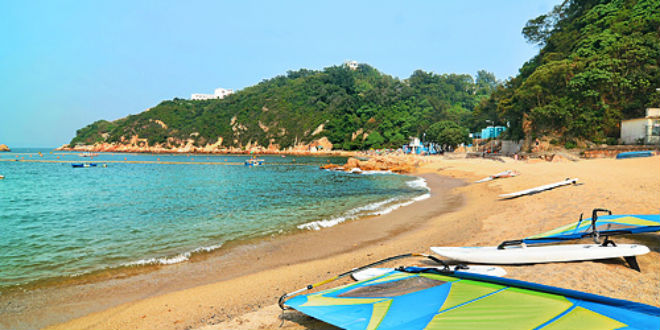 Kwun Yam Wan
A hub of aquatic sports, Kwun Yam Wan Beach is a popular choice for sun-worshippers over the summer months. If a spot of windsurfing is your ideal summer activity, then look no further than this idyllic, and relatively quiet, sandy escape on the east coast of the island. It is where Hong Kong's only Olympic gold medalist, windsurfer Lee Lai Shan, used to practice after all!
Hak Pai Road, Cheung Chau
Tung Wan and Kwan Yam
These neighbouring beaches are hugely popular with those with their hearts set on a mini staycation during the scorching summer months, mainly due to their close proximity to the ferry terminal. With a refreshment kiosk, changing rooms, and full bathroom facilities, there is everything you need for a full day of beach fun. So, if surfing the waves and catching some rays are your priorities, then Tung Wan and Kwan Yam (pictured) are the beaches for you.
Cheung Chau Beach Road and Hak Pai Road, Cheung Chau
---
Read more! Check out The Coolest Outdoor Pools in Hong Kong.

---
Festivals

Bun Festival
One word to describe the Bun Festival? Quirky. Amidst the vibrant parades, traditional lion dances, and martial arts and operatic performances, twelve contestants will scale a 14-meter high tower adorned with 9,000 imitation buns as the clock strikes midnight. The aim of this rather unusual game is to collect as many buns as possible in three minutes, ideally those higher up which are worth more precious points, in pursuit of the title King of Kings, Queen of Queens, or Full Pockets of Lucky Buns. So where can we sign up …?
May 9-13 2019, (times vary)
Dragon Boat Festival
Definitively more sport-focused than some of Hong Kong's other Dragon Boat Festivals, this festival is a no-frills affair. Tuck into traditional treats including zongzi (rice dumplings wrapped in bamboo leaves), at the Cheng Chau Typhoon Shelter as you watch the paddlers battle it out on the water.
June 7 2019
Cheung Chau Typhoon Shelter
---
Read more! Learn more about the Bun Scrambling Competition. 
---
Restaurants
Eggenberg
If some hearty European food is what you're after, then Eggenberg is the perfect place to tuck in. With a friendly team of staff to welcome you through the door, this Austrian-German café, bar, and restaurant have a varied menu to cater for all taste buds. Expect classics including burgers and seafood, alongside speciality German Spiral Sausage and Pork Knuckle. Fancy an in-house tipple? Sip on the exclusive Sexy Cheung Chau cocktail.
80 Tung Wan Road, Cheung Chau, (+852) 2986 9990
Outdoor Cafe
With a picturesque view of the ocean from the private terrace and the visual entertainment of those trying their luck at watersports, the Outdoor Cafe at the Cheung Chau Windsurfing Centre is a tasty place to spend your afternoon. If Western food is what you're hungering for, then look no further. Fish and seafood are the natural choices when on the island, so check out the range of tapas ($46 – $72), and tuck into their international mains ($78 – $94). There are, of course, meat and vegetarian options for those who aren't so keen on treats from the ocean. Oh, and did someone say cocktails…?
1 Hak Pai Road, Cheung Chau, (+852) 2981 8316
Pak She Praya Road
When you're ready for a more substantial meal, you need to get yourself straight down to Pak She Praya Road – without a doubt the most delicious street on the island. Turning left out of the ferry pier, you'll come across a bustling selection of harbourside seafood restaurants. Fresh produce is the order of the day, every day, thanks to the local fishermen. For around $100 – $150 per head, your table will be overflowing with scallops, shrimps, clams, rice, and crab. Expect big, round, tables, delicious sharing plates, and ice cold beer as the sun sinks below the horizon.
Pak She Praya Road, Cheung Chau
The Pink Pig 
If you like your meals served with a side portion of music, then The Pink Pig Music Bar and Restaurant is your perfect match. Blues and acoustic performances by local bands will often be filling the air with music outside, as guests kick back with drinks and delicious dishes such as big bowls of pasta, pulled pork sandwiches, and homemade desserts. Maybe you'll be grabbing the mic after a glass or two of wine!
G/F, 11 Kin San Lane, Cheung Chau, (+852) 5180 0692
---
Sights

Cheung Po Tsai Cave 
Ahoy me hearties, it's time to pay a visit to the secret hideout of notorious 19th century pirate Cheung Po Tsai. Apparently inspiring the Pirates of the Caribbean: At World's End character, Sao Feng, Cheung was a powerful man and commander of many men and ships at the height of his influence – so the story goes. Down on the South West of the island, the rocky hole where Cheung used to store his treasures really comes alive when you share the tale with your friends. One can always hold out for discovering some of his forgotten jewels, right?
Love Lock Garden
Love is in the air in the Love Lock Garden (pictured) in Cheung Chau. Part of the quaint B&B Cheung Chau hotel, the garden is a place to express your love and affection for family, friends, and partners. Coloured locks and wooden hearts are sold in the hotel workshop, with locks checking in at $40 and Austrian wooden hearts setting you back a little extra at $120. Decorate as you please, attach your creations to the wall, and Instagram away!
B&B Cheung Chau, 85 Tung Wan Road, Cheung Chau

Mini Great Wall
Less an imitation of the Great Wall, and more a path with pleasant views, this section of the Cheung Chau Family Walk is recognisable only by its granite railings. Whilst wandering along the scenic route you will see Flower Vase Rock, Loaf Rock, and Human Head Rock. Don't use it as a substitute for an actual trip to the Great Wall of China though guys.
North Lookout Pavilion
Where better to admire the glistening waters surrounding Cheung Chau than from the highest point of the island? The tiny, picturesque pavilion is the perfect place to kick back, relax, and admire the view. Try your best to time your trip so you can catch the sunset – take our word on this one, you won't regret it.
Cheung Chau Family Walk, Cheung Chau
Reclining Rock
If stone formations rock your world, then swing by Reclining Rock after you've checked out Cheung Po Tsai Cave. Although slightly unnerving, as the reclining rock in question looks as though it's perpetually on the verge of tipping over, the backdrop of the turquoise ocean and wild cacti make for a really beautiful sight.
West End, Cheung Chau
---
Temples
Kwan Kung Pavilion
No more than 15 minutes walk from the ferry pier, this colourful temple has a decadent incense burner with colourful dragons either side at the entrance. Discover an eight-foot tall statue of an ancient Chinese General hidden inside, which was crafted entirely from a single tree.
Kwun Yam Wan Road, Cheung Chau
Pak Tai Temple
With the traditional Chinese lion dogs guarding the entrance, this Grade 1 historical building was built back in 1783 in honour of Pak Tai, the Taoist God of the Sea. The Pak Tai Temple has contrasting stone walls and colourful roof tiles, and a whole host of treasures and antiques hidden within. A perfect photo spot!
Pak She Street, Cheung Chau
Tin Hau Temple
This tiny, colourful temple is thought to be around 200 years old, and originally built in honour of the Goddess of the Sea. Housed within is a bronze bell which belongs to the Qianlong era of the 18th century. Those embarking upon the Cheung Chau Family Trail can swing by and take a look en route.
Sai Wan, Cheung Chau
---
Read more! Check out our guide to The Coolest Outdoor Pools in Hong Kong.
Subscribe to receive our weekly newsletter