Originally published on January 26, 2018 by Sophie Pettit. Updated on July 8, 2019 by Doris Lam.
When it comes to dining out, Hongkongers sure love the novelty factor. From lovable cartoon animals to real life furry friends, and comic book wonderlands to food that you can squidge, we're never short of entertainment in the 852. Get ready to fill your bellies—and your Instagram feeds—as we check out Hong Kong's coolest themed cafes.
---
---
1. 9¾ Café
After twenty years since the release of the first Harry Potter book, Hong Kong's first unofficial themed cafe opened up to serve Potterheads some seriously magical potions that pay homage to the wizarding world of J. K. Rowling. The adorably named 9¾ Café is everything fans could dream of—and thankfully, they don't have to run into a brick wall to get there. Decorated with genuine Harry Potter merchandise from the owners' personal collection—everything from broomsticks and wands to old spellbooks and even a sorting hat on the shelf (please let us be Gryffindor), the cafe serves up Western-style dishes named after mythical themes and characters like The Dementor's Kiss ($138) and The Order of the Phoenix ($118). And of course, there are plenty of potions to keep the magic flowing, such as the Polyjuice Potion, Felix Felicis, and even an Amortentia love potion for $55 a pop. As an added touch, customers can pose for photos with magic wands and Potter-style glasses, as well as the famous half-disappearing trolley at Platform 9¾. So what are all you muggles waiting for? Call now to book your spot.
9¾ Cafe, 4/F, Prosper Commercial Building, 9 Yin Chong Street, Mong Kok | (+852) 9432 6555
---

2. Rabbitland Café
Prepare yourself for a cuteness overload as you enter Hong Kong's first rabbit cafe, Rabbitland. Inspired by a trip to Japan's famous 'rabbit island' in Okunoshima, this quirky upstairs Causeway Bay café invites you to slip on your socks and step inside the 'bunny den' for a play date with 12 fluffy fellas. Decked with little tables and legless chairs, three rabbit pens, and walls of bunny-themed decor, this is the perfect spot for snapping adorable selfies with your favourite characters. We couldn't get enough of fluffy-headed Donkey and the super sociable Orea (pictured above). Although you aren't permitted to pick the rabbits up, you'll still have plenty of interaction as you stroke them and watch them hop around greeting customers. Entry is $68 per person which gets you one hour in the den and a drink, or you can push the boat out and pay $138 for one drink, a tasty dish, and a rabbit snack for your new buddy. Just don't forget to bring a pair of socks—and your camera!
Rabbitland Cafe, 3/F, 530 Jaffe Road, Causeway Bay | (+852) 5281 0280
---

3. Charlie Brown Café
Some things never go out of style, and cartoon pooch Snoopy is certainly one of them. Located in the heart of Tsim Sha Tsui, the Charlie Brown Cafe has been a family favourite for years due to its fun, wooden cabin like environment and tasty menu of sweet treats and frothy drinks. Decorated with adorable Peanuts character sculptures, Snoopy inspired decor, and collector's items, the 4,000 square-foot cafe is the perfect setting for children's parties and big kids at heart. Who wouldn't love tucking into a Snoopy cake, or sipping on a cup of hot chocolate with Woodstock's face in the froth? With a range of breakfast, lunch, and snacks which mostly cost under $100, this is an absolute winner in our book.
Charlie Brown Cafe, G/F–1/F, Fortuna House, 58–60 Granville Road, Tsim Sha Tsui | (+852) 2366 6315
---
4. Yum Cha
You're never too old to play with your food at "Instagram worthy" dim sum restaurant, Yum Cha. In fact, you're encouraged to squidge, poke, and smash your way through their impressive selection of animal shaped treats and googly-eyed faces that feature on their menu. Fans of char siu bao will squeal with delight when the BBQ Piggy Buns arrive at the table, while big kids with a wicked sense of humour will jump at the chance to squeeze the gooey orange innards from the mouths of the Hot Custard Buns (pictured above). The newest branch in Causeway Bay has some exclusive goodies in the form of the fluffy Mango Sago & Cotton Cloud and adorable Peanut Papa Buns with moustaches. With a large variety of noodle, rice, soup, and meat dishes on the menu, it's never a dull—or tasteless—moment at this quirky little spot, as the quality of the food is actually very good, and most dim sum will only set you back $49 for three pieces. Totally worth the Instagram frenzy!

Yum Cha, 2/F, Nan Fung Place, 173 Des Voeux Road Central, Central | (+852) 3708 8081
2/F, Emperor Watch & Jewellery Centre, 8 Russell Street, Causeway Bay | (+852) 2323 1288
3/F, 20–22 Granville Road, Tsim Sha Tsui | (+852) 2751 1666
Level 4A, Langham Place, Mong Kok | (+852) 2818 1099

---

5. KURI Café—Home of Hedgehog
Located in Kowloon Bay, Kuri Café is home to 11 spikey hedgehogs that live in little wooden boxes with glass doors for visitors to peer inside. Since hedgehogs' quills are sharp to touch and can puncture the skin, visitors aren't allowed to hold or touch the animals. However, visitors are allowed to feed a handful of worms to the animals. Don't want to leave just yet? Hang around and indulge in the café's selection of drinks and desserts, each decorated with hedgehog-patterned powder on top. Read our full review of the cafe here.
Kuri Cafe, Shop T104A, G/F, TBG Mall, 3 Ngau Tau Kok Road, Kowloon Bay | (+852) 9297 9821
---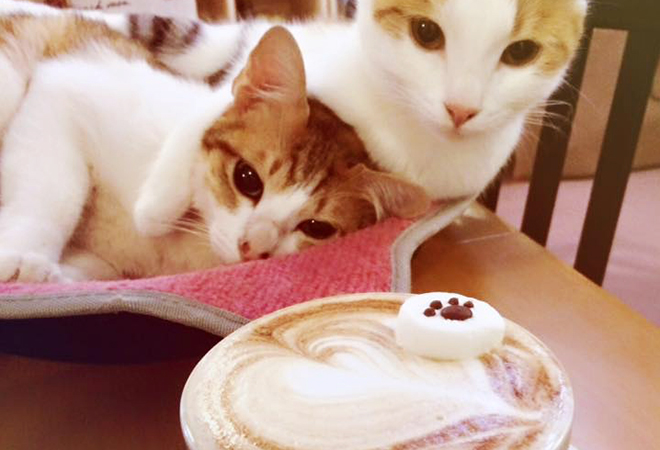 6. Cat Store
If you are mad for moggies, then you'll feel like the cat that got the cream at Hong Kong's one and only Cat Store. Tucked away on the 3rd floor of a part residential, part commercial building in Causeway Bay, this quirky spot has 11 resident cats who love to be stroked, groomed, and spoiled rotten. A great solution for animal lovers who miss having their own pet (we're looking at you, landlords), this kooky café can't get enough of its furry residents who are the inspiration for its murals, photos, decorations, and even lighting—we love the Yakult bottle lanterns. They even inspire the menu, which is filled from front to back with cat-themed desserts, snacks, coffees, and meal sets that feature their adorable faces. Prices are pretty reasonable, meaning you and your kitty (yes, there is an 'order for your cat' section) can enjoy several treats without breaking the bank for a cute snap or two. Don't forget to check out the little cat trinkets for sale on your way out too.
Cat Store, 3D Po Ming Building, Foo Ming Street, Causeway Bay, Hong Kong | (+852) 2710 9953
---

7. Mum's Not Home
Calling all plant lovers! It is time to slip off your shoes, get comfy on the cushion mats, and enjoy a slice of cake at Mum's Not Home. With house plants surrounding each corner and eccentric decor spanning through the room, this hipster café is the to-go spot for Instagram photos. While you are there, try the popular violet-coloured Secret of Butterfly Pea Tea and pair it with the Lavender Chocolate Cheesecake as a nice mid-day refresher. The owners of the café, Makui and Chow, run the place themselves, but are often gone for travels, so check the hashtag #MNH_OpeningTime_n_Adress on Instagram to see their opening times and details.
Mum's Not Home, 1/F, 302 Shanghai Street Yau Ma Tei | (+852) 9770 5760

---
8. On Dog Dog Café
Dogs rule, cats drool—or is it the other way round? It's hard to know who runs the show at On Dog Dog Café in Mong Kok. Three huskies, one akita, one shiba, and a feisty rescue cat are the stars of this 1,000 square foot cafe, owned by dog lover Brian Tse Ming-cheung and his girlfriend Candy Chung Cheuk-ling. Guests can mingle and play with the lovable bunch—who have been known to break into song when the mood strikes—as they feast on a selection of reasonably priced snacks. Pets are welcome here, too, and a variety of safe and nutritious treats can be made for hungry animal companions.
On Dog Dog Café, 1/F, 3 Soares Avenue, Ho Man Tin, Mong Kok | (+852) 9045 2766
---

9. Jolly Thinkers
With more than a hundred board games to explore, you are never short of entertainment at Jolly Thinkers. This hangout has proven to be so popular with Hongkongers that it has expanded into two outlets—one in Prince Edward, and a newer, bigger branch in Wan Chai. Guests of all ages can fuel up on a hefty menu of drinks and snacks as they get stuck into some Monopoly action and discover a large collection of lesser-known finds. Entry costs $65 per person which gets you a $30 soft drink and three hours of playtime fun—perfect for a rainy day in Hong Kong, or clever clogs who love a challenge. Stone Age, Power Grid, and Dixit are among the favourites of cafe owners Joyce Lam Yuen-han and John Guest—and we hear the mayonnaise-smothered Baked Potato Skins are to die for.
Jolly Thinkers Wan Chai, 11/F Bayfield Building, 99 Hennessy Road, Wan Chai | (+852) 2527 2882
14/F, Capricorn Centre, 155 Sai Yeung Choi Street North, Prince Edward | (+852) 3107 1160

---
10. Hello Kitty Madness
This little kitty is so popular she has her own café in Hong Kong. Tucked away in the quieter streets of Tai Hang, Hello Kitty Secret Garden is a 17-seater cafe which boasts a menu of savoury dishes, sweet desserts, and cheeky drinks which pay homage to the famous feline. The café has a garden theme with foliage and wooden decor, making it the perfect location for some rustic snapshots with the moggie herself. The café is small and seats are limited, so be prepared to wait a while for that delicious Rose Latte (pictured). This is definitely one to visit more for the novelty factor—and the 'gram—rather than top-notch food, so don't expect Michelin star bites and you won't be disappointed.
Hello Kitty Secret Garden, 19 Ormsby Street, Tai Hang | (+852) 2808 2868

---

Bonus: Cafe Animojo
Snakes, and lizards, and tree frogs… oh my! If you grew up loving rainforest critters, then you'll be thrilled to know that some of them have moved in at number 19 Hollywood Road—aka Cafe Animojo. Founded by wildlife conservationist, animal presenter, and wildlife photographer "Goatee" Toni Kingston, the new cafe gives Hong Kongers the rare opportunity to come face to face with animals they don't usually encounter and learn about their natural environment. All hand–reared by Toni himself (and legally imported or adopted, we must add) these "nature ambassadors" will be displayed in rotation, to allow them some healthy downtime away from the spotlight, and to give diners the chance to see a good selection of Mother Nature's most exotic specimens.
Café Animojo, 19 Hollywood Road, Central | (+852) 2986 8289
---
Read more! Check out Hong Kong's top artisan coffee shops and explore our Food & Drink section.