The season of love is once again upon us, when adoring couples look to exchange cards, candy, gifts, and flowers on the most 'romantic' day of the year. But here at Localiiz, we like to do things a little differently. So dear readers, our gift to you this Valentine's Day is a list of our most cherished alternative love stories – those which dare to venture away from the simple 'boy meets girl' formula to explore the dark, complex, unpredictable, and at times downright crazy side of love – and no, we are not talking about Fifty Shades of Grey! After all, Shakespeare was right – "The course of true love never did run smooth".
---
---
1. The United States of Us by Kate Sundara
Grizzly bear attacks, ghostly lovers, and distant, utopian lands colour the pages of this vivid and beautifully haunting debut novel from English author, Kate Sundara. The United States of Us is an intense tale of romance and self-discovery, which ventures off the beaten track – all the way to the American wilderness, to be exact. It tells the story of twenty-two year-old Mia Hart who gets swept off her feet by beguiling musician, Zak, who whisks her away to live with him in the faraway Midwest. Things seem too good to be true (we hear you, sister) and it's not long before the memory of Mia's childhood sweetheart, Robin, begins to surface, and she questions whether life with Zak in the American wilderness is the fairy tale romance she's been searching for after all. We won't give too much away, because this novel is bursting with so many unforgettable characters and so much ghostly mystery that you'll be positively gripped from start to finish. What we will say is that love is certainly a complex topic in Sundara's world, and she boldly explores it by breaking the illusion of fairy tales with all the eloquence of a natural born storyteller.
Available to buy in Paperback (USD12.99) and Kindle Edition (USD2.99) on Amazon

---

2. Wuthering Heights by Emily Brontë
A painful reminder that while the token 'bad boy' may seem sexy and alluring to begin with, it's probably wise to avoid him for the sake of your sanity – and your pet dog. This wild, passionate tale of the intense and obsessive love between Catherine Earnshaw and the oh-so-mysterious Heathcliff is considered to be one of the greatest love stories of all time, and for good reason – it's as gritty as the very moors upon which these two childhood sweethearts play. Jealousy, obsession, manipulation, and revenge lie at the heart of this 1847 literary masterpiece, which has inspired many an adaptation on the big screen. It seems we can't get enough of the brooding looks being thrown between Catherine and her forbidden Heathcliff. So go ahead ladies, enjoy the tortured soul with serious anger management issues, just make sure you end up with the nice guy – you'll save yourself a headache in the long run!
Available to buy at Fishpond (HKD101)
---

3. The Time Traveler's Wife

by

Audrey Niffenegger
Can true love really stand the test of time? That is the burning question in this popular story of Clare, a beautiful art student, and Henry, an adventuresome librarian who is cursed with a disorder which transports him spontaneously to significant moments in his life, past and future. The Time Traveler's Wife is a wonderfully fantastic tale which throws a real spanner in the works of the traditional marriage set-up, as Henry and Clare attempt to live normal lives – building careers, friendships, and even a family of their own – when time is clearly not on their side. As the story unfolds from both points of view, it's impossible not to be drawn into their heartbreaking love affair, which keeps you laughing, crying, and feeling grateful that the only issues you ever have to deal with are picking up his dirty laundry off the floor.
Available to buy at Book Depository (HKD77.15)
---
Read more! Got a hot date? Check out our Fifty First Date Ideas
---

4. The Silver Linings Playbook by Matthew Quick
Love is far from perfect, and nobody knows that more than New York Times best-selling author, Matthew Quick. His heart-warming and humorous debut novel is a slap-in-the-face reminder that everyone is capable of finding love – even those who feel completely lost and hopeless, like the novel's troubled protagonist, Pat Peoples. It takes this hapless hero one failed marriage, several years in a psychiatric hospital, and some reluctant downtime with his parents in his childhood home to find his happy ending – or 'silver lining'. Throw some adorable, quirky characters and several crazy dance classes into the mix, and you've got yourself a modern day love story that is soulful, realistic, and unapologetically weird.
Available to buy at Book Depository (HKD60.89)

---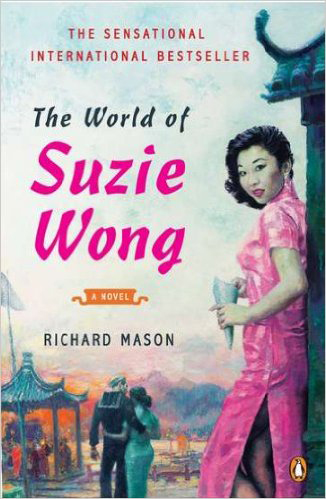 5. The World of Suzie Wong
Who would have thought that you could find true love in Wan Chai? Long before the days of Ladies' Night and late night trips to "Duskies", there lived an aspiring British painter and a feisty Chinese prostitute who, against all odds, struck up a beautiful love affair amid the bustling bars of the red light district. If you took this 1950s based tale and replaced the red taxis with rustic rickshaws, and the sailors with bankers, you'd pretty much have yourself a token night out in the Wanch (and no, we don't mean the rock bar). The only difference, aside from the gorgeous Cheongsam costumes, is that these two lovebirds don't end up gorging on Ebeneezer's kebabs at 5am – but hey, that's modern romance for you. Following the popular formula that made films like Moulin Rouge and Pretty Woman an instant hit with romantics the world over, The World of Suzie Wong is charming, fun, and oh-so-retro darling.
Available to buy at Fishpond (HKD169)
---

6. The Little Prince by Antoine de Saint-Exupéry
"All grown-ups were once children … but only few of them remember it." What's that got to do with love, right? Well, a lot actually, and you'll see why when you navigate the pages of this universally adored children's book, which is really meant for grown-ups. Aside from the many invaluable lessons this book teaches us about life, it's real purpose is to show us that only by creating meaningful connections with other human beings (aka "taming" them), can we understand our true place in the world and begin to unravel the secret mysteries of the universe. See, I told you it wasn't really for kids. And how does the book do this exactly? Why, by telling the story of a little blonde boy who abandons his asteroid home, and beloved rose, to travel to different planets with a friendly fox and save the universe from doom, of course. With such colossal themes, it's no surprise that this is the fourth most-translated book in the world and is enjoyed in more than 250 languages and dialects. For such a short story, The Little Prince makes a big impression, as it leaves us asking some deeply profound questions about life, love, and what it all means. I guess we are still curious little nippers after all.
Available to buy at Joint Publishing (HK) (HKD86)
---

7. Birdsong by Sebastian Faulks
A novel based on the unimaginable horrors encountered by soldiers in the trenches during the First World War might not spring to mind as a celebrated love story, but this historical drama contains more passion, lust, and erotic scenes than a Mills and Boon rag. The intensely romantic, yet stunningly realistic novel spans three generations of a family, jumping back and forth between war-torn France and 1970s England. The story follows Elizabeth Benson as she attempts to recover an understanding of her grandfather, Stephen Wraysford, and his experience of the war. What Lizzy never knew, however, is that naughty grandad embarked on a tempestuous love affair with a married French woman (and the wife of his boss) before the war broke out. This critically-acclaimed masterpiece delves so deep into the complexities of love and human connection (between both lovers and comrades) that you'll feel like you're down there in the trenches with them. It might also make you question what grandad really got up to before he met grandma. 

Available to buy at Fishpond (HKD45.67)
---

8. Little Miss Shy Goes Online Dating (Mr. Men for Grown-ups)
We loved the adorable Mr Men and Little Miss characters when we were kids, but now it's time to appreciate them as adults, trying to cope with very grown-up situations. Little Miss Shy is quite happy being single, but she's getting sick of her mother nagging her to find Mr Right (pun intended) and start popping out grandkids, so she reluctantly decides to give online dating a try. Featuring Roger Hargreaves' original artwork, alongside hilariously funny new text – definitely not written for children – this wonderfully playful book will make you chuckle louder than Little Miss Giggles herself, and bring on lovely feelings of nostalgia at the same time. The perfect book for anyone who has ever been part of the dating pool, reluctantly or not.
Available to buy at Booktique (HKD84)
---

 9. The Rosie Project by Graeme Simsion
Is there a formula to finding the perfect partner? We all have our checklist when it comes to dating, but socially awkward genetics professor, Don Tillman, takes this one step further during his quest for 'the one'. He devises a sixteen-page scientifically based survey to filter out the smokers, drinkers, and other less desirables, to help him crack the code. Sounds like a winning formula, right? Now enter feisty Rosie Jarman. This hilarious, charming, and feel-good novel by Graeme Simsion is a heart-warming reminder that there is always hope for those who are unlucky in love, and that sometimes a happy ending can only be found by leaving your comfort zone. This adorable story might appeal more to the ladies even though, ironically, it is written by a man.
Available to buy at Book Depository (HKD79.74)
---

10. The Ladybird Book of Dating
Finding 'the one' can seem like serious business – but it doesn't have to be. Just take a look at this hilarious book for adults which offers a brilliantly funny and sarcastic take on the dating world and just how silly it can be. Packed full of tongue-in-cheek comments, set alongside actual sketches from the highly popular Ladybird children's books, this is an absolute gem of a read. If you're anything like me, you'll be laughing out loud from beginning to end at the extremely relatable and funny scenarios we've all encountered on our quest for love. And if you haven't found your 'soul-mate' just yet, then we'll leave you with these reassuring words of wisdom from page 6…
Available to buy at Book Depository (HKD66.90)

Happy Valentine's Day, Hong Kong!
---
Read more! Check out Hong Kong's Top 10 Date Spots, and see What's On in Hong Kong.