Aside from the obvious parks and hikes, it's not easy to find things to do with your dogs in Hong Kong, but the Localiiz team—or rather, office mascot, Lola—has come to the rescue as we bring you five novel things to do with your canine friends in Hong Kong.
---
---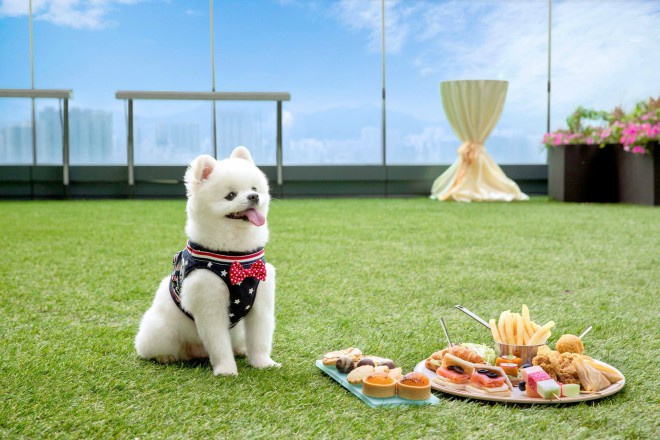 Photo courtesy of Hotel VIC
Have afternoon tea with your pooch
Enjoy a spot of afternoon tea with your pup at Hotel VIC's Upper Farm this July, as part of the Charity Pet Party for SPCA. Between 3:30-6pm on weekends and public holidays, the Upper Farm Pet Party invites each guest to bring their pup to tea on their outdoor greenery lawn, overlooking the harbour. Adults can enjoy one set of afternoon tea for $298, and $100 per dog is applied per extra dog. Before you drop everything you are doing, and dash out that door with pup in hand, be sure to reserve your spot in advance here.
For more information, email thefarmhouse@hotelvic.vom.
Upper Farm, 3/F, Hotel VIC, 1 North Point Estate Lane, North Point | (852) 3896 9896
---
Read more! Explore our top 10 dog-friendly bars and restaurants in Hong Kong.
---

Engage in dog-friendly water sports at Stanley
Take your adventures to the sea with your pup down at Stanley Main Beach! Right next to the Hong Kong Sea School, there are several spots right on the beach where you can rent out Stand Up Paddle Boards or Kayaks by the hour for just $80—or three hours for $150. Once you've worked up an appetite, take your pick of places to eat amongst one of the many eateries along Stanley Main Street and then peruse some of the dog-friendly shops in Stanley Plaza for some dog supplies or a fresh new do at Ruff & Fetch and The Dog's Garden. To wrap things up, swing by Gino's Gelato where you can buy your pooch some doggie ice cream for $18 per scoop! Silver lining? Ten percent of sales goes to local dog charity, Hong Kong Dog Rescue!
HK Aqua-Bound Centre, Stanley Main Beach
Gino's Gelato, Shop 5, G/5 Stanley Plaza, Stanley | (+852) 2899 0314
Ruff & Fetch, Shop 302, Stanley Plaza, Stanley | (+852) 2348 0272
The Dog's Garden, Shop 405, Stanley Plaza, Stanley | (+852) 2886 3390
---
Read more! Check out the best dog-friendly beaches in Hong Kong.
---
Photo courtesy of Ovolo Hotel
Get a dose of VIP Treatment at Ovolo
Ever wanted to go on holiday with your pup? Well with Ovolo Hotels, you and your pup can enjoy a little staycation with Ovolo's V.I.Pooch package! With this new initiative, dog owners can take their pick of either the Southside or Central Ovolo Hotels for a dog-friendly room, where you and your pup can enjoy some of the wonderful delights Ovolo has to offer. Not only is the mini bar free for humans, but doggies get their very own plush doggie bed and bowl, not to mention a Doggy Bag of treats and specially-designed toys! If you're looking for more things to do on the Southside, Whiskers & Paws is only a short taxi ride away and comes with an outdoor doggie play area and in-store café! Win!
To find out more information and book your VIP room now, click here.
Ovolo Southside, 64 Wong Chuk Hang Road, Southside | (+852) 3460 8100
Ovolo Central, 2 Arbuthnot Road, Central | (+852) 3755 3000
Whiskers & Paws, 10/F, Horizon Plaza, 2 Lee Wing St, Ap Lei Chau | (+852) 2552 6200
---
Read more! Where to eat, play, shop in these dog-friendly shopping malls.
---

Check out the view at the Peak
Take in views of Hong Kong's world-famous Victoria Harbour via the Peak Circle Walk, then enjoy a scrumptious, al fresco meal at The Peak Lookout with your pooch on the veranda. The Peak Circle Walk is a nice gentle 3.5 km along the peak, and is equally enjoyable during the day and at night, but if you are looking for a more substantial hike, there are other trails in the area as well. And if you have a hankering for ice-cream, you're in luck—there is a Gino's Gelato at the Peak Tower for a sweet treat for you and your bud.
The Peak Lookout, 121 Peak Road, The Peak | (+852) 2849 1000
Gino's Gelato, Shop G18, Peak Tower, The Peak
---
Photo courtesy of urban-outdoors.com
Pedal-boating in Wong Nai Chung Reservoir Park
Hire a four-seater pedal boat for $100 per hour, or a two-seater pedal boat for $80 per hour on weekdays. Prices increase slightly for weekends and public holidays to $120, and $100 per hour respectively. Keep a lookout for terrapins sunbathing on the rocks, and don't forget to bring bread to feed the masses of fish as you pedal along the reservoir—just be sure everyone stays on board, as dogs are not provided with life jackets!
Wong Nai Chung Reservoir Park, Tai Tam Reservoir Road, Wong Nai Chung
---
Read more! Explore our Pets section on Localiiz for more things to do.