From hardcore endurance racing to classical music, comedy legends to frisbee champions, this weekend's mixed bag of events certainly give us a lot to choose from.
---
 Udderbelly Festival
Russell Howard, Close Up, and We're Going On A Bear Hunt
Prepare to laugh yourself senseless as one of the UK's favourite comics, Russell Howard hits the stage at Udderbelly's purple cow theatre this weekend. An adaptation of the popular children's book, We're Going On A Bear Hunt will also feature in this weekend's lineup giving you the chance to keep the whole family entertained as characters squelch through mud, wade through rivers, and tip-toe into caves in search of a big, grizzly bear. The fun doesn't stop there either, with the Close Up acrobats taking to the stage to dazzle and delight with their jaw-dropping feats of balance and strength, accompanied by powerful music and interactive videos.
When: Russell Howard (January 21 – 23) We're Going On A Bear Hunt (January 21 – 24) Close Up (runs until January 31)
Where: The Udderbelly Tent, Central Harbourfront Event Space, 9 Lung Wo Road, Central
How much: Ticket prices vary
Click here for more information
---
Vibram Hong Kong 100 Ultra Trail Race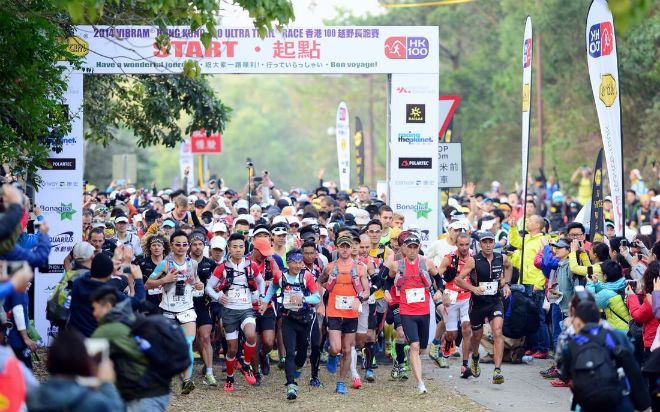 After months of intensive training, athletes from across the globe are preparing to tackle the 100km Vibram Ultra Trail Race this Saturday. Conquering a 100km course which snakes through untouched beaches and forests, the determined bunch will push themselves to their physical limits in the ultimate test of endurance. With a 30 hour time limit and a breath-taking descent to the finish line from Hong Kong's highest peak, Tai Mo Shan, this certainly isn't an event for the faint-hearted. We wish all the competitors the best of luck, and can't wait to cheer them across the finish line.
When: January 23 – 24, (race starts at 8am)
Where: Tai Mo Shan Country Park, Sai Kung
How much: Registration is now closed, but spectating is free
Check out the Facebook event page
---
Warm Vinyasa Flow with Adam Weirick
Due to the popularity of his free yoga sessions at Tamar Park, Adam Weirick has added two indoor sessions to his weekend schedule. What better way to escape the cold than with a two-hour practice of Vinyasa and Yin yoga in a toasty 25-degree studio? During the classes, Adam will introduce you to the four basic elements of Alignment-Based Vinyasa, helping you find awareness through movement and balance, strength in flexibility, and bring union between the body and mind. These sessions are suitable for all levels (complete beginners are welcome), just remember to bring your own mat/towel and water!
When: January 23, (2pm) and January 24, (5pm)
Where: Central studio (please message Adam through his Facebook page for the address and door code)
How much: Pay as you wish (30% of proceeds will be donated to the Wan Chai Hong Kong SPCA)
Click on the links above to check out the Facebook event pages
---
Education UK Exhibition 2016 
Over 100 of the UK's educational institutions are setting up camp in the Hong Kong Convention and Exhibition Centre this weekend. For those aspiring to study in the UK, this is an event you simply can't afford to miss. Representatives from independent schools, colleges, and universities will be on hand to answer all your questions and queries regarding courses, application procedures, and local culture. Free workshops and seminars are scheduled too, so make sure you get yourself down there!
When: January 23 – 24 (1pm – 7pm)
Where: Hall 5G, Hong Kong Convention and Exhibition Centre, 1 Harbour Road, Wan Chai
How much: Free
Click here for more information
---
AIA The Great European Carnival
We're getting sick of our winter coats and praying for a temperature rise – sharpish. But we may as well make the most of all the layers and brave the cold at Hong Kong's only outdoor ice skating rink at the AIA Great European Carnival. If slipping around like Bambi isn't your idea of fun, try your luck at the game stalls or jump on the stomach-churning rides. The carnival is only around for one more month, so gather your friends and unleash your inner child before it's too late.
When: Open until February 21, (11am – 11pm)
Where: Central Harbourfront Event Space
How much:  Entry to the ice rink is inclusive with carnival tickets; $90 (child ticket, includes 7 tokens) and $125 (adult ticket, includes 10 tokens)
Click here to buy tickets
---
Freespace Happening
Due to the popularity of this outdoor, family event, Freespace Happening is now taking over the West Kowloon Cultural District twice a month! This time around we're getting physical with frisbees. The Hong Kong Ultimate Players Association will be providing demonstrations and free trials of this up-and-coming hobby, so grab your trainers and give it a whirl. Performers from Viva Circus will be wowing the crowds with their acrobatic balance routines, and coaxing out your inner Shakira with some hula-hoop action. To top it all off local folk, rock, and indie pop bands will be providing the perfect soundtrack for an afternoon in the great outdoors.
When: January 24, (2pm – 7pm)
Where: Nursery Park, West Kowloon Cultural District
How much: Free
Click here for more information
---
SPCA Dogathon
Round up your friends (both human and furry) for the SPCA charity Dogathon. Around 1,000 pooches are expected to complete the 4.5km route to raise money for their less fortunate four-legged pals. Entertainment will include a charity bazaar, dog agility courses, frisbee games, and a show.
When: January 24, (8.30am – 12.30pm)

Where: Hong Kong Disneyland Car Park, Lantau Island
How much: Registration is now closed
Check out their Facebook page for future charity events
---
Australia Day Celebrations
We're crossing our fingers for some sunny rays this weekend in honour of our Aussie friends. The ever popular Butcher's Club Southside Market Long Lunch is having an Australian makeover this Sunday. Expect barbecued meat of the highest koala-ty as well as a kangaroo-themed photo booth, courtesy of Deliveroo, face painting, and live music. Alternatively, Central's Little Beer Room is hosting an all-you-can-eat Sausage Sizzle with pints of beer from the land down under to wash it all down.
When: January 24; Butcher's Club Southside Market, (12 noon – 5pm); Sausage Sizzle, (1pm – 4pm)
Where: Butcher's Club Southside Market, 16-17/F, Shui Ki Industrial Building, 18 Wong Chuk Hang Road, Aberdeen; Little Beer Room, Shop 1, 17 Bridges Street, Central
How much: Butcher's Club Southside Market, (adult $550 or child $250); Sausage Sizzle ($120)
Click on the links above for more information and tickets
---
  An Afternoon In Vienna
Hong Kong International Chamber Music Festival

Escape the beeping horns and bustling crowds, and treat your ears to an afternoon of classic music. Hong Kong's annual Chamber Music Festival brings together internationally celebrated musicians and rising stars from across the globe to perform for your pleasure. Small groups of classical musicians will play pieces by Beethoven, Haydn, and Schubert on a selection of string instruments. This world-class performance is definitely one to put in your diary.
When: January 24, (3pm – 5pm). The festival will run until January 27
Where: The Grand Hall, Lee Shau Kee Lecture Theatre, Centennial Campus, The University of Hong Kong
How much: $180 – $400
Click here to buy tickets
---