Whether you are an animal lover, or a slave to the beat, Hong Kong's weekend line up is overflowing with excitement. From rooftop workshops to fierce competition on the open seas, we hope you're well rested folks, because this action-packed schedule looks set to be epic.
---
Club Cubic Presents: Tiesto
Raise the roof with Grammy award-winning DJ Tiesto, as he takes to the decks for a night of madness at one of Macau's largest and most prestigious party venues, Club Cubic. With a glittering track record of musical collaborations with some the globe's hottest stars, including Katy Perry and Kanye West, there is no doubt this Dutch DJ extraordinaire knows how to throw a good party. Rising to popularity in the early 2000s, Tiesto's epic dance music career is showing no signs of slowing down. So grab your dancing shoes, hop on the ferry, and kick off the weekend with a bang.
When: February 19, (11.30pm – late)
Where: Club Cubic, Level 2, The Shops at The Boulevard, City of Dreams, Macau
How much: Advance, $780; On the door, $980
Click here to buy your tickets
---
Rooftop Republic Presents:
Urban Farming
Trowels at the ready! Join the green-fingered team at Rooftop Republic, and get stuck into the world of urban farming. In the absence of grassy expanses and rolling lawns, we are taking to the rooftops in pursuit of a leafy, sustainable future in this urban jungle. Eggplant, cucumber, and Italian basil are the focus of this hands-on workshop, which includes a complimentary drink, a Rooftop Republic membership, and a seedling tray for you to nurture at home. On the spacious rooftop of The Fringe Club, you will unlock the secrets of a thriving plot in the Hong Kong's chaotic climate. With the warmer season just over the horizon, and the ever-increasing problem of feeding the growing global population, now is the perfect time to sow the seeds for an organic future.
When: February 20, (3pm – 5.30pm)
Where: Rooftop Garden, The Fringe Club, 2 Lower Albert Road, Central
How much: $380
Click here for more information
---
Lots A Socks
Dig out your snazziest socks and welcome in the weekend with an evening of fundraising. The wonderful team at Solas has joined forces with the Love 21 Foundation to raise money and awareness for Hong Kong's young Down syndrome community. Through their yoga, football, and hiking programmes, Love 21 helps these youngsters lead a healthy lifestyle, and nurtures blossoming friendships too. All you have to do is wear odd socks, and you will be rewarded with a free lemon drop shot worth $50, with all proceeds from drink sales will going to Love 21. It's time to get rooting through your drawers people.
When: February 20, (7pm – 12 midnight)
Where: Solas, G/F The Centrium, 60 Wyndham Street, Central
How much: Free (don't forget change to buy drinks though!)
Check out the Facebook event page

---
Hong Kong Race Week
All hands on deck! Almost 250 sailors from 13 nations across the globe will be taking to the high seas this weekend as part of Hong Kong Race Week. With a record number of entries, this much anticipated event looks set to be bigger and better than ever. Entrants will tackle five courses in 11 classes, starting from the Royal Hong Kong Yacht Club's (RHKYC) Middle Island facilities, just off the South coast of the island. Co-organised by the RHKYC and the Hong Kong Sailing Federation, this water sports bonanza will incorporate the Asian Sailing Federation Youth Cup, coming to a close on Sunday evening with a prize-giving ceremony at 6pm. We wish all competitors the best of luck, and can't wait to cheer them on from the prime viewing spot along the shore in Discovery Bay!
When: Races run from February 18 to 21, (3.30pm – 5.30pm)
Where: Royal Hong Kong Yacht Club
How much: Free
Check out the Facebook event page
---
Longines Masters


Quit horsing around and get yourself down to AsiaWorld-Expo for the greatest equestrian social event Asia has ever seen. With colossal show jumping courses, fierce competition for the coveted Masters Grand Slam title, and lightening speed bolts across the finish line, this epic weekend of equestrian entertainment is not to be missed. If you fancy a spot of shopping, then enjoy browsing the offerings of luxury art, fashion, and dining brands including Hermes and Mercedes Benz in Prestige Village. French DJ duo CASSIUS will take to the decks in the main arena for what promises to be a truly awesome after party.
When: February 19 – 21, (times vary)
Where: AsiaWorld-Expo, Lantau
How much: $330 – $590
Click here to buy your tickets

---
 Hong Kong Pet Show
Magnificent horses aren't the only animals in the spotlight this weekend. A whole host of pampered pets are set to descend on the Hong Kong Convention and Exhibition Centre for the annual Hong Kong Pet Show. Wander around the 400 stalls and check out the treats, toys, and multitude of other goodies on offer. It's no secret that Hong Kong has a soft spot for it's furry friends, so we're expecting to see some rather extravagant accessories on display. Hop over to the rabbit festival, watch as puuurrfect felines strut their stuff in the largest annual cat show, and admire our bow-wows in Hong Kong Kennel Club's All Breed Championship Dog Show.
When: February 19 – 20, (12 midday – 9pm); February 21, (12 midday – 8pm)
Where: Hall 3, Hong Kong Convention and Exhibition Centre, 1 Expo Drive, Wan Chai
How much: $30 (free entry for pets)
Click here for more information

---
 Appreciate Hong Kong
Outdoor Music Performances 
Celebrate Hong Kong's rich heritage with a trio of musical performances in the eco-friendly grounds of the Heritage Grade I listed Old Tai Po Police Station. The Green Hub is the perfect place to kick back and listen to the stars of the Jockey Club Street Music Series – a Hong Kong Jockey Club sponsored initiative which strives to uncover, promote, and network up-and-coming musicians. Delight as Jonathan Yang fills the air with his unique acoustic sounds, Pok Kwan Ying & Friends perform Chinese music, and Hakgwai and his didgeridoo round off the afternoon with an experimental performance.

When: February 21, (2pm – 4pm)
Where: Green Hub, 11 Wan Tau Kok Lane, Tai Po
How much: Free
Click here for more information
---
AIA Great European Carnival
We can't believe it's time to wave goodbye to the bright lights and big tops of the AIA Great European Carnival. We've had the time of our lives skidding around the ice rink, trying our luck at the fairground games, and screaming our heads off on the big rides over the last two months. So if you haven't made it down there yet, now is your last chance. Make sure to catch the hilarious, interactive Phantastique Bros Puppet Show, which stars the hilarious trio in puppet form. As part of their final week madness, the carnival has reduced the price of it's rides, which now check in at just $2 – $4 (except Mach 5, which will set you back $7). Plus, don't forget about the existing offer which welcomes all Hong Kong residents into the carnival for free!
When: Runs until February 21, (11am – 11pm)
Where: Central Harbourfront Event Space
How much: Free for Hong Kong residents
Click here for more information
---
 Light Rose Garden
Valentine's Day may have come and gone, but love is still in full bloom down on the harbourfront. Catch the breathtaking display of 25,000 white LED roses in Tamar Park and snap the perfect romantic selfie during the Spring Lantern Festival. Brought to us by creative agency Pancom, the impressive installation first appeared in Korea, and is now here to transform Hong Kong into the "most beautiful place in the world" this month. With the glittering skyline providing the perfect backdrop for this extravagant display, it's the perfect opportunity to take a stroll with your loved one. Click here to read more about the display.
When: February 20 – 22, (6pm – 11pm)
Where: Tamar Park, Harcourt Road, Admiralty
How much: Free
Click here for more information
---
Well Wishing Festival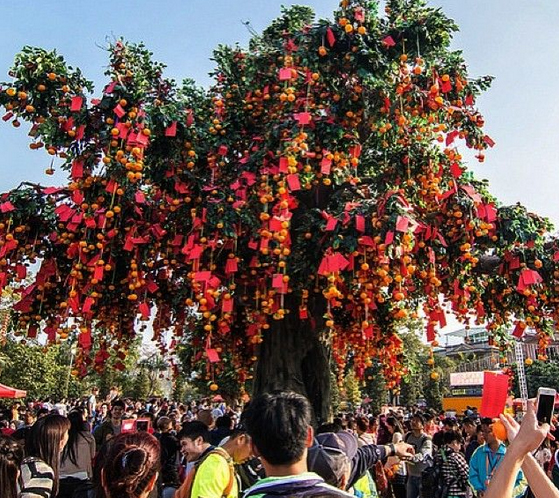 From glowing rose gardens to lucky trees, this weekend is your final chance to check out the stunning Well Wishing Festival as the Chinese New Year celebrations come to an end. Every year, hundreds of thousands of people flock from across the world to admire the embellished wishing tree, and adorn it with their hopes and dreams for the Year of the Monkey. The Well Wishing Festival is quite a sight to behold, with wishing lanterns being released into the sky around these beautiful trees. While you are in the area, make sure to pay a visit to the historic Tin Hau Temple.
When: Runs until February 22, (9am – 7pm)
Where: Lam Tsuen Wishing Square, Lam Tseun, Tai Po
How much: Free
Click here for more information
---
Royalles Thrill Circus

Roll up! Roll up! Watch in awe as 25 world-class performers step into the ring, inside the spectacular red, white, and blue Royalles Thrill Circus tent. As one of the oldest and largest circus companies, this promises to be a show-stopping performance which will thrill and delight the whole family. Expect jaw-dropping acrobatic feats, heart-stopping journeys across a tight rope suspended 10 metres above the crowd, and a healthy serving of hilarity from Chico Roco the clown. The circus is only around for one more month, as part of the Tung Wah Charity Carnival, so grab your tickets and allow ringmaster Robert Price to lead you through a truly unforgettable show.
When: Runs until March 20, (every day except Monday, times vary)
Where: Kai Tak Old Runway, Tourism Node Area, Kowloon City
How much: $180-$480 (bundle deals are also available)
Click here to buy your tickets
---
 Plan Ahead …
Don't miss you chance to grab tickets to these upcoming events before it's too late!
Buy Tickets
Hong Kong Arts Festival – February 19 – March 20, (times vary)
Hong Kong Restaurant Week – February 26 – March 6, (times vary)
Malt Masters Whiskey Fest – February 27 – 28, (10am – 5pm)
Taste Festival – March 10 – 13, (times vary)
Check out our annual calendar of holidays and events!