Candlelit dinners and doe-eyed teddy bears may be the first things that spring to mind when you think of Valentine's Day, but in this vibrant city, lovebirds aren't the only ones who can have a good time come February 14. With live performances of our favourite Broadway musical hits, a show-stopping line up for the final weekend of Udderbelly, and a dazzling display of 25,000 white roses along the harbourfront, love is well and truly in the air! Lap it up Hong Kong …
---
AIA Great European Carnival
The Phantastique brothers are back for another round of wacky fun at the AIA Great European Carnival this Friday. With big laughs, crazy competitions, and bucket-loads of prizes, they are guaranteed to have the whole family in stitches. Cameras at the ready lovebirds! Love may be timeless, but nobody likes to be kept waiting for a date, so jump at the chance to win a gorgeous Seiko watch by capturing a lovey-dovey moment (landscape only folks), and uploading it to Instagram with the hashtag #LoveIsCarnival. The winning snap will star as the carnival's Facebook cover photo, and the first 100 entrants will get a cuddly toy and some chocolate fudge. Don't forget that Hong Kong residents can enjoy free entry to the carnival until it closes on February 21!
When: Phantastique Fridays, February 12, (8.20pm); AIA Great European Carnival runs until February 21, (11am – 11pm)
Where: Central Harbourfront Event Space
How much: Free entry for Hong Kong residents
Click here for more information
---
 Rodgers & Hammerstein on Stage and Screen
Hong Kong is alive with the sound of music this weekend. The Hong Kong Philharmonic Orchestra is performing our favourite Broadway and Hollywood musical hits, including numbers from The Sound of Music, South Pacific and The King and I. This extravaganza is a celebration of Richard Rodgers and Oscar Hammerstein – the musical masterminds who created these timeless classics during the 1940s and 50s. The wonders of modern technology will enable the Philharmonic Orchestra to accompany songs sung by the original movie stars, as scenes from the films are projected onto big screens around the Concert Hall. Broadway star Lisa Vroman and the talented Hong Kong Children's Choir will also be performing, under the direction of Emmy-Award winning producer George Daugherty.
When: February 12 – 13, (8pm)
Where: Concert Hall, Hong Kong Cultural Centre, 10 Salisbury Road, Tsim Sha Tsui
How much: $180 – $480
Click here to buy your tickets
---
Light Rose Garden
As darkness falls on Sunday evening, romance will bloom on the harbourfront, as a dazzling display of 25,000 white LED roses is unveiled. Creative agency Pancom, the brains behind the Korean inspired Light Rose Garden, hope to transform Hong Kong into "the most beautiful place in the world" this Valentine's Day. With Hong Kong's glittering skyline providing the perfect backdrop for this extravagant display, we have no doubt love will be in the air along the Central and Western District Promenade.
When: February 14 – 16, (6pm – 11pm)
Where: Central and Western District Promenade (Central section)
How much: Free
Click here for more information
---
Freespace Happening 
Gather together your nearest and dearest, dig out your picnic blanket, and while away the afternoon at Freespace Happening this Sunday. Pick up some last minute Valentine's gifts from the handicraft market, test out your tie-dying skills at rustic workshops, and watch local musical stars (including progressive punk band Qui Hong and YouTube sensation Panther Chan) as they take to the stage. Wander over to Sunset Lawn to catch FM Theatre Power's audience-inspired improvised performance, or get lost in a good book at the Reading on the Grass library. We can't think of an better way to round off the weekend!

When: February 14, (2pm – 7pm)
Where: Nursery Park, West Kowloon Cultural District
How much: Free
Click here for more information
---
Udderbelly Presents:
Dinosaur Zoo, Flawless, and EDINBURGH FESTIVAL ALLSTARS

After two months of side-splitting comedy and jaw-dropping acrobatics, we are totally heartbroken that Udderbelly is coming to an end. The final line up is jam-packed with hilarity and excitement, so grab your tickets and pay the purple cow theatre a visit before it disappears. First in the spotlight is Dinosaur Zoo, a KidsFest production that junior Jurassic fans simply can't afford to miss. Come face to face with a whole host of dinosaurs in what promises to be a truly dino-tastic performance. Make sure you stick around afterwards to meet and greet the prehistoric stars of the show! Next up, the Flawless boys are busting their moves on the dance floor, with slick hip-hop routines, break-dancing tricks, and acrobatic feats. The EDINBURGH FESTIVAL ALLSTARS are flying into Hong Kong to close the Udderbelly festival in style with comedy, card tricks, magic, and more.
When: All shows run until February 14, (times vary)
Where: Udderbelly Theatre, Central Harbourfront Event Space
How much: Ticket prices vary
Click here to buy your tickets
---
Well-Wishing Festival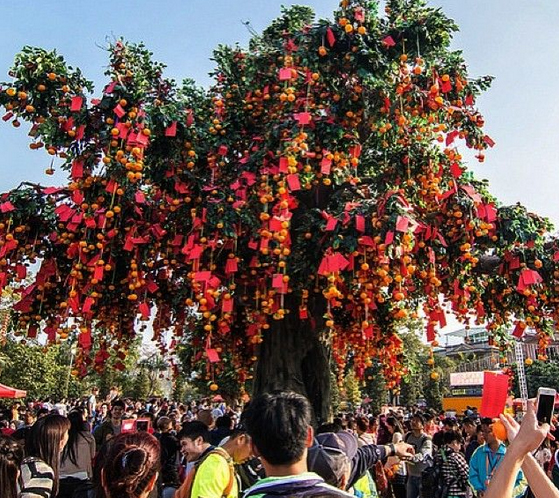 Love and romance may have swept over the city, but in Lam Tseun the Chinese New Year celebrations are still in full swing. Every year, hundreds of thousands of people flock from across the world to admire the wishing tree, and embellish it with their hopes and dreams for the Year of the Monkey. The Well-Wishing Festival is quite a sight to behold, with wishing lanterns being released into the sky around these beautiful trees. While you're in the area, make sure to pay a visit to the historic Tin Hau Temple.
When: Runs until February 22, (9am – 7pm)
Where: Lam Tsuen Wishing Square, Lam Tseun, Tai Po
How much: Free
Click here for more information
---
Pulse 3D Light Show
Festive excitement is still bubbling over in Tsim Sha Tsui, as the 3D Light Show presents the Year of the Monkey at the Hong Kong Cultural Centre. With larger-than-life images, high-energy sounds, and jaw-dropping 3D effects, this magnificent 8-minute show is not to be missed. The fun doesn't stop there either, with a dazzling show of Chinese New Year lanterns also on display. As night falls, a radiant tribe of cheeky chimps will come to life in a stunning display which perfectly captures the excitement of the New Year.
When: Chinese New Year lantern display – runs until February 28, (6pm – 11pm daily); 3D Light Show – runs until February 29, (shows every half hour between 8.20pm and 10pm);
Where: Open Piazza, Hong Kong Cultural Centre, Tsim Sha Tsui
How much: Free
Click here for more information
---
Plan Ahead … 
Don't miss your chance to grab tickets to these upcoming events before it's too late!
Buy Tickets
Hong Kong Pet Show – February 19 – 21, (12 noon – 9pm)
Hong Kong Arts Festival – February 19 – March 20, (times vary)
Malt Masters Whiskey Fest – February 27 – 28, (10am – 5pm)