Whether you're a full-time vegetarian or simply enjoy a meat-free meal every now and then, we can all agree that local Hong Kong restaurant menus are some of the hardest to navigate without encountering meat in some shape or form. Thankfully our friends at Sam the Local are on hand with a taste-tested list of their favourite veggie dishes which you can find at Hong Kong style cafes, noodle shops, congee shops, and street stalls. Enjoy!
To be clear and upfront, this post is not about vegetarian restaurants in Hong Kong. Rather, this is a list of recommendations on what to order at a typical local restaurant. We know it's hard sometimes because there is so much hidden meat in everything, but we hope this list will make your life a little bit easier.
In addition, this is for vegetarians who are comfortable with their food being cooked in a kitchen that also serves meat. For example, the oil used to deep fry some of these items may have also deep fried meat products. If you are really strict, we recommend you stick with fully vegetarian restaurants. Okay – now onto the food!
---
Hong Kong Style Cafes
Egg Sandwich 蛋治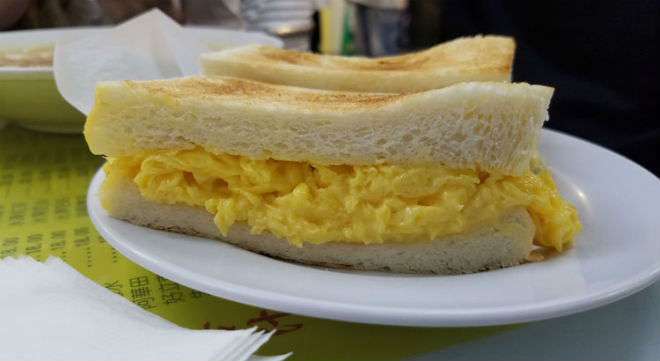 Simple yet delicious – scrambled eggs between two slices of bread. You can also ask for the bread to be toasted for an additional fee of $1 to $3.
Hong Kong Style French Toast 西多士
In this local version of French toast, you will find peanut butter sandwiched between two pieces of white bread, dipped in egg, and deep fried to perfection. You can add butter and syrup on top to taste.
Pineapple Bun with Butter 菠蘿油
This iconic cafe staple was listed as one of Hong Kong's intangible cultural heritages in 2014! Crispy and slightly sweet on the top, soft and fluffy on the bottom, this classic is commonly eaten with a thick slab of butter melting in the middle.
Scrambled Eggs and Tomatoes Over Rice 鮮茄炒蛋飯
Saucy, sweet, and savory, this tasty dish will be sure to fill you up and leave you satisfied.
---
Read more! Tuck into Hong Kong's Top 7 Hot Pots
---
Noodle Shops
As a rule of thumb, noodle soups should be avoided because the soup base is generally a meat stock. However, you can still find veggie-friendly dishes on the menu at these local noodle shops.
Ginger and Scallion Mixed Noodles (Lo Mein) 薑蔥撈麵
These light egg noodles are topped with a healthy serving of ginger and scallions for flavouring. This dish will come with a side of soup – vegetarians should avoid drinking this, as chances are it will be a meat based soup.
Boiled Veggies with a side of oyster sauce 油菜
As a side to the noodles, add a plate of boiled veggies – the choice of which will vary with the seasons. It normally comes with oyster sauce, so if that is off limits, make sure you order without.
---
Read more! Check out Going Organic in Hong Kong: What You Need to Know
---
Street Food
Rice Rolls 齋腸粉
One of the most common street foods, rice rolls are made with ground rice and then steamed. The fully loaded version will come with soy, sesame, hoisin, and hot sauces, plus a topping of white sesame seeds.
Eggettes 雞蛋仔
Made from eggs, flour, and evaporated milk, eggettes are a favourite Hong Kong snack for the both kids and adults. In addition to the standard, original flavor, they are often available in a variety of other flavours too, such chocolate chip, matcha, and taro.
Waffles 格仔餅
Hong Kong-style waffles are made with similar ingredients to the eggettes above, topped with butter, peanut butter, condensed milk, sugar, and then folded in half for easy consumption. Make sure you have some tissues to hand because this gets messy.
Noodles in a Bag
This DIY snack allows you to choose the type of noodles and a variety of toppings, which include vegetarian options such as corn, cucumbers, bean sprouts, and black fungus. They even have spinach noodles!
---
Read more! Visit Hong Kong's Top 10 Themed Cafes
---
Congee Shops
Plain Congee 白粥
This is the base version of the rest of the congee dishes. It's just boiled down white rice. Although plain and simple in taste, it will go well with the following two items!
Chinese Doughnuts 油条
Even though it's dubbed as the Chinese doughnut, it is far from the doughnuts of the western world – first and foremost, because it is savory instead of sweet. In addition, they are served in pairs and people commonly use their hands to rip it apart and dip into their congee.
Soy Sauce Fried Noodles 豉油皇炒麵
A Hong Kong classic, this dish of fried noodles includes bean sprouts, yellow onions, green onions, and sometimes carrots.
Zha Liang 炸兩
Zha liang is a Chinese doughnut that is wrapped in a rice roll, sliced, and topped with soy sauce. The ideal zha liang will have a soft and tender outside from the rice roll and a crispy inside from the doughnut.
---
Read more! Check Hong Kong's Ultimate Healthy Eating Guide or 12 Festive Things To Do in Hong Kong This Christmas.