It's no secret that Hongkongers are some of the most food-obsessed people in the world. Whether it's spicy Chinese food, drool-worthy pizza, or lavish French restaurants you're after, this city has it all. And there's no place in Hong Kong that's tastier than Mong Kok – the food capital of Hong Kong. So without further ado, let us introduce you to our favourite eateries that are well worth elbowing your way through the crowds for.
---
---
Chefs' Society
Located in the basement of Mong Kok's most Instagram-worthy mall, T.O.P (This is Our Place), Chefs' Society boasts six of the most popular food brands from around the world, including Popeyes, which until now, you could only find at Hong Kong International Airport. If you're in the mood for something less "junky", however, head to Aji No Tokeidai, where you can slurp on some tasty Sapporo ramen from Hokkaido. For something more local, drool over famous local teahouse Lin Hueng's mouthwatering selection of dim sum. Other eateries include the spin-off of Hung's Delicacies, Master Hung, local newcomer Cornerstone Café, and the hugely popular Khao Soi House from Thailand.
Chef's Society, B/F, T.O.P This is Our Place, 700 Nathan Road, Mong Kok
---
Fei Jie
If you're willing to be a little more adventurous, then Hong Kong offers some of the most unique flavours in the world. Casual little spot Fei Jie (which affectionately translates to "chubby older sister" in Cantonese), serves some of the most scrumptious skewers in the city. Pork gizzard and intestine are the most popular choices for local Hongkongers, but for those with slightly less adventurous palates, we recommend the sausage and octopus combination.
Fei Jie, Shop 4A, 55 Dundas Street, Mong Kok, (+852) 9191 7683
---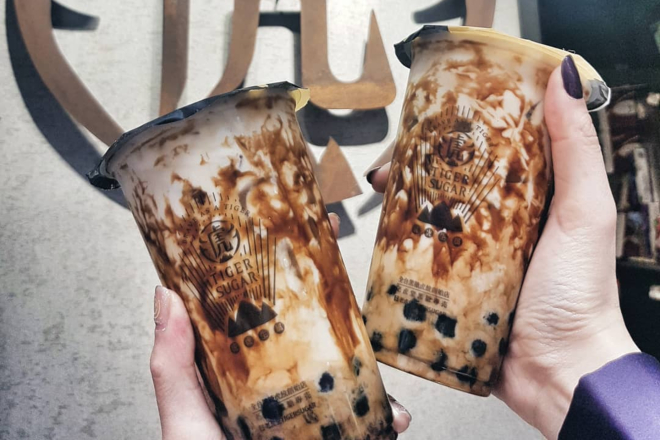 Tiger Sugar
If you're in the mood for a cup of Boba, then this buzzing Taiwanese tea house is one of the most popular bubble tea joints in Hong Kong, regularly drawing massive queues. Tiger Sugar specialises in brown sugar pearl milk tea, a blend of cold milk tea, brown sugar caramel, and tapioca pearls, but it also offers traditional bubble milk tea alongside other signature drinks.
Tiger Sugar, Shop G15, G/F, T.O.P This is Our Place, 700 Nathan Road, Mong Kok
---

Mammy Pancake
Mammy Pancake has pioneered the trend of egg waffles with different flavoured fillings. The owner of this popular joint is a former banker, who after experimenting with making egg waffles with different fillings for her son, decided to open up a shop. This Michelin-recommended joint offers a large variety of carefully selected flavours, from the crowd-pleasing chocolate chip flavour, and the classic banana-chocolate combination, to more innovative fillings such as pork floss, sesame, and even sweet potato. Mammy Pancake's egg waffles are always fresh, fluffy, and chewy – just the way we like them.
Mammy Pancake, Young City Zone, 1 Kwong Wa Street, Mong Kok
---
Four Seasons Pot Rice
Widely regarded as the Godfather of Hong Kong's claypot rice, Four Seasons Pot Rice has been serving dishes in Mong Kok for over 30 years. This neighbourhood institution is one of the few places in town that still makes its claypot rice from scratch every step of the way. It offers 30 different claypot rice dishes which are cooked over a charcoal-fuelled flame, yielding rich, bold flavours. We recommend going for the Chinese Sausage and Chicken with Rice ($64), along with a plate of Deep Fried Oyster Cake ($48 for two) to share with a friend.
Four Seasons Claypot Rice, 46 Arthur Street, Yau Ma Tei
---
Read More! Check out The Best Arty Restaurants in Hong Kong or explore our Food & Drink section.