We know you'll all be nodding your heads when we say it's difficult to stay on top of your health game in Hong Kong. Our never-ending schedules make it almost impossible to find time to hit the gym, and let's be honest, sometimes we're just too drained after a busy day at work to even consider it. But there's one thing we can definitely take control of and that's making sure we get enough vitamins and minerals to keep us in tip-top condition. Luckily, there are plenty of options when it comes to health food and supplement stores in Hong Kong – just take your pick of these.
By Jenny Leung & Sarah Moran
---
---
Just Green
With eight different stores dotted across Hong Kong, you're never far away from Just Green, which not only offer a wide range of healthy food items, but also other products like cookbooks, beauty products, and even home appliances. And don't worry if you ever run out of ideas on what to have for dinner, as they have a huge recipe database on their website that allows you to pick and choose so you'll never get bored of cooking the same meals over and over again.
Just Green, locations vary, (+852) 2817 0799
---
Green Gourmet
Green Gourmet might not be your fancy health food store with sophisticated designs and stylish decor, but it's stocked to the ceiling with everything you will ever need in your cupboards, including gluten-free breads and non-dairy products, health supplements for children, adults, and even pets. Conveniently located near Times Square in Causeway Bay, this is your perfect one-stop organic shop.
Green Gourmet, 5/F, Opulent Building, 402 – 406 Hennessy Road, Causeway Bay, (+852) 2575 5577
---
Green Dot Dot
If you've ever taken the MTR, you must be familiar with Green Dot Dot by now. Located inside 25 different MTR stations around Hong Kong, this store makes being healthy more accessible to just about anybody. Not only do they stock up with health food items and supplements, many stores also carry a range of fresh, organic fruits and vegetables, as well as frozen meats ready for you to easily pick up when you're on your way home.
Green Dot Dot, locations vary, (+852) 3181 4488
---
Spicebox Organics
Aside from carrying an exotic variety of herbs and spices that may be difficult to find anywhere else in Hong Kong, what's special about Spicebox Organics is that customers can get involved in the many workshops they offer at their store, as well as dig into their cafe menu and try out some of their organic roti rolls or freshly-made smoothies. Working to be more than your average health food store, Spicebox Organics takes great measures to scour the globe and local areas for products only of the highest quality.
Spicebox Organics, 137 Caine Road, Golden Valley Mansion, Caine Road, Mid Levels, (+852) 2559 9887
39 – 45 Hau Wo Street, Kennedy Town, (+852) 2191 0886
---
Redwood Nutrition
Redwood Nutrition may not be large in size, but quality over quantity has always been part of its company motto. With everything you need for a good old detox to a quick energy pick-me-up, these guys have got you covered. Don't forget to get the latest lowdown on their special discounts and promotions by becoming a Redwood member too!
Redwood Nutrition, G/F, 164 Queen's Road East, Wan Chai, (+852) 2948 2165
---
Read More! Check out The Ultimate Guide to Healthy Eating in Hong Kong.
---

Slowood
Beyond providing eco-friendly items, Slowood in Kennedy Town stocks many package-free products with a buy-what-you-like policy that allows you to purchase just the right amount of whatever you need. You can simply measure any quantity of spices, grains, legumes, liquid soaps, or oils, weigh it out to calculate the cost, and then pay at the counter. If you forget to bring your own reusable containers, the shop also has a variety available for purchase in store. Read more about Slowood.
Slowood, The Hudson, 11 Davis Street, Sai Wan (Kennedy Town Station, Exit C), (+852) 2818 0203
---
Organic Plus
Whether you're looking for a few chemical-free household products or some non-GMO foods, this award-winning health food store is arguably one of the best around. Having extended their locations all the way over to Macau, Organic Plus strives to only provide healthy, natural, and environmental-friendly products to their customers – they even offer services to deliver the freshest organic fruits and vegetables straight to your front door.
Organic Plus, locations vary
---
iLiving
Not only is iLiving a health store with a huge selection of superfoods, essential oils, and holistic medicines, it's also a wellness centre where health consultations, comprehensive health assessment, and many other services like physiotherapy, life coaching, and detox programs are offered to those seeking help in the health game. If you're looking for a change in lifestyle, then iLiving is the place to be.
iLiving, 4/F, 31 Hollywood Road, Central, (+852) 3904 1072
---

Verde Organic
Whether you're looking for healthy alternatives to your favourite snacks or hard-to-find healthy food products and supplements, Verde Organic has it all. The shop offers mouthwatering organic snacks such as energy-fueling coconut balls, chewing gum made of six natural products, gluten and grain-free tortilla chips, as well as health supplements such as alkaline infusion powder, activated charcoal powder, and even Zeolite Clinoptilolite capsules – a unique natural volcanic mineral dust that binds pollutants in the gastrointestinal tract.
Verde Organic, Shop 318, Landmark Atrium, 15 Queen's Road Central, Central, (+852) 2529 3288
---
Food for Life
Food for Life believe that education is the key when it comes to achieving optimum health, which is why – apart from carrying a ton of fresh and natural foods for their customers – they also work with expert nutritionists to hold regular seminars and workshops for all to attend, making sure that their customers can stay on top of their health knowledge and get to know what's right for their bodies without blindly overloading on anything that has a green label on it.
Food for Life, locations vary, (+852) 2838 8902
---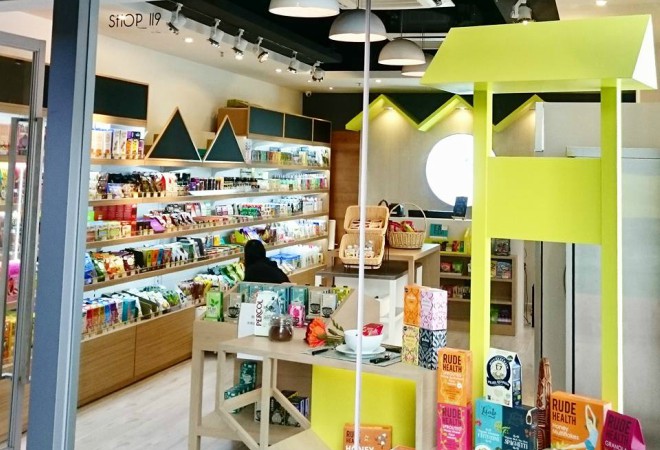 Cabinet Organic
If you live around the Tseung Kwan O area where healthy food products may be harder to come by, then Cabinet Organic is here to answer your prayers. No more searching around the entire supermarket for the only bag of quinoa on the shelves, or having a member of staff frown at you when you ask for almond milk. Stocked with all the latest health food products, organic soaps, and even organic wines (yay!), this place has it all.
Cabinet Organic, 1/F, Popwalk, 12 Tong Chun Street, Tseung Kwan O, (+852) 2799 9317
---
O'Farm
O'Farm is a combination of the best western and eastern health food products all in one place. Selling everything from organic fruit juices to traditional Chinese supplements, they have over 70 stores located around Hong Kong, so you won't have too much trouble finding one. We know what you're thinking though – don't be intimidated by all the Chinese products and strange labels, just ask for assistance from their friendly staff who will gladly help you pick out what you need to get you going on your health journey.
---
Read more! Explore our Health & Wellbeing section, and discover the best Grocery Delivery Services in Hong Kong.