Fancy yourself a photographer? While most smartphones now do a decent job of capturing a shot, if you want to produce images that really have impact, you're going to need something a little bigger. Choosing the right camera comes down not only to price, but what you want to do with it. Looking for something pocket-sized? Try a creative compact. Want to take your camera up a mountain or underwater? Buy a weatherproof camera. We've rounded up a selection of the best cameras available on the market right now.
---
---
Things to Consider When Buying a Camera
When choosing a camera, you'll be overwhelmed with numbers and functions, but there are a few areas you should pay attention to:
All digital cameras will quote a resolution, which is the number of pixels on the sensor (usually in millions or megapixels), but equally important is the size of the sensor itself. Mobile phone and compact camera sensors are about the size of a child's fingernail, while full-frame DSLR sensors are around 40 times the size, at around 35mm width. The larger the sensor, the more accurate the colour and detail can be.
The focal length of the camera's lens is given in lots of different ways. In compact cameras, you will usually see the zoom value, such as 4x zoom, while in more advanced cameras the number is often given as focal lengths in relation to a 35mm camera to standardise it. The smaller the number the wider the angle, and the larger the number the more telephoto or magnified it can get.
ISO was originally a value of film sensitivity, but today it works more like a volume dial, with higher numbers allowing you to shoot with less light, such as indoors or at night-time.
To compose your pictures, most digital cameras have a larger LCD screen on the back. However, more advanced models will offer a viewfinder, either electronic or optical, that you can put your eye up to. This allows more accurate framing and a steadier hold of the camera.
Other things to consider are whether the camera has a built-in flash or a hot-shoe to attach a flash gun; if the camera features Wi-Fi or Bluetooth to connect with your phone for remote shooting or downloading your pics; and for advanced cameras, what lenses are compatible with it.
---
Creative Compact: Sony RX100V
The RX100V is a seriously clever little compact. It features Sony's latest autofocus system for fast and accurate focusing, using one of 315 points in the frame, offers continuous burst shooting at up to 24 frames per second, and can shoot video in 4K. The sensor is larger than most compacts, at 1 inch in diameter, providing greater colour and detail from its 20.1 million pixels. The 3x zoom is equivalent to 24-70mm on a 35mm camera, and the 3-inch rear screen can be tilted and adjusted, allowing for selfie shooting. There's also Wi-Fi and a pop-up electronic viewfinder for accurate framing.
Available at www.sony.com.hk for $7,290
---
Long Lens Compact: Panasonic Lumix DC-ZS70
Also known as the TZ90, this is a great travel compact for those looking to capture everything from buildings to wildlife. Despite remaining pocket-sized, it features a huge 30x optical zoom, taking it from the equivalent of 24mm to 720mm in 35mm camera terms. It also features a 20.3-million-pixel sensor, manual and priority shooting modes, a tiltable 3-inch rear screen, an electronic viewfinder, and Wi-Fi connectivity.
Available at www.panasonic.hk for $3,390
---
Weatherproof Camera: Olympus Tough TG-5
If you're looking for a camera that can survive just about any situation, the TG-5 is for you. This rugged little compact is waterproof down to 15 metres, dust-proof, drop-proof from 2.1 metres, freeze-proof to -10 degrees Celsius, and crush-proof to 100kg. It has a 4x zoom, equivalent to 25-100mm, a 3-inch rear screen, Wi-Fi, and can shoot 4K video. The sensor resolution is just 12-million-pixels, but does offer some creative control and RAW mode shooting to allow more control over the images.
Available at www.olympus.com.hk at $3,990
---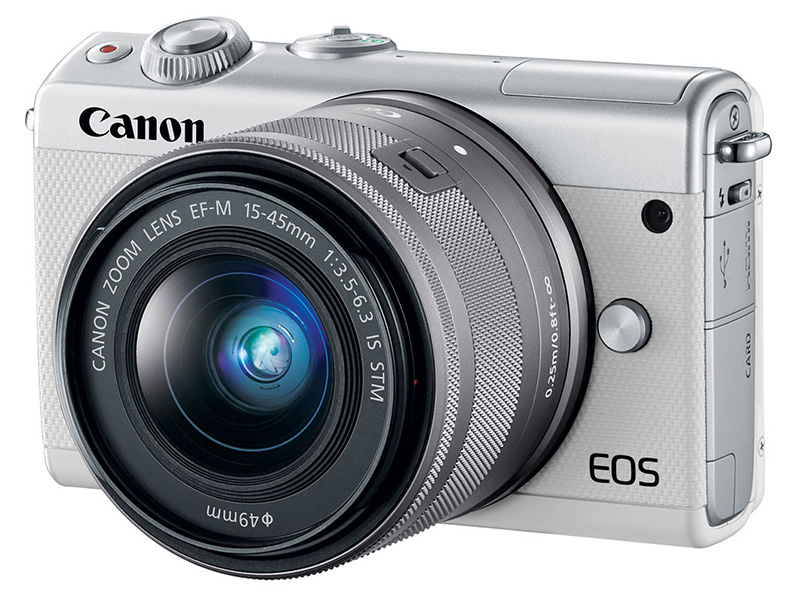 Budget Mirrorless Camera: Canon EOS M100
Canon's latest entry-level mirrorless camera offers an easy route into the interchangeable lens market. With simple auto modes and a simple design, new users can take advantage of the APS-C sized 24.2-million-pixel sensor and the large high-quality interchangeable lenses, without worrying about a mass of functions and buttons. The camera also features a 3-inch touchscreen LCD, Wi-Fi and Bluetooth, as well as Canon's dual pixel autofocus for smooth video focusing. It comes with a 15-45mm (24-72mm equivalent) lens, but there are 10 lenses available in the M-Mount fit, and endless possibilities with adapters.
Available at www.canon.com.hk for $3,680
---
Advanced Mirrorless Camera: Fujifilm X-T3
Fuji's X-series of mirrorless cameras have a classic photographic design that has made them popular with enthusiasts and hipsters alike. But its latest model doesn't just look the part – the X-T3 features a 26.1-million-pixel APS-C sensor, and Fujifilm's X-Processor 4 engine. There's a high-resolution electronic viewfinder, phase detecting autofocus across the entire frame and 4K video recording. With full manual control, a flash hotshoe, and the choice of over 28 X-Mount lenses (it comes with the 18-55mm kit lens as standard), the creative possibilities are endless.
Available at www.fujifilm.com for $14,899
---
Budget DSLR: Nikon D3500
For those that prefer the more traditional SLR style camera – with a proper optical 'through-the-lens' viewfinder – Nikon's budget option, the D3500, is a great place to start. Though this DSLR has been designed to be easy to use for beginners, it also offers full manual controls and some impressive specifications. It sports a 24.2-million-pixel APS-C sensor, a 100-25,600 ISO range for serious low light performance, 11 focus points, TTL metering, a flash hot shoe, and 1080P video. The D3500 is available as a body-only purchase (without a lens) or with the 18-55mm VR kit lens. The Nikon F mount also provides compatibility with over 400 Nikon lenses made since 1959.
Available at www.nikon.com.hk for $3,780 (body only), $4,580 (with 18-55mm lens) 
---
Professional DSLR: Nikon D850
If you're really looking to take your photography seriously, then the Nikon D850 is one of the best on the market. This is a full-frame DSLR, with a full 35mm-sized 45.7-million-pixel sensor. It has an ISO range of 64-25,600, high-speed shooting at up to 9-frames-per-second, and a 153-point autofocus system. There's a tilting 3.2-inch screen on the back and a large, bright optical viewfinder. The camera can also shoot full-frame 4K UHD movies and time-lapse at over 8K. The camera comes body only (no lens) but can be paired with the full range of Nikon F and compatible lenses.
Available at www.nikon.com.hk for $27,800 (body only)
---
Read more! Discover The Best Chinese Mobile Brands and explore the rest of our Tech section.