By now, we've established that Hong Kong is a wonderful foodie haven. From world-class Michelin-star restaurants to local street nibbles, whatever you're in the mood for, there's always something to satisfy you. Perhaps one of the most culturally significant of all, if not the most, is dai pai dong. With rusty fold-up tables, a sea of plastic chairs sprawled out from the restaurant, and firey Cantonese-style dishes so fragrant you can almost taste the air, dai pai dong is a popular go-to for many locals who are looking for a quick, but delicious solution, come dinner time. So, without further ado, we present some of the best Hong Kong has to offer.
---
---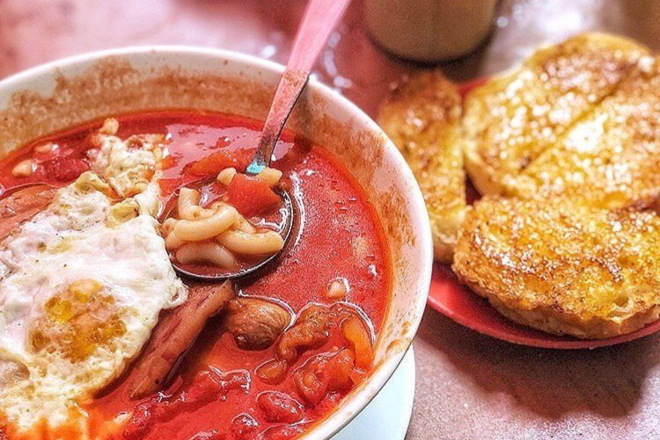 Sing Heung Yuen | 勝香園
We're sure you're no stranger to one of the most well-known dai pai dong in Hong Kong, Sing Heung Yuen. With lines of hungry foodies taking over the sidewalk, this place is a famous attraction not only for tourists, but locals too. Most famous for its Tomato Soup-based Macaroni ($20 – $41) – which comes with various toppings such as beef, scrambled eggs, chicken wings, and more – as well as its Butter & Honey Lemon on Crispy Bun ($18) and Kaya & Condensed Milk Crispy Bun ($19), Sing Heung Yuen is the perfect place for a delicious, hearty breakfast to start your day.
Opening hours: Monday to Saturday, (8am – 5pm) | closed on Sundays and Public Holidays
Sing Heung Yuen, 2 Mei Lun Street, Central (+852) 2544 8368
---

Oi Man Sang | 愛文生
Tucked away on Shek Kip Mei Street in Sham Shui Po, Oi Man Sang is exactly what you would expect a true, authentic dai pai dong to be – rusty fold-up tables and plastics chairs set up on the street and side alley, a literal open kitchen, and amazing smells that make you forget any doubts you had about the seemingly subpar hygiene standards. If you do decide to pay a visit, don't expect top-notch services. What you will get, however, is delicious food delivered to your table – everything from Stir-fried Razor Clam with Chili & Black Bean Sauce ($148) to one of its most popular dishes, Black Pepper Pork Hock ($148). There's a good reason why people keep coming back.
Opening hours: Monday to Sunday, (5.30pm – 12.45am)
Oi Man Sang, 1 Shek Kip Mei Street, Sham Shui Po (+852) 2393 9315
---
Kui Kee Seafood Restuarant | 駒記海鮮大排檔
Kui Kee Seafood Restuarant is one of our all-time favourites. This local eatery is not your typical dai pai dong as everything is indoors, but it is styled more or less the same way. With a special focus in Canto-style seafood dishes, Kui Kee must-trys are the Spicy Fried Screw with Wine ($158), Pan-Fried Oyster Cake ($78), and Marinate Chinese Platter ($158). Crack open a bottle of beer or two, and you've got your Friday night with the gang sorted.
Opening hours: Monday to Sunday, (5.30pm – 12.30am)
Kui Kee Seafood Restaurant, Shop B, Bowring Road, Wan Chai (+852) 2838 8998
---

Tung Po Kitchen | 東寶小館
Packed with locals and tourists every night of the week (especially the weekend), Tung Po is by far the most popular dai pai dong in the city. Apart from the great food – we highly recommend the Deep Fried Pork Rib with Mayonaise ($98), Black Ink Squid with Spaghetti ($148), and Fried Rice with Duck Sauce in Lotus Leaf (small: $98, large: $148) – the atmosphere alone is worth the visit. Owner Robby Cheung is there every night to make sure his customers are having a great time, beyond what's on the dinner table. Whether he's popping and locking to the latest hip hop track, doing splits on the floor, or performing his favourite trick – popping beer bottles with chopsticks – he's always ready to put on a show and entertain the crowd.
Opening hours: Monday to Sunday, (5.30pm – 12.30am)
Tung Po Kitchen, 2/F Java Road Municipal Services Building, 99 Java Road, North Point (+852) 2880 5224 / 9399
---
Bing Kee | 炳記茶檔
Located on the quiet streets of Tai Hang, Bing Kee is a humble little joint that boasts a small and simple menu of Hong Kong-style noodles, sandwiches, and drinks. Open from 7am to 3.30pm, this place is known for its cheap prices, with its most famous dish, the Pork Chop Noddles, setting you back only $25. If you want to avoid the queues, we recommend arriving around 2pm on a weekday where most of the lunch crowd are gone – but don't cut it too close because the last order is at 3pm. Also, the stall is not the easiest to find, so be sure to have Google Maps at the ready.
Opening hours: Tuesday to Sunday, (7.30am – 3.30pm)
Bing Kee, 5 Shepherd Street, Tai Hang (+852) 2577 3117
---
Read more! Find out what Weird Foods Hongkongers Love to Eat, or explore the rest of our Food & Drink section.