Whether you love painting or singing, acting or dancing, or even making your own gorgeous jewellery and perfume, there are loads of fun classes and workshops to choose from dotted around Hong Kong. So why not swing by and give one a whirl – you could be the next Picasso, or Beyoncé.
---
---
Painting

Are you a budding artist just dying to get creative and show off your artistic side? If so, why not spend a rainy day at one of Hong Kong's quirky art studios? Head to charming and cosy boutique painting studio, Ka Atelier (pictured), and enjoy a 2.5-hour workshop in either teapot painting or bottle art with the studio's artist herself, Carole Leung. Alternatively, head to artJAMaLAMa in Sheung Wan and get messy in 600 square foot of creative space, or Causeway Bay studio Paint Palette. Choose a canvas of your preferred size, grab all the acrylic paints you need, and enjoy complimentary soft drinks to keep your creative juices flowing. If you fancy something a little stronger, then the venue allows you to bring along your own alcoholic drinks, and they'll even let you play your own music too.
Alternatively, if you're looking to revamp your kitchenware, then head to a Loveramics workshop where you can decorate mugs, bowls, and other ceramic goodies with paint. All materials are provided, and a selection of locally roasted coffee and organic tea is on hand to keep your creative juices flowing during the two-hour session. Functional, fun, and affordable, this is a great activity for budding artists.
KA Atelier, 2D, Moonstar Court, 2A – 2G Star Street, Wan Chai, (+852) 3484 2919
How much: Bottle Art Workshop costs $280 / Teapot Painting Workshop costs $325 (call at least 2 hours in advance on the day to see if there is an available slot)
artJAMaLAMa, 101, 1/F, 1 Rumsey Street, Sheung Wan, (+852) 2541 8816 
How much: Minimum spending of $400/person applies
Paint Palette, 3/F, 532 Jaffe Road, Causeway Bay, (+852) 2575 8830
How much: $220 per person (from Monday to Thursday) and $280 (Friday to Sunday and public holidays)
Loveramics, Shop 207, The Pulse, 28 Beach Road, Repulse Bay, (+852) 2994 1289
Shop 21, Ground Floor, Eslite Bookstore, City Plaza 1, Taikoo Shing, (+852) 3419 1139
How much: $400 per ceramic piece (includes one coffee or tea)
---
Perfume Making

Fancy making your own bespoke perfume that captures your unique personality? Pioneer perfume artisan Angel Cheung and founder of fragrance brand Intime Artisan de Parfum invites you to join her in her beautiful studio in Tsim Sha Tsui and take part in the Perfume & Personality Workshop where you get to sniff your way through a collection of 32 unmarked ingredients to select the ones you are intuitively drawn to, before she helps you create your own signature scent. Along the way, Angel will analyse your personality, based on the top, heart, and base notes that you select, and invite you to name your fragrance so she can create a label for your bottle.
Whether you sway more towards the citrus or floral ingredients, or the spicy or sweet, Angel uses her skills as a certified aromatherapist to help you create the perfect combination that truthfully reflects your character. Perfect for Mother's Day, Valentine's Day, or simply as a fun afternoon with your friends, this perfume making workshop is enjoyable and totally unique.
Intime Artisan de Parfum, 903, Koon Fook Centre, 9 Knutsford Terrace, Tsim Sha Tsui, (+852) 9782 1237
How much: The Perfume & Personality Workshop costs $650 and last around 30 minutes

Localiiz Offer: You can enjoy 15 percent off the workshop when you like the Intime Artisan de Parfum Facebook page and enter 'Localiiz 15off' in the promotion code field when booking online (offer valid until 19 August, 2018)
Terms & Conditions – Intime Artisan de Parfum reserves the rights of final decision in case of any dispute.

---
Baking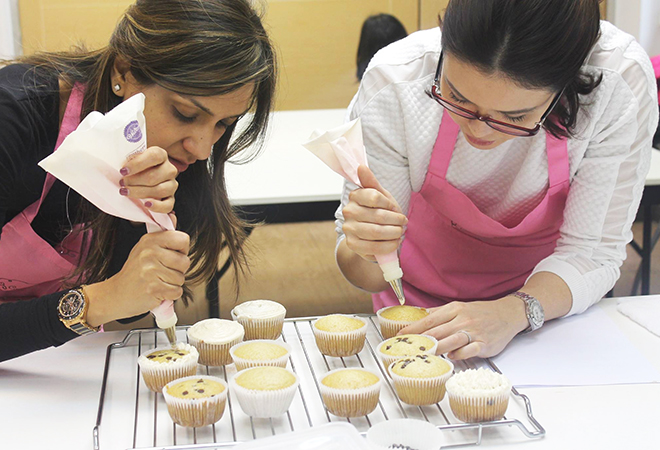 Unleash your domestic goddess (or god) at one of the city's top bakery schools. Whip up some gorgeous cupcakes, masker the skill of creating beautiful floral decorations with icing, or create your very own couture handbag cake (yes, you read that right), with the sweet treat maestros at Complete Deelite. There are several workshops to choose from, catering for different skills levels, so you could find yourself creating tropical hibiscus flowers and leaves in a Wilton Advanced Skills Workshop, or baking delicious dairy-free cupcakes in a Baking Workshop. There really is something for every aspiring baker, and all tools and supplies are included.
For more variety in the kitchen, head to The Mixing Bowl in Sheung Wan and bring out the baker in you with enjoyable classes in bread making, chocolate drip cake, scones, and traditional Hong Kong bites. All classes are 2.5 to 3 hours long, and a light home baked snack, coffee or tea will be served during the class. You will take home everything that you bake and the recipes will are sent to you via email after each class.
Complete Deelite, 2/F, On Lan Centre, On Lan Centre, Central, (+852) 3167 7022
How much: $650 per workshop (member $620)
The Mixing Bowl, 23/F, The Pemberton, 22-26 Bonham Strand, Sheung Wan, (+852) 2524 0001
How much: Classes vary from $400 to $700 per person
---
Dancing
From ballet to Bollywood, pole dancing to break dancing, our city is full of fun dance classes inviting you to get creative and bust some moves on the dance floor. Cosmic Dance Company is on a mission to popularise Indian dance in Hong Kong, transforming the 5,000 year-old traditional Bharatnatyam temple dance into a hip, current genre. The school offers energetic Indian Fusion dance classes combining classical, Bollywood, and Indian folk dance for all ages, providing the perfect way to blast that cardio workout while building up a sense of rhythm, directional awareness, strength, and grace.
If delicate ballet is more your style, then Twinkle Dance Company and Russian Ballet School hold hourly classes and longer-term courses to teach you the most elegant moves. Or perhaps you'd rather get sexy with salsa and swing by the weekly Dance Trinity classes at their spacious Central studio, or check out the free Dance With Style classes that are held at various locations around the city.
Cosmic Dance Company,Ricky Dancing Studio, 1/F, 33-39 Austin Road, Jordan, (+852) 9744 9595
How much: Approx. $150 per hour
Twinkle Dance Company, Rose Petal Studio/ Sugar Plum Studio, 801-2/403 Lansing House, 42-47 Queen's Road Central, (+852) 6608 6689
Shop 311, One Island South, 2 Heung Yip Road, Aberdeen, (+852) 6608 6929
How much: $230 per hour; $1,800 for packages (10 classes)
Russian Ballet School, Units 1 and 2, 28/F, Jupiter Tower, 9 Jupiter Street, North Point / G/F, RP, 787 Po Tung Road, Sai Kung, (+852) 2570 2006
How much: $180 per hour; $1,400 for monthly memberships (8 classes)
Dance Trinity, 8/F, Fung Woo Centre, 279-281 Des Voeux Road Central, (+852) 9634 9770
How much: $180 per class; $680-$2,880 for packages
Dance With Style, Locations vary, click here for more information, (+852) 6389 6213
How much: Free
---
Read more! Check out our full article on Hong Kong's Best Dance Classes
---
Singing

Are you a little song bird just dying to show the world your talent? With a little fine tuning, you could be entertaining the masses – or at least your best friends. Sign up for one-to-one singing tuition with choir leader and voice educator Jamie Munn at Katterwall and your dream could become a reality. You may even end up in the Women's Choir (pictured). Alternatively, the VOIZE Centre of Contemporary Singing can help nurture your talent with a team of six highly trained teachers who use contemporary powerful proven techniques to help you in achieving a marketable voice, yet without compromising the longevity of your vocal cords. Lessons range from $400 to $3,000 per hour, depending on your teacher. But if you simply have a passion for singing and loves belting out a tune or two, the Christine Samson Music and Arts Studio might be the one for you. Offering passionate singers a series of group classes, singers will get the chance to sing their favourite songs on stage, and if you want to train up your vocals more professionally, there are also private lessons available with Christine Samson herself. We can almost smell that record deal!
Katterwall, 10th floor, Siu On Building, 243, Des Voeux Road West, Sai Ying Pun
How much: Contact Jamie for more information
VOIZE Centre of Contemporary Singing, 16/F, Shun Feng International Centre, 182 Queen's Road East, Wan Chai, (+852) 2529 9444
How much: $400 to $3,000 per hour (depending on the teacher)
Christine Samson Music and Arts Studio, 2B, Timmar Court, 10-12 Wing Hing Street, North Point, (+852) 2762 0112
How much: $ 750 to $2,500 per hour (private lessons), $1,200 for six group classes

---
 Acting
All the world's a stage – and you could be on it! If you're interested in theatre, either on stage or behind the scenes – then Hong Kong Players (pictured) is the place for you. This volunteer run organisation is keeping the drama alive and kicking in Hong Kong, thanks to its many brilliant workshops and productions. They take the phrase "community theatre" fairly seriously – but they have fun doing it, inviting talented actors, seasoned artists, and complete beginners to audition for roles and hit the stage. Drama, comedy, panto, you name it – they have it. And if you've ever wanted to direct a play, now could be your chance to make that happen. Every show needs set, lighting and sound designers, make-up artists, and stage crew to run performances – not to mention producers, stage managers, costume designers and administrative and general help – so they are always on the lookout for talented people, and those who wish to learn the ropes. A technical background is not necessary to become involved, so get in touch now if you want to be the next Shakespeare.
If you want to step it up a notch and learn the skills of the trade from an industry professional, then sign up to one of the monthly workshops at the International Academy of Film & Television. Held over several evenings during the course of 2 weeks, the 12-hour workshops explore specific areas of acting, such as film and TV acting, improvisation techniques, voice and movement, and method acting. Before you know it, you could be the next big TV star or movie maker.
Hong Kong Players, 3/F, On Tat Building (Block D), 3-5 Pat Tat St, San Po Kong, Kowloon
How much: Voluntary
International Academy of Film & Television, 5th Floor, Yardley Commercial Building, 3 Connaught Road West, Sheung Wan, (+852) 2127 4438
How much: 12-week courses cost around $3,860

---
Jewellery Making

What could be cooler than making your own bling? Hatton Studios invites you to learn the art of jewellery making and create your own beautiful pieces at its silversmithery and jewellery deign courses for beginners onwards. Its co-working space provides everything from mentoring and training to bench rental and exhibition space, allowing students to branch out and develop their own collections and brands. Beginner Jewellery Course costs $2,750 per person, with a maximum of six students per course for four weeks (one night per week, 2.5 hours per class). Course prices include tools and silver, and students will leave with a piece of jewellery they've made themselves! Advanced classes, private lessons, and bench hire are also available. Alternatively, Ever True offers workshops that teach silversmithery to make sterling silver rings, pendant, bracelets, and name tag charms in its Central studio.
Hatton Studios, 13/F Cheong Sun Tower, 118 Wing Lok Street, Sheung Wan, (+852) 2857 7751
How much: Beginners course costs $2,950 for four 2.5 hour sessions (other courses vary)
Ever True, Room 705, 7/F, Won Hing Building, 74-78 Stanley Street, Central, (+852) 3489 6418
How much: Workshops range from $299 to $1,600

---
Wallet Making

Forget Prada and Gucci, make your own stylish leather wallets at Own's Leather (pictured) in Kwun Tong. From wallet to card holders, bangles to coin bags, there are loads of lovely products to be made with your very own personal touch. You will have a one-on-one lesson with an expert and learn the tricks of the trade. And you can be sure that your finished product is totally unique and definitely not something you would find in the local market. Alternatively, Fungus Workshop in Sheung Wan invites you to learn the basic techniques such as hand stitching, lining, fastening, and finishing, creating 2 to 3 small products such as camera bags and small hangbags.
Own's Leather, Room F6, 10/F, block C/D, How Ming factory building, 99 How Ming street, Kwun Tong, Kowloon, (+852) 61851517
How much: Classes range from $800 to $1,700 per person
Fungus Workshop, G/F, 4 Po Hing Fong, Sheung Wan, (+852) 2108 4522
How much: 4 Sessions (2 hours per session) $1,680 / 2 sessions workshop (2 hours per session) $840
---
Calligraphy
Want to have the most beautiful handwriting in Hong Kong? Learn the art of modern calligraphy with Calligraphy in Hong Kong and you'll soon be on your way. During the 3-hour workshops you will learn how to use the tools of pointed pen calligraphy, how to create thick and thin strokes, understand the basic strokes, and be able to write the full lowercase letterforms by the end of the session. This is a great class for beginners to familiarise themselves with the pointed pen and start their new journey in the art of calligraphy. Alternatively, you can join artist and designer, Kalo at her boutique stationery design company, Kalo Make Art, for a calligraphy workshop in Central.
Calligraphy in Hong Kong, Laguna Verde Club House, Hung Hom, Kowloon, (+852) 6772 0942
How much: $550 (includes materials)
Kalo Make Art, 18-20 Wyndham Street, Ivy House, Room 201, Central
How much: Classes are around $900 per person
---
Read more! Explore the rest of our Culture section on Localiiz.