Whether you're planning that all-important first date or celebrating a milestone in your relationship, it can be tempting to play it safe and go with the whole dinner and a movie cliché. And while heading to one of the city's gorgeous date night spots is always enjoyable, we say why not shake things up and make it a real night to remember. After all, Hong Kong is full of weird and wonderful things to do, right on our doorstep. We promise these fun ideas will score you major brownie points too.
---
---
Make 'em laugh
Marilyn Monroe once said, "If you can make a woman laugh, you can make her do anything." Why not take her advice and win over your woman (or man) at one of the city's vibrant comedy clubs?With fresh-face performances and guest appearances by well-known names popping up every day of the week, there are plenty of opportunities to laugh the night away with your beloved. Feeling brave? Why not buck up the courage and take to the stage at an open mic night and dazzle your date with your wit. The spotlight is yours on Tuesday nights at TakeOut Comedy Club and every Monday at Bar 109. Go on, give it a go!
Bar 109, G/F, 109 Lockhart Road, Wan Chai | (+852) 2861 3336
TakeOut Comedy Club, 34 Elgin Street, Central | (+852) 6220 4436
Champs, The Charterhouse Causeway Bay Hotel Hong Kong, 209–219 Wan Chai Road, Causeway Bay | (+852) 2892 3386
Punchline Comedy Club, Eaton Club, 5/F, Champion Tower, 3 Garden Road, Central
---

Get lost in Disney
Go for the ultimate cheesy option and whisk your date away on a magic carpet ride, or jump inside a magic pumpkin, at Hong Kong's first Disney-themed 4D photo studio, Magical World. Get snap happy with your crush among 12 cartoon zones and 70 photography spots in a 10,000 square foot studio filled with paintings, statues, and props. Whether it's sharing a pot of honey with Winnie the Pooh in the Disney Classic Characters zone, joining Olaf in a giant snow globe in Frozen, or grabbing a lightsaber and battling it out with Darth Vader a la Star Wars, your date will be in their own dreamy fairy tale.
If selfies aren't enough to capture your magic moments together, you can always visit the Souvenir Photo zone where professional photographers will do it for you for an additional price ($120 for one photo, $218 for two, $298 for three). Whatever you decide, make sure to visit the Luminous Disney Zone, where painted scenes light up in the dark and golden lanterns, stars, and fireworks fill the sky. Go on and kiss the girl!
Magical World, 1/F, Hilton Place, 96 Granville Road, Tsim Sha Tsui East | (+852) 2721 9318
---

Go floating
Head to Float On and treat you and your date to a dreamy adventure inside your very own zero gravity sensory deprivation pods. Located on Caine Road next to the 7-Eleven, the centre provides a magical sanctuary away from the sounds, smells, and sights of the outside world. Pop in your earplugs, hop inside one of their four softly-lit Dream Pods and enjoy sixty or ninety minutes of pure bliss as you lay back in 30 cm deep water filled with enough Epsom salt and magnesium to keep you happily afloat. Trust us, you'll both feel so relaxed and loved-up by the time you get out, you'll be on a romantic high—and did we mention that floating increases the production of endorphins? Wink, wink!
Float On, B/F, 89 Caine Road, Mid Levels, Central | (+852) 2548 2844
---
Read more! Looking for impressive ideas on where to take your date?
---
Cuddle some animals 
If your date loves food as much as they love animals, then why not take them to one of the city's many animal-themed cafés? Unleash your inner love cats at Hong Kong's one and only real-life Cat Store Café, or hop on over to the newly opened Rabbitland for a cuteness overload and a nibble on something tasty. If cats and rabbits don't win them over, then perhaps the hedgehogs will at Kuri Café or the shibas at Mame & Shiba (pictured above). And if your date has a thing for reptiles, they will no doubt enjoy meeting the residents at Café Animojo.
Cat Store Café, Flat D–E, 3/F, Po Ming Building, Fu Ming Street, Causeway Bay | (+852) 2710 9953
Rabbitland, 3/F, 530 Jaffe Road, Causeway Bay | (+852) 5281 0280
Kuri Café, Shop T104A, G/F, TBG Mall, 3 Ngau Tau Kok Road, Kowloon Bay | (+852) 9297 9821
Mame & Shiba Café, Rm J, 3/F, Po Foo Building, 1–5 Foo Ming Street, Causeway Bay | (+852) 5931 8931
Café Animojo, 19 Hollywood Road, Central | (+852) 2986 8289
---

Visit the Hong Kong Zoological and Botanical Gardens
Be a cheeky monkey and take your date to see the orangutans, gibbons, macaques, and lemurs at the Hong Kong Zoological and Botanical Gardens. Nestled among the lush greenery on the northern slope of Victoria Peak, this 5.6-hectare garden is one of the oldest zoological and botanical centres in the world, and also home to raccoons, flamingos, tortoise, and turtles. All creatures here are free to watch, as long as you come between the hours of 6am to 7pm, and don't mind trekking up the steep hill to get there—perhaps go on a cool day to avoid any embarrassing sweat patches.
Hong Kong Zoological and Botanical Gardens, Albany Road, Central | (+852) 2530 0154
---

Go birdwatching
Nothing beats a breath of fresh air and the sights of nature in the company of your crush. Just minutes away from the bustling Central district, Hong Kong Park is a beautiful oasis of exotic birds, plants, and plenty of space to roam around with your Romeo (or Juliet). Enjoy a stroll together over the wooden paths perched high among the trees and see how many colourful birds you can spot. Not only a fun area to explore but a great spot to take lovely photos, this place deserves a spot on our list of fun date ideas.
Hong Kong Park Aviary, 19 Cotton Tree Drive, Central | (+852) 2521 5041
---

Go racing at Sideways
Does your date feel the need for speed? If so, then take them to Hong Kong's premier virtual racing centre, Sideways Driving Club, and let them go full throttle on 15 networked simulators that use the same software that F1 teams Red Bull, Force India, and Ferrari use for driver training. Your thrill-seeking partner will have the time of their life as they get to experience what it feels like to be in a real race car on the circuit and enjoy more high-speed action than you can shake a gear stick at. Feeling competitive? Why not race them against the clock—but will you let them win?
Sideways Driving Club, 1/F, 65–65A Peel Street, Central | (+852) 2523 0983
---

Bounce the night away
Nothing breaks the ice like spending an hour jumping around on over 7,000 square foot of connected, world-class trampolines. Bouncing is all the rage right now, and Hong Kong is blessed with a giant spring-loaded urban playground to let loose in. If your date is the adventurous type, then bounce your way into their good books at Ryze Ultimate Trampoline Park, where you can explore over 40 trampolines, including the famous angled walls and launching decks. Drop by Theme Night Thursdays and jump away to 80s, dubstep, or hip hop music, or rock up in your PJs if you dare—just remember, it's probably a good idea to save dinner and drinks until after you bounce!
Ryze Ultimate Trampoline Park, 3/F, 321 Java Road, Quarry Bay, (+852) 2337 8191
---

Paint Some Pots
We all know that scene from Ghost, right? Why not put your date in a spin at a Loveramics Ceramic Workshop? Ok, so you won't be taking to the pottery wheel in Swayze/Moore style, but you will enjoy some quality bonding time as you splash, splatter, doodle, and dab your own designs onto mugs, bowls, and other ceramic goodies. All materials are provided, and a selection of locally-roasted coffee and organic tea is on hand to keep your creative juices flowing during the two-hour session. Functional and fun, this is a great activity for budding artists—and for those looking to revamp their kitchenware in the process.
Loveramics, locations vary
---

Go art jamming
Are you a budding artist just dying to get creative and show your date your artistic side? If so, why not spend an art jam session getting to know them over a palette of paint at one of the city's quirky art studios? Head to Messy Jam or artJAMaLAMa in Sheung Wan and get messy in 600 square foot of creative space, or venture over to Paint Palette or AURA ART in Causeway Bay, or Choco L'ART Studio in Wan Chai, and choose a canvas of your preferred size, grab all the acrylic paints you'll need, and enjoy complimentary soft drinks to keep your creative juices flowing.
If you fancy something a little stronger (champagne, darling?), then both venues allow you to bring along your own alcoholic drinks, and if you ask the staff nicely, they'll even let you play your own music to inspire you both as you paint away (get that sexy playlist going). Be sure to call ahead and book your easels side by side. You never know, your date could be the next Picasso!
Messy Jam, Flat D, 2/F, Tai Fat Building, 37 Ko Shing Street, Sheung Wan | (852) 9366 9836
artJAMaLAMa, 101, 1/F, 1 Rumsey Street, Sheung Wan
Paint Palette, 3/F, 532 Jaffe Road, Causeway Bay | (+852) 2575 8830
AURA ART, 2/F, 18 Matheson Street, Causeway Bay | (+852) 2886 2359
Choco L'ART Studio, 2B, Yan King Court, 119–121 Queen's Road East, Wan Chai | (+852) 6695 1161

---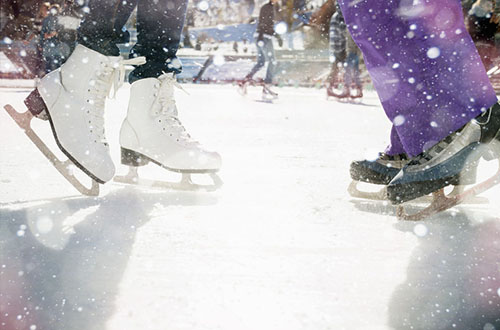 Get your skates on

Glide over to one of the city's indoor ice rinks and unleash your inner Torvill and Dean—or Bambi! Whether you're a natural in the skates or an adorable disaster, you're on a winning streak because you'll have someone to catch you when you fall (sure, that was an accident!). Take your pick of Ice Palace in CityPlaza, The Rink at Elements, Glacier at Festival Walk, or Mega Ice at MegaBox, and glide, spin, twirl (and fall) to your hearts' content. We can already hear the rom-com soundtrack playing in the background!
Ice Palace, 1/F, Cityplaza, 18 Taikoo Shing Road, Taikoo Shing
The Rink, G/F, Elements, No. 1 Austin Road West, Tsim Sha Tsui
Glacier, Shop UG-21, Festival Walk, Kowloon Tong
Mega Ice, MegaBox, 38 Wang Chiu Road, Kowloon Bay
---
Catch some jazz
What could be more romantic than sipping on martinis and kicking back to some smooth live jazz with your favourite human? Our vibrant city is blessed with fantastic venues that are guaranteed to get your toes tapping and your heart aflutter. If your love is an old soul then treat them to an unforgettable night at Foxglove where you will be transported back to the golden age of cocktails and jazz in an intimate venue inspired by a 1950s first-class luxury liner.
For a more casual affair, head to Peel Fresco or Gecko which feature some of the city's top musicians and singers, or swing by the famous western-style Ned Kelly's Last Stand in Tsim Sha Tsui, where the Dixieland jazz band perform Southern Louisiana sounds with a lot of horns every Tuesday to Saturday night.
Foxglove, G/F, 18 Ice House Street, 6 Duddell Street, Central | (+852) 2116 8949
Peel Fresco, 49 Peel Street, Central | (+852) 2540 2046
Gecko, LG/F, Au's Building, Ezra's Lane, Central | (+852) 2660 0889
Ned Kelly's Last Stand, 11A Ashley Road, Tsim Sha Tsui | (852) 2376 0562
---

Have dinner in the dark
Can't stand the sight of your partner? Just kidding. For an unforgettable night, why not ditch dinner at your favourite restaurant and experience dining in complete darkness? Dinner in the Dark is a fantastic concept which invites you to sharpen your senses as you feast on a three-course meal served in the pitch-black by a visually-impaired team. You won't know what the cuisines are before the dinner, meaning you and your date get to have loads of fun guessing what you are eating as you feel your way around your plate.
Dialogue in the Dark Experiential Exhibition, Shop 215, 2/F, Nob Hill Square, 8 King Lai Path, Mei Foo | (+852) 2891 0438

---
Tour the city
Whether your crush is a nature lover, history buff, or avid foodie, there are dozens of alternative city tours on offer around Hong Kong. Unlock the gritty, quirky secrets of our buzzing city on one of the weekly Walk in Hong Kong tours in Central, Sham Shui Po, and Kowloon. Soak up the breathtaking views in Sai Kung, or unlock the hidden secrets of Wan Chai, Sheung Wan, and Sham Shui Po with iDiscover City Walks app guided tours. If you both live to eat, then you'll love discovering the tastiest backstreet hangouts on a culinary tour with Hong Kong Foodie or Little Adventures in Hong Kong. The city is your oyster—go eat it!
Walk in Hong Kong, Room 608A, 6/F, Opulent Building, 402–406 Hennessy Road, Causeway Bay | (+852) 5511 4839
Hong Kong Foodie, (+852) 2850 5006
Little Adventures in Hong Kong | (+852) 9853 6746
---
Take a hike

What could be more romantic than watching the sunset over the mountains, or taking in the dazzling city lights under a starry night sky? Come day or night, there are dozens of hiking routes on Hong Kong and the outlying islands to take you and your date to great heights. From a gentle beach jaunt to a more challenging mountain trail, there are various distances and gradients to suit your fitness level and experience the great outdoors together. Check out these hiking suggestions from the Hong Kong Tourism Board and these 4 top night hikes in Hong Kong. Don't forget to pack your torch before you head out on your romantic adventure—and maybe a bottle of bubbly if you want to make that dazzling first date impression. Discover more hiking articles on Localiiz to get some great ideas. 

Originally published on February 8, 2019 by Sophie Pettit. Updated on November 7, 2019 by Jen Paolini.
---
Read more! Discover more articles on love and relationships on Localiiz.