Taiwanese bubble tea has taken Hong Kong by storm, but how many types of Taiwanese food have you tried? From stinky hotpot to traditional braised pork rice bowls and creative Taiwanese-inspired sandwiches, here's where you can experience different types of Taiwanese food without leaving the city.
---
---
1. Night market street food at Yuan is Here
Yuan is Here is no stranger to round-up lists. Popular with locals, this restaurant has been attracting crowds since 2015 at their Sai Ying Pun and Kwun Tong locations. More recently, however, they've moved out of their Sai Ying Pun shop into a much larger space in Kennedy Town. Serving Taiwanese night market-style street foods, such as fried chicken, pancakes, and a whole page of bubble tea options, don't forget to order a bowl of their Braised Pork Rice as well. Made with perfectly marinated and braised pork belly, the meat is cut into tiny pieces and served over rice—it's a must-try in our books.
Yuan Is Here, G/F, 31 North Street, Kennedy Town, Western District | (+852) 3579 2460
G/F, 28 Hung To Road, Kwun Tong | (+852) 37059848
---
2. Hong Kong and Taiwanese fusion at Hogology
Mixing Hong Kong and Taiwanese flavours into one, Hogology is known for its big, crispy pieces of Deep-Fried Pork Chops paired on a bed of rice with braised pork sauce. Customers can mix and match toppings to find their favourite combination. If you're feeling hungry, try the Pork Knuckle with Rice and add a thick slab of luncheon meat to go on top.
Hogology, G/F, 11 Caroline Hill Road, Causeway Bay | (+852) 2805 6665
G/F, 148 Wellington Street, Central | (+852) 2556 1808
---
3. Stinky hotpot at 8 Pots HK
For the fans of stinky tofu, you'll love 8 Pots, a stinky hotpot chain from Taiwan. Their Causeway Bay and Tsim Sha Tsui locations are ever so popular, attracting lines every weekend. Unlike traditional Chinese hotpot, most of the food in the pot is already cooked when it arrives at the table and you're supposed to eat it with rice. The broth is made with pig's blood, pig's intestines, quail egg, and, of course, stinky tofu to create the signature fragrance that fills the shop.
8 Pots HK, G/F, 77 Kimberley Road, Tsim Sha Tsui | (+852) 2885 7867
Shop E, G/F, Block A, Lockhart House, 440 Jaffe Road, Causeway Bay | (+852) 2970 2088
---
4. Braised beef noodle soup at Liu Liang San 
Located in Tsim Sha Tsui, you can spot Liu Liang San a mile away due to its gorgeous, wooden exterior. Get comfortable inside the clean, modern space while taking a sip of the aromatic Braised Beef Noodle Soup. The restaurant also has other Taiwanese snacks such as marinated soft boiled egg, braised pig knuckles, preserved egg, and tofu that are popular with regular visitors. 
Liu Liang San, G/F, 3 Ichang Street, Tsim Sha Tsui | (+852) 3462 2140
---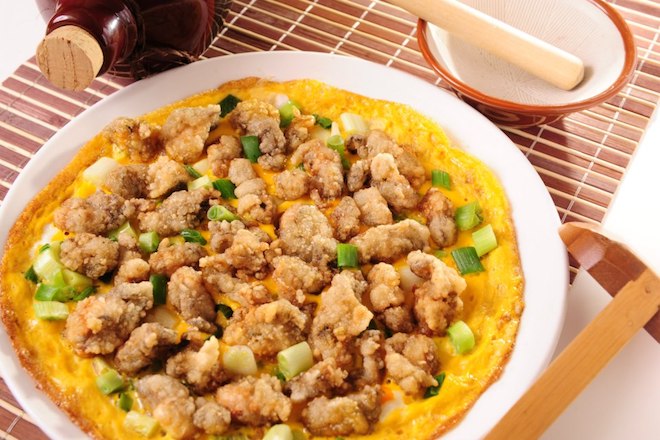 5. Family-style dinner at Grand Hill Taiwanese Restaurant
Gather all your friends and family at Grand Hill Taiwanese Restaurant for Taiwanese stir-fry dishes, fine dried seafood, rice and noodle dishes, as well as some Cantonese dim sum. Be sure to order a heart-warming bowl of Sesame Oil Chicken Soup and Oyster Pancake to share.
Grand Hill Taiwanese Restaurant, 1/F & 2/F, Cheung Lee Commercial Building, 25 Kimberley Road, Tsim Sha Tsui | (+852) 2721 9833
---
6. Breakfast sandwiches at Sanshiyi Toast and Breakfast
Hidden away in Jordan, Sanshiyi Toast and Breakfast have seven different Taiwanese-style sandwiches on offer. Step out of your sandwich comfort zone with the Hand-Shredded Chicken Sandwich, which includes an egg, shredded chicken, bean sprout, and cucumber mixture inside two slices of toasted bread. For dumpling lovers, order the Dumpling Sandwich, where three pieces of dumplings are put neatly inside the sandwich and paired with chicken and garlic paste.
Sanshiyi Toast and Breakfast, Shop 4, G/F, Tak Hay Building, 1–9 Tak Cheong Lane, Yau Ma Tei | (+852) 5540 3134
---
Read more! Explore the rest of our Food and Drink section for more delicious treats.