Ever wondered what happens to the five million bamboo stalks you see lying around on the streets of Hong Kong and propping up against the city's towering skyscrapers every year? What is the destiny of these handy little guys – who have remained a Hong Kong trademark for centuries – once they have served their purpose in construction?
Well, we can reveal the answer. Due to safety reasons, most bamboo scaffolding goes straight to the landfills after serving just one building project – sad isn't it. However, thanks to one savvy Hong Kong entrepreneur, these little rods are getting a second shot at life in the city, and in the most extraordinary way – on our feet!
Introducing Bam-Ons, the stylish new shoe, designed by local fashion brand Erth which has launched a Kickstarter campaign to create the most earth friendly slip-on shoes ever. They have made it their mission to recycle, clean, disinfect and laminate disused bamboo scaffolding and transform it into the insoles of comfy footwear. And how did they ever come up with this quirky idea?
Well, we grab five minutes with the mastermind behind the brand, Angus Ko, to find out.
1. What inspired you to make slip-ons from bamboo?
After doing some research, I found that there has been long history of making shoes from bamboo in a lot Asian countries. Bamboos are lightweight, odorless, quick drying, and breathable. These characteristics make bamboo a perfect material for slip-ons.
2. And what inspired you to use recycled bamboo from scaffolding? 

Well to me, bamboo scaffolding is a traditional building technique, and at the same time, it's also an art that represents the Hong Kong culture. When some of my friends from overseas visited Hong Kong and saw these bamboo scaffoldings around tall buildings, they were all very amazed. They couldn't imagine how these bamboos were actually the backbones of all the modern skyscrapers in Hong Kong. However, I feel like local people here don't show much appreciation towards this art. I read a newspaper article once which stated that Hong Kong uses over five million bamboo rods each year for construction, but due to safety reasons, most of these rods are disposed in landfills immediately after being used. After reading this article, it further spurred on my desire to recycle and reuse bamboo scaffolding to promote green fashion as well as Hong Kong culture.
3. Did you encounter any difficulties throughout the recycling process?
Since we needed to collect used bamboos from bamboo scaffolders, our biggest challenge was to explain our concept and mission to bamboo scaffolders and manufacturers so that they would work with us.
4. So what is special about the design of Bam-Ons?
The essence of the Bam-Ons is the bamboo insoles, which are made from the recycled bamboo scaffolding. The upper is made from canvas while the outer sole is made from rubber. As mentioned, bamboos are highly durable, breathable, and supportive, so these slip-ons are perfect to wear in all occasions. One special feature of the Bam-Ons is that they are 100% animal friendly – in other words, they are vegan shoes.
5. They are only available in two colors now, will you introduce more color in the future?
If we get successfully funded on Kickstarter, we plan to introduce some fall/winter colorways using vegan suede or velvet besides canvas.
6. Is Kickstarter the only platform to purchase Bam-Ons?
Yes, Kickstarter is the only platform to purchase Bam-Ons for now. We decided to put it on Kickstarter as we wanted to get the capital to mass produce Bam-Ons in a short period of time. Most importantly, Kickstarter is a great platform for us to share our ideas with the entire world. We are very proud that we have got backers who have pre-ordered our Bam-Ons from more than ten different countries so far. However, we still have a long way to go until we reach our funding goal.
7.  Is Bam-On your first and only project?
Yes, Bam-On is our first product of many more to come. We already have some innovative ideas of our next products, however, in order to make this happen, we need to reach our funding goal to get enough capital for future product development.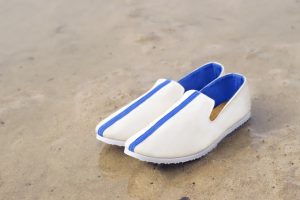 Fancy a pair of Bam-Ons?
If you are interested in these quirky Bam-Ons and like the idea, you can purchase a pair on Kickstarter! The campaign will run until July 29, so show your support now and give Hong Kong's bamboo a second life.
​​​​​​​​
---
Support the Change!
Bam-Ons are currently still raising funds for their pledge on Kickstarter, so do become a part of this positive change and make your donations
on the website
. Erth Company will send a survey to all backers after the campaign ends to provide you with a choice of colorways and sizes for your free gifts. Remember, every dollar counts!