On a mission to find the best ways to relax in the concrete jungle we call home, our managing editor finds peace and tranquility floating inside a zero gravity "Dream Pod".
I have to admit, I'd never heard of "floating" as a technique for relaxation, but after hearing about Hong Kong's first sensory deprivation centre Float On, I couldn't wait to give it a try – and I'm very glad I did.
---
The Venue
Located on Caine Road, next the the 7-Eleven, Float On provides a magical sanctuary away from the sounds, smells, sights, and touches of the outside world. Filled with bean bags, cushions, magazines, and rustic trinkets, the softly-lit setting of your floating adventure oozes a bohemian feel, which makes you feel instantly chilled.
The centre boasts four treatment rooms – named after the elements – that are yours to enjoy for the whole session. Each room comes with your own shower, storage unit, and Dream Pod – a giant capsule filled with 550 kg of epsom salt and magnesium in 30cm deep water kept at 34 degrees (roughly skin surface temperature), designed to mimic being in a zero gravity environment.
Once cocooned inside your softly-lit pod (changing colours optional), you are free to lie back and enjoy sixty or ninety minutes of pure bliss as your body becomes weightless and every muscle begins to relax. Each session is designed to reduce physical and mental stress, relieve muscle pains and tension, reduce blood pressure, stimulate sleep, and slower brain waves to help you reach a deep meditative state of consciousness. And did I mention that it increases the production of endorphins? Bliss.
---
The Experience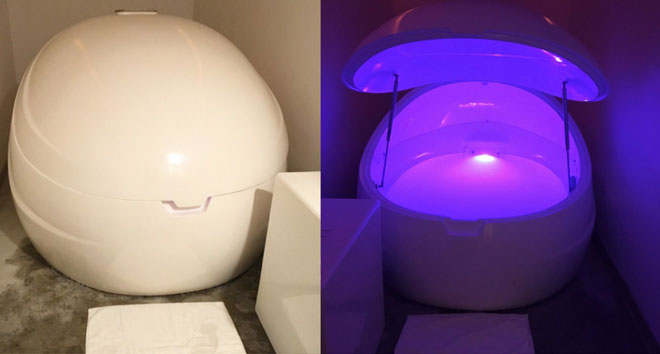 As someone who suffers from claustrophobia, I wasn't quite sure what to make of my sci-fi pod when I entered the Fire room. However, seeing how spacious it actually was, I felt confident that I'd be able to hop inside and close the lid fully without freaking out, to get the full experience. Plus, the glowing multi-coloured lights were enough to create a soothing vibe that made me feel calm.
After taking a quick shower, I popped in my earplugs, slipped in my pod, and slowly laid back in the water, letting it work its magic to make me weightless in seconds. Listening to the tranquil fairy music, which lasted about ten minutes, I tried out several different positions to get the most comfortable I could until the star fish proved to be the winner. I closed my eyes and spent one blissful hour floating in tranquility. Sixty minutes later, I emerged from my pod completely relaxed and totally spaced out. I felt as if I'd just woken up from the deepest sleep of my life – only I'd been awake the whole time. My entire body felt relaxed and tension free, and my mind was deliciously clear.
---
The Verdict
I've had countless massages and treatments over the years, but I can't remember the last time I felt as relaxed as I did inside my little Dream Pod. Nothing compares to the feeling of floating weightlessly in a beautiful glow of colours for an hour, and if you're looking for some quality "me time", this is the perfect place to find it. The beauty of floating is that you can do whatever you like inside your pod – daydream, meditate, completely switch off, or even snooze (I'm told this is totally safe).
There are three time slots to choose from, starting from 45 minutes ($530) to 60 minutes ($630), or 90 minutes ($830) and reduced rates for members or packages. This may sound a little steep, but given that the whole experience is so unique and such a novelty, it's worth it if you're looking for a new way to pamper yourself or find the coolest present for a friend. And the timing couldn't be better to try this out if you're curious, as their special Valentine's Day offer invites two people to enjoy a 60-minute float therapy session for $888 (runs from February 12 to 16, 2017). One tip though, ditch the swimsuit and go nude for the complete non-sensory experience!
Float On, B/F, 89 Caine Road, Mid Levels, Central, (+852) 2548 2844

---
Read more! Discover How To: Manage Stress, or explore the rest of our Health & Wellbeing section.