Italians never do things by halves, and that's certainly true if the signature dishes at newly opened, vintage Italian restaurant, SPIGA, are anything to go by. With a menu as rich as its interior – designed by the daringly creative Joyce Wang Studio – this 1950s inspired dining hot spot definitely leaves a lasting impression – and flavour.
---
The Venue
Sat within 7,000 square feet of open space, under leather straps draped across the ceiling, we eagerly awaited our softly-lit descent into the decadent dishes of two Michelin Star Chef Enrico Bartolini. But first, we had to have a good nose around at the six different dining areas, designed to bring the cinematic splendour of 1950s Italy to life. And it succeeds, because the interior design is the real star of the show here. If the tubular furniture, terrazzo flooring, and metro map lighting sculpture fail to impress you in the Italian metro station section, then the juggling pins, flame throwers, silk wallpaper, and stunning pendulum chandelier (pictured above) in the vintage Italian circus area surely won't.
---
The Food
Beginning light (and certainly not as we meant to go on), we delved into a bowl of Soft Potato, Capers, Salmon Roe, and Lemon – a deliciously light, foamy, and creamy dish with just the right blend of sweet and sour flavours to tease our taste buds and keep us wanting more.
The definite winner (and sure to be a hit with avid cheese lovers) was the Risotto with Beetroot and Gorgonzola Cheese Sauce, cooked to perfection and generously topped with soft, oozing, cheesy sauce. This dish is so rich in flavour that it's probably best to share it – that way you can ensure there's plenty of room left for the Crunchy Veal Cheek with Crispy Potatoes and Dijon Mustard Millefuille – a cut so soft and tender it literally falls apart at the touch of your fork. These three dishes are all part of the tasting menu which comes at a pretty hefty $788.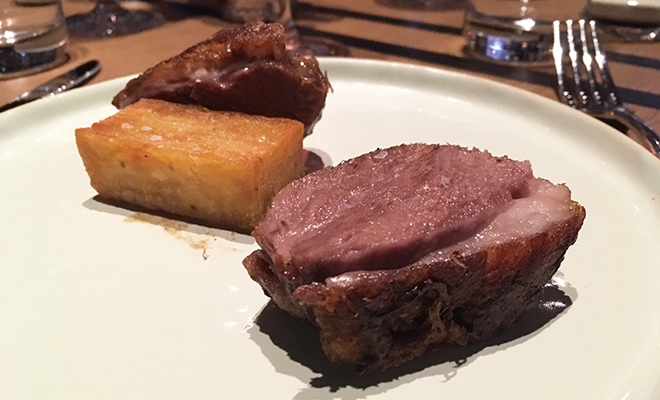 Seafood lovers will get a kick from sinking their teeth into the Sicilian Red Prawn with Tamarind Sauce, and Chick Pea Soup ($258) and Boston Lobster with Chocolate Tomato, Red Onion, and Sardinian Fregula ($328), which, although less filling than the veal dish, comes with full-bodied and intensely flavoursome sauces to create an equally satisfactory result.
Make sure you leave room for dessert, because while the Soft Creme Brulee with cherries, meringues, and iced blueberries ($98) is a little runny for my liking, the Chocolate Foam with Hazelnut Ice Cream ($98) is an absolute delight to the senses. Coupled with a glass of dessert wine, and you'll be in Paradiso.
---
The Verdict
With all the rich, historical touches, lavish interior design, and deeply flavoured dishes on offer, dining at SPIGA is like taking a trip to a history museum – only far more delicious! And while it seems that an evening in 1950s Italy doesn't come cheap (we'd definitely recommend saving this for an extremely special occasion), it will certainly leave you with a lasting impression – both on your eyes and your stomach.
SPIGA, 3/F, LHT Tower, 31 Queens Road, Central, (+852) 2871 0055

---
Hungry for more? Check out our latest Restaurant Reviews, or tuck into Hong Kong's Tastiest Late Night Bites.