We've never met a taco we didn't like, but it's been a while since Hong Kong's offerings have sent us loco. So when Mexican street food-inspired restaurant Mamasita's Cantina opened its doors at 8 Lyndhurst Street, our resident food blogger Christy Ma (aka lolleroll) was first in line. Could this be the juan to beat?
I was both excited and nervous when I heard a new Mexican restaurant was coming to Central. Excited because, apart from Calimex, Little Burro, and Brickhouse, there haven't been many Mexican spots opening up in recent years. Nervous because I heard it was owned by the same group as My Tai Tai – which I feel serves mediocre chain restaurant-like Thai food.
---
The Venue
Mamasita's Cantina is cute and very colourfully decorated – it's home to the perfect ambience if you're looking for casual good vibes with a group of friends. In fact, there were at least four big groups dining there when we went on a Thursday night.
---
The Food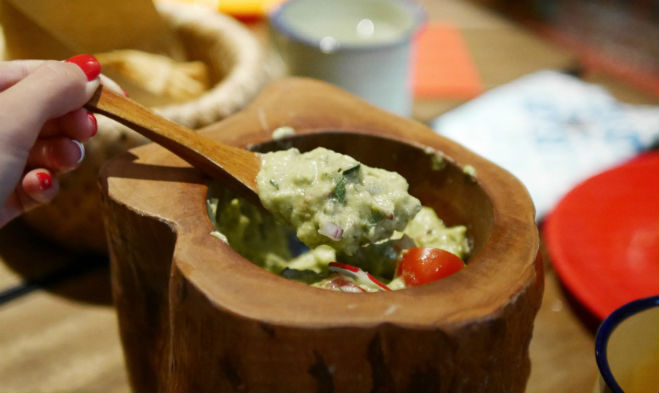 Starting with Guacamole Dip and Fresh Corn Tortilla Chips ($88) is an unspoken must if you're having Mexican food – so I shovelled ice cream-size scoops of guac onto the chip in my hand. The homemade chips were relatively thick and so well suited to holding the weight of the amount of guac I needed in each bite! The guac was also addictively tasty. I liked that it was the type with chunky bits in it, rather than being overly smooth.
Mexican street style Corn Esquites ($78) are always a favourite of mine. Most of the places I've tried – Brickhouse, Yardbird … –  have done pretty well, but these were equally delicious in their own right. The corn was super saucy and lathered with flavours.
The Mushroom Quesadillas ($108) looked a tad uninspiring when they arrived – but the strong truffle aroma immediately caught our attention. A staple item that's good for sharing.
The Fish Tacos ($88) were, hands down, the winner for me. The fish was perfectly deep fried and served with the perfect ratio of the sauces and veggie pieces. The ones pictured above were mini sampler sizes – the real one is about 2.5 times bigger.
Not everyone was a fan of the Beef Cheek Tacos ($78), but they were close to a favourite for me. It may have been because the filling was a little bean-y and stew-like, but in my opinion they were tender and flavourful.
When dining in a group, I generally prefer to order a lot of small bites (like tacos and chips) rather than taking on the task of splitting big dishes. However there was still an interesting selection of more filling main course dishes here – necessary if you have men dining with you, I suppose.
The Beef Carne Asada ($268) was beautifully presented as it arrived at our table. It was also nicely cooked to medium/medium-rare. Lather each piece with the sauce and you'll get a good, comforting mouthful of flavours. My only complaint would be that the beef was a tad chewy and not majorly beefy in flavour.
I think I preferred the BBQ Pork Ribs "Pibil" ($228), even though ribs would never ever be a dish that I would voluntarily order. The ribs are slow cooked for 16 hours and the meat is extremely tender, effortlessly falling off the bones as you dig in. At the same time, the meat retained a lot of juice and moisture. What was equally impressive was the Apple Slaw Salad. Now, I never eat coleslaw but even I had three helpings of this one – it was refreshing, crispy, and not sour.
---
The Verdict
While the dishes at Mamasita's Cantina were not the most memorable or inventive, the restaurant is going for a Mexican street food affair which is something that we don't have a lot of in Hong Kong – especially in a proper restaurant setting. There were many satisfying options on the menu and I especially enjoyed the tacos. Vibe-wise, it is perfect if you want to sit down for dinner comfortably, yet still feel like you're in a casual social setting.
Mamasita's Cantina, 5/F & 6/F, 8 Lyndhurst Terrace, Central, (+852) 2896 6188
---
Read more! Check out Restaurant Review: Rhoda or tuck into Hong Kong's Tastiest Late Night Bites.