For the last six years and counting, Lily & Bloom has established itself as a go-to cocktail bar in the heart of Central, but with a freshly revamped menu of dishes to die for, it's sure to win the hearts (and stomachs) of avid foodies. Lifestyle blogger thisgirlabroad gives us the low down.
---
The Venue
While many have gone to the bar at Lily & Bloom for drinks, it's likely less have ventured down a floor to the restaurant. Lily & Bloom has recently gone through a complete revamp; first their cocktail menu was scrapped and 13 new cocktails were added, and now their à la carte menu has been given a facelift.
Chef Billy Otis has stayed true to its classic American roots, but has sourced as many ingredients as possible from local Hong Kong markets. Each dish on the menu is full of flavour, impeccably presented, and uses simple ingredients in a fun and creative way. In short, a triumph!
---
The Cocktails
To start, I tried the Rhubarb Smash ($120) with zucca, cocchi rosso, cinnamon syrup, lemon, orange, and mint. This drink was incredibly refreshing and went down very well because it was both delicious and the alcohol content wasn't too strong.
If you're looking for something equally as tasty with a bit more of a punch, try the London Fogcutter ($140) with Bombay Sapphire Brugal 1888, Hennessy VSOP, elderflower, passion fruit, lemon, and apple, served in a funky tiki glass.
For something really different, go for the Mad Hatter ($450 to share between 4 to 5 people) which features Four Pillars Gin, Earl Grey, Sipsmith Summer Cup, cardamom, lemon, rhubarb, and vanilla. Not only did it taste great, the presentation was very impressive too. Mixologist Pawel came to our table and poured the drink out of a teapot, with dry ice creating a steam effect, into the cutest little teacups.
---
The Food
We were quite intrigued by the Portobello Carpaccio ($105) with marinated Nagasaki egg yolk, truffle vinaigrette, and pecorino, as we had never tried a vegetarian version of this dish. After a few bites I decided that I might even like this mushroom version more than the typical meat one.
Next, we tried the Smoked Salmon Flatbread ($115) with house-cured salmon, fresh grapes, four cheeses, and arugula. Though this dish was relatively simple, it was executed well and we quickly devoured every piece.
Under the Market section of the menu, we started with the Grilled & Chilled Abalone ($145) with cranbery miso, spicy yuzu vinaigrette, and shiso. I'm honestly not a huge fan of abalone, but the way it was cooked and the marinade which they used had me hooked.
The HK Cioppino ($275) is a traditional San Francisco seafood stew using local market seafood in a zesty tomato broth, served with cheesy garlic bread. Perfect for the cooler weather, this dish had a good variety of fresh seafood throughout.
The last dish we tried from this section of the menu was the Whole Grilled Market Fish ($290) – a local market fish, with chunky avocado salsa verde, purple cauliflower, crispy ham, and squash blossom sauce. Not only was the fish itself absolutely divine, but we loved the bright colors of the surrounding ingredients, which added a variety of fun textures and flavours.
From the beef section, we opted for the Root Beer Glazed Organic Beef Cheek ($285) made from wild Hereford cattle, with truffled polenta and grilled vegetables. The beef was incredibly tender and fell apart when we went to cut it. Despite me wanting there to be a stronger root beer flavour (brings back childhood memories, right?), this dish still gets a big thumbs up.
Since this dish is highly recommended, we had to try the Lobster Mac & Cheese ($275). What made this seemingly simple dish so unique was that it was prepared in a wheel of 36-month aged Parmigiano Reggiano with cognac, basil breadcrumbs, and three cheeses, served table side. Chef Otis actually came out from the kitchen and put the whole dish together in front of us. Entertainment with my meal? Yes please!
We were far too tempted by the dessert menu to pass up ordering the Skillet Chocolate Chip Cookie ($95) with vanilla ice cream and hot fudge sauce. The cookie was freshly baked and very soft – just the way I like it. The fudge sauce added the perfect amount of richness to the cookie without going overboard.
Since we wanted every item from Lily & Bloom's dessert menu, we also had to try the Brioche Bread Pudding ($80) with orange spices, whipped mascarpone, nut crumble, and amarena cherries, which looked and tasted delicious.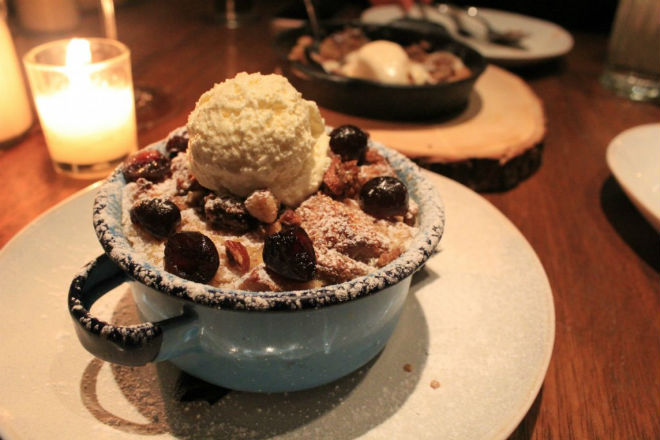 To wash down our dessert, we tried Captain Blackbeard's Brew ($140); a cocktail well-paired with sweet dishes or even by itself after your meal. Made with Zacapa 23yr, coffee liqueur, and cold drip coffee, this was yet another fun cocktail that was served table side.
---
The Verdict
Lily & Bloom has worked wonders with its new menu. Chef Otis and the rest of the team clearly picked the best American classics and gave them a bit of flare by using local ingredients (which many more restaurants in Hong Kong should be doing!). We were also pleased with the portion sizes and how the dishes were presented. All in all, we can only give praise to Lily & Bloom for a perfectly executed menu makeover.
Lily & Bloom, 5/F & 6/F LKF Tower, 33 Wyndham Street, Central, (+852) 2810 6166
---
Still hungry? Check out more of our culinary adventures in the restaurant reviews below!
Moonshine & The Po'Boys
The Drunken Pot
Frites 'Luxurious Sunday Roast Package'
Bistro Du Vin
Sushi Sei