Cecconi's Italian, part of the well-known Dining Concepts venture, recently relocated to Wyndham Street from its former spot on Elgin and has brought over new head chef Michael Fox from the Cecconi's in Melbourne to throw his modern contemporary flare into the menu. In lieu of the change, food blogger thisgirlabroad heads over for dinner to check it out.
---
The Venue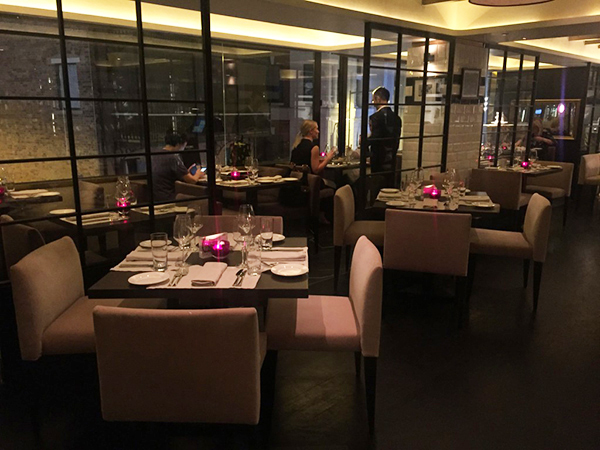 Somehow Cecconi's has figured out how to masterfully design their interior to make it feel like it's spacious and spread out (by Hong Kong standards, at least) – something you often miss when dining in this city. Once you exit the elevator, twist your way around the bar to find yourself between the main dining area and a wine cooler that literally expands an entire wall. Then there's a smaller front section by the large panel windows that is semi-closed off from the main dining area, which is perfect for more intimate dining.
---
The Food
To start our meal off, we dabbled into a few sharing plates, all of which had spot-on presentation, alongside a glass of refreshing (and much needed!) Vernaccia di San Gimignano. The Panfried Scallop with apple, caper, and dark rye ($168) was an interesting mix in both tastes and textures. Though we weren't huge fans of the apple and rye combination, the scallops tasted fresh and were fried perfectly. The Beef Carpaccio with beetroot, radish, shallot, and black garlic ($168) was a light and refreshing starter; cut thin enough to fall apart in your mouth.
Chef Michael saved the best (and most interesting) until last with the Grilled Asparagus and poached fried egg, with parmesan and aged balsamic ($138). We loved the addition of the fried poached egg to the asparagus – something we had not come across before. The combination of the crispy outside and gooey smooth inside, coupled with the crunchy asparagus and parmesan mousse, made this dish really stand out.
Cecconi's pasta dishes (except for the risotto) are all handmade, so our hopes were quite high when we ordered the Gnocchi with sausage, ricotta, and baby spinach ($198). Everyone at the table was taken aback when the dish came out, since we had never really seen gnocchi so large and in that shape. The gnocchi itself were nice and chewy, and paired nicely with the generous pieces of sausage. We also ordered the Prawn Risotto with preserved lemon and basil ($218). Though the prawns were succulent, the risotto itself had no apparent lemon hints or much of a strong flavour in general, which was somewhat disappointing.
After the carb-heavy pasta dishes, we settled on the Pan Fried Sea Bass with chickpea, chorizo, avocado, and red pepper ($298), which was beautifully presented. The chickpea salsa was a nice addition to the crispy exterior of the sea bass, providing alternate textures with a bit of a kick. Our table favourite was the Roasted Lamb Rump with farro and shallot ($298). The lamb slices were extremely juicy and tender, and there was a good balance of flavours from the lamb and farro.
Moving onto dessert (which we somehow managed to make room for), we began with a Strawberry Cheesecake with balsamic ice-cream ($88) that certainly piqued our interest. We weren't sure how the fusion of balsamic and ice-cream would taste, and unfortunately the overwhelming balsamic bitter taste left our palate sour.
We had much higher hopes for the Pear and Rhubarb Crumble with custard and lemon curd ice-cream ($88), and were not disappointed with the strong lemon ice-cream or the pear pieces, however, we didn't think this dessert resembled much of a "crumble".
Our final dessert of the evening was the always popular Chocolate Fondant and salted caramel ice-cream ($88). The salted caramel ice-cream went perfectly with the caramel and chocolate crumbs. This dessert was our top choice – if only there was more oozing fondant that came out of the cake when we cut it open! Delicious!
---
The Verdict
Cecconi's Italian is perfect if you're looking for a quiet spot that feels like it's miles away from the city. If you're looking for somewhere to take a date or to catch up with a few close friends, Cecconi's is a surefire bet. Great service, a wide selection of wine, and a modern take on traditional Italian food make this restaurant a great dining option.
Cecconi's Italian, 2/F, 77 Wyndham Street, Central, (+852) 2565 5300
Open Daily from 12:00pm – 3:00pm | 6:00pm – 11:00pm
---
Hungry for more? Why not check out more of our culinary adventures in the restaurant reviews below? Bon appétit!

Zuma Saturday Sessions
What to Eat in Kennedy Town
El Mercado Peruvian-Japanese Fusion
Bistro Du Vin
Sushi Sei