Here at Localiiz we're lucky to have great pops, even though many of them are in other countries. But if they were here in Hong Kong we would pamper them like kings this Father's Day by giving them a day to remember. To show how much we cherish our papas (and hopefully give you a little inspiration along the way) we describe our perfect day with pops.
---
Richard Codron
Founder & Director
If my father was with me here in Hong Kong for Father's Day I would organise for us to play golf together. This is the only time I can remember us doing something together when I was young. He was an exceptionally good golfer and was a very proud father when we played together. I would either go to Kau Sai Chau Golf Course or take him to one of the great courses in Guangdong for the day.
---
Sophie Pettit
Editor
There are three things my dad absolutely loves – boats, beer and the beach – and luckily for me, all three are abundant here in Hong Kong. My perfect day with pops would have to include a few hours of chilling on Shek O beach (with a couple of cold Tsingtao beers) before treating him to a slap up feast.

Seeing as I'm a rubbish cook, I'd take him over to Morton's Steakhouse in TST and take advantage of their amazing harbour view and special Father's Day menu, which features all their best salads, steaks and desserts. And of course, there's always room for their legendary Hot Chocolate Cake.

I'd end the day with the ultimate treat and take him on a magical evening harbour cruise on the Aqua Luna. What could be better than soaking up the dazzling skyline of our amazing city on its most iconic vessel … while sipping on a glass or two of chilled champagne?!
---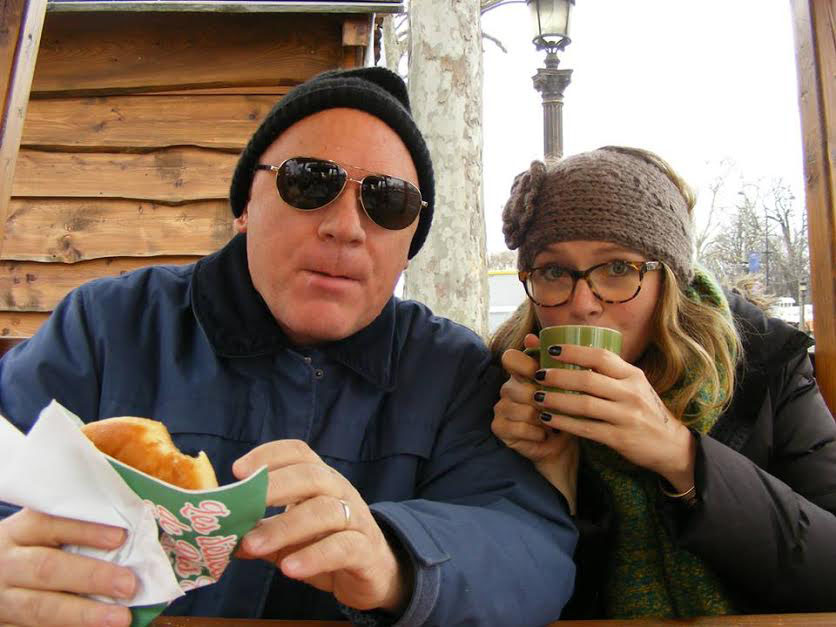 Suzannah Van Rooy
Account Executive
If you asked my dad what he wanted to do for Father's Day, he'd probably say something along the lines of "nap after lunch sounds good", which is why I always get advice from my mom. He is above all, anything but high maintenance and prefers the path less chosen. Starting our day with a breakfast including lai cha and locals at Match Box cafe in Causeway Bay would be a must. He derives serenity from his adventures on the open seas, so next up we'd head to Hong Kong Yachting for a 3-hour sailing event.
We'd ride on the tram to the Wan Chai ferry pier and cruise over to TST on the Star Ferry. Having been raised in India, he's always on the hunt for an authentic hole-in the wall curry, so we'd brave the rush of suit/handbag propositions to eat to our heart's content at Khyber Pass in the Chungking Mansions. Since I haven't seen my dad in a year, we'll want to catch up and talk trash about the 2016 American presidential nominees over a cocktail and a Japanese beer at Butler in TST.
Since I won't see him for father's day, I'll probably just call him after his nap.
---
Anton Pelayo
Graphic Manager
My dad moved to Hong Kong in the 60's, and being the old-timer he is, appreciates the old Hong Kong (way before the skyscrapers and taking a tiny sampan was the only way to get across the harbour at night). He misses the good ol' days when the food was authentic and cheap. So for my father's day adventure, I'd take him somewhere real "local" for lunch – get some rad seafood in Tai O Fishing Village and have a stroll around the scenic island. We'd cool down with some cold brews up in Ozone as he's never been and I'm sure he'd appreciate the great sunset view this bar has to offer.
Come dinner time, I'd whip him up something homemade with a little help from The Meatery, which sells and delivers great steak straight to your door. But I might go one step further and take advantage of Secret Ingredient's special fathers day offer where they provide all the ingredients and instructions for you to prepare an amazing feast at home. At the end of the day, family time is what matters, plus nothing beats a cold beer and a great conversation with pops.
---
Kamun Yau
Web Production Assistant
Father's Day for me has always been hard, as my dad will often tell me not to bother. However, we all know that the way to a man's heart is through his belly, and my dad is no different. With my father being a chef, I have always grown up with food around me, so taking my dad to The Butcher's Club Father's Day Sausage Making Class would be perfect. He would enjoy exploring the process that goes into making sausages and take it home with him, for his own experiments no doubt!
Once the learning process is done, we'd have a go at making our own sausages and let the chefs choose the best, which would be my dads I'm sure. After the class, we would gorge ourselves some more at the rooftop barbecue whilst I listen to my dad rant on about how he could've done a better job over some ice cold beers.