It's almost 2020, and who here even remembers the days of paying off bills by going into your bank in person any more? Bank queues, cheques, paper money—we don't know her! We do love the convenience that modern online banking affords us, but a new annoyance is actually remembering to sort out recurring payments. We would much rather save the brainpower for thinking about the newest lunch spots to try out, or debating the pros and cons of a Disney+ subscription.
With this in mind, we've sourced our amazing readers a good way to never have to set up phone reminders for recurring expenses again, all while racking up credit card point earnings. Enter ipaymy!
---
ipaymy provides users with a secure platform where they can pay their largest expenses such as rent, school fees, property deposits, renovation expenses, and more. Businesses can also similarly utilise ipaymy to pay salaries and invoices, collating all such outgoings under one handy platform. It's a simple and straightforward system that cuts out all the faff and fuss of finances.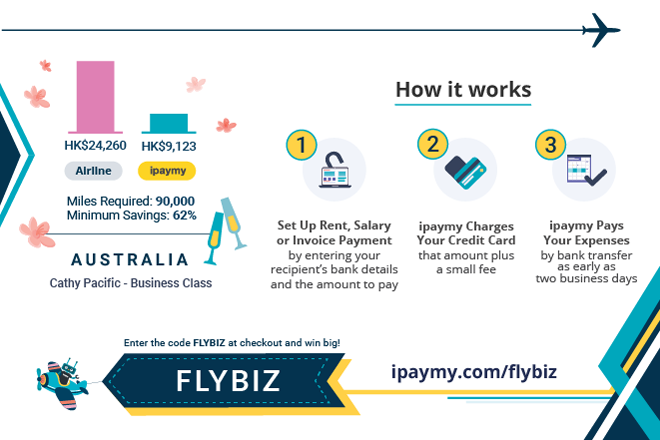 How ipaymy works
Enter the bank account details for your landlord, suppliers, employees, or other such payees.

Input the amount that needs to be paid. ipaymy will then charge that amount to your credit card, along with a small service fee.

ipaymy will make sure the money is paid to your landlord, supplier, employee, or more, by bank transfer in as fast as two business days.
ipaymy is secure, trusted, and has already successfully processed hundreds of millions of transactions safely. If you've got a new credit card, this is also a great way to hit the minimum spend threshold so your sign-up bonuses are activated. Even if not, your regular outgoings will see your credit card points accelerating steadily, so you'll be able to redeem your earned offers and privileges in no time and with minimal effort.
The service fee charged by ipaymy is 2.6 percent per transaction for payments made with Hong Kong-issued Visa and Mastercard cards, and 3.5 percent for American Express and international Visa and Mastercard credit cards. A small price to pay for not constantly having niggling payments weighing on the back of your mind, if you ask us!
---

Special promotion with ipaymy
In even better news, ipaymy is launching a special promotional giveaway. Travel lovers, listen up! Everybody wants to travel in comfort and style, and what's even better than flying business class to a lovely new destination? Why, flying business class for free, of course! 
ipaymy will fly one lucky user to a destination of their choice on a business class ticket. All you have to do is make a payment via their platform this December, using the code FLYBIZ at checkout, for a chance to win an absolutely luxe travel experience to your next getaway! Act fast, because this promotional offer is only running from now until 31 December. Once you've completed your transaction using the all-important promo code, keep your eyes peeled as the winner will be announced and contacted in January 2020.
Don't wait to shift your current expenses paid by old-school cheque or bank transfer to your credit card with a financial upgrade to ipaymy. Then proceed to upgrade your life experiences as well and fly business for up to 70 percent less! Financial peace of mind and free luxurious travel? This is absolutely the definition of a win-win situation in our books. Time to start thinking about where you'd like to go!
ipaymy, 17/F, 5 Bonham Trade Centre, 50 Bonham Strand, Sheung Wan | (+65) 8454 3132
Click here to learn more about ipaymy's business class ticket promotion, and here for more information on ipaymy and their services. 
---
Read more! Here are some apps for managing your finances, or explore the rest of our Finance section on Localiiz.