Too busy struggling to breathe to read the Hong Kong news this week? Well here it is, as depressing as it is, in a nutshell.
1. It's pollution – not mist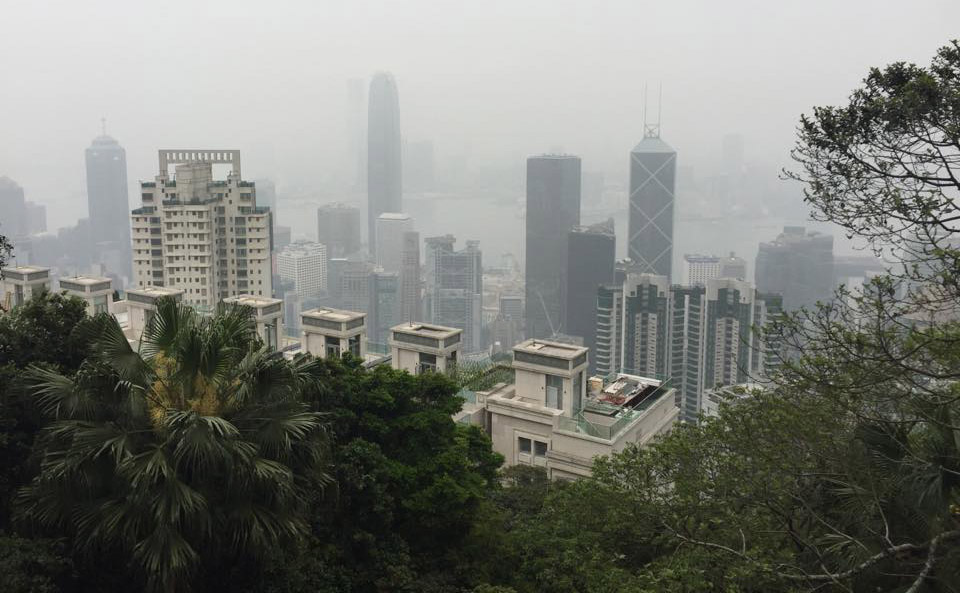 The Environmental Pollution Department warned this Thursday that the Air Quality Health Index (AQHI) had reach a high level which corresponded to a "very high" health risk. The department warned that Hong Kong is being affected by an airstream with higher background pollutant concentrations.  Reviewing data from the AQI index, it doesn't look as if things will get much better in the coming week.
2. Retail sales see biggest drop since 1999
While retail sales have been declining every month over the last year, the first two months of 2016 saw sales fall a massive 13.6% year-on-year, making this the single biggest drop in close on 17 years, according to figures for the Hong Kong Retail Management Association (HKRMA).  The drop in figures is linked to the dramatic fall in the number of visitors from the mainland.
Of the 20 retail categories surveyed only one – supermarket goods – recorded growth.
3. Credit agency downgrades for Hong Kong 'a mistake'
Following credit agency Moody's downgrade in early March, Standard and Poor's last week also downgraded Hong Kong's sovereign credit outlook from stable to negative, citing Hong Kong's close economic and financial ties with China as being a significant factor in the downgrade. Acting Financial Secretary Chan Ka-keung said that the government disagreed with the agengcies' assessment  as "…the Mainland will continue to be a key source of growth and stability for the global economy." Hong Kong Free Press.
4. Independence party a 'fake proposition' – Beijing not impressed
Several Hong Kong and Beijing officials condemned the newly founded pro-independence Hong Kong National Party (HKNP) with strong criticism, saying that the party breached the Basic Law's 'Hong Kong as an inalienable part of the People's Republic of China' concept.
Chief Secretary Carrie Lam said: "Since Hong Kong has always been an inseparable part of China, and the 'one country, two systems' principle is a constitutional requirement, any suggestion about Hong Kong independence is wrong." – (HKFP)
"I cannot be the least bit unclear in my response, because this has far exceeded the topic of freedom of speech" – Zhang Xiaoming, director of the central government's Liaison Office in Hong Kong. – (HKFP)

"Extreme ideas are emerging in Hong Kong, but establishing a Hong Kong National Party is taking it too far. In any diversified society, there will be a small number of people in that category whose leaders can make their names well-known in public opinion by voicing extreme ideas…. 

Hong Kong independence is a fake proposition without any possibility of realization." – (Global Times)
More reading: Time, SCMP (subscription)
5. '10 Years' movie set for top awards but ceremony banned on the mainland – Beijing not impressed
The annual Hong Kong Film Awards is not to be shown in China as the controversial futuristic  '10 Years' is on the shortlist for best movie. Although Hong Kong audiences have been filling movie houses to see it, China's Global Times reportedly described the movie as 'absurd'. The movie imagines life in Hong Kong 10 years from now.
BBC
]
6. Bizarre murders hit the headlines
Despite the number of homicides falling to 22 in 2015, two gruesome murders came to light this week. Austrian Filipino Andrea Bayr, aged 27, was apparently bludgeoned to death by her Pakistani boyfriend, with a drill on a construction site on Tuesday morning. A small quantity of suspected crystal meth was found on the site and police are investigating whether the couple were under the influence of drugs.
In a second case, known as the 'Concrete Murder', several people have been arrested over their suspected involvement with the death of a man whose decomposing body was found inside a concrete slab in a Tsuen Wan industrial building. The identity of the man has yet to be confirmed.
Read more – EJ Insight
7. MTR fees set to rise 2.7%* from June
The MTR Corporation announced that fares would rise 2.7%* in June. This comes a week after the government, probably foreseeing the fare hike, asked the MTR Corporation to review the mechanism for adjusting fares a year earlier than scheduled. The fare adjustment formula used is considered to unfair to consumers in light of the MTR Corporations profits, and while it is being bailed out by the Government (the tax payer) for its over-budget projects.
*Corrected.
---
Need cheering up? Visit our home page for uplifting stories on getting the most out of living in Hong Kong!
---