January is traditionally known as the month of dieting and detoxing, but with Hong Kong churning out even more exciting new restaurants and devilishly delicious menus, we've been busy tucking in to some sinfully good dishes to find you the best ones to try yourself. We have two new restaurants and two new brunches on the menu this month, so go ahead and delve right in – it's practically February now anyway!
SPIGA | TokyoLima | Rummin' Tings | Kitchen at W
---
1. New Italian Restaurant: SPIGA
Italians never do things by halves, and that's certainly true if the signature dishes at this newly opened vintage Italian dining hot spot are anything to go by. With a menu as rich as its interior, designed by the daringly creative Joyce Wang Studio, SPIGA is definitely one restaurant that leaves a lasting impression – and flavour.
Sat within 7,000 square feet of open space, under leather straps draped across the ceiling, we began our softly-lit descent into the decadent dishes of two Michelin Star Chef Enrico Bartolini. Beginning light (and certainly not as we meant to go on), we delved into a bowl of Soft Potato, Capers, Salmon Roe, and Lemon – a deliciously light, foamy, and creamy dish with just the right blend of sweet and sour flavours to tease our taste buds and keep us wanting more.
The definite winner (and sure to be a hit with avid cheese lovers) was the Risotto with Beetroot and Gorgonzola Cheese Sauce, cooked to perfection and generously topped with soft, oozing, cheesy sauce. This dish is so rich in flavour that it's probably best to share it – that way you can ensure there's plenty of room left for the Crunchy Veal Cheek with Crispy Potatoes and Dijon Mustard Millefuille – a cut so soft and tender it literally falls apart at the touch of your fork.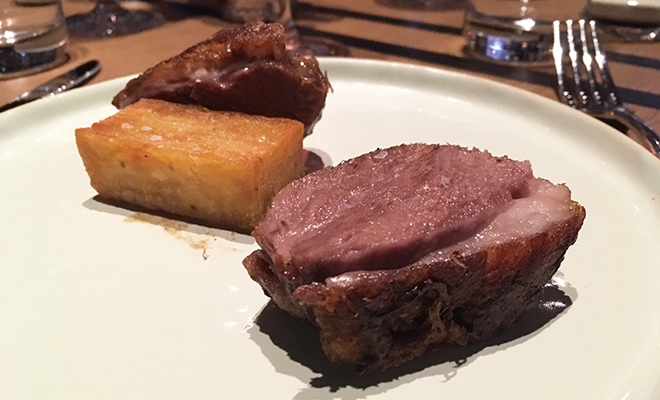 Seafood lovers will get a kick from sinking their teeth into the Sicilian Red Prawn with Tamarind Sauce, and Chick Pea Soup ($258) and Boston Lobster with Chocolate Tomato, Red Onion, and Sardinian Fregula ($328), which, although less filling than the veal dish, comes with full-bodied and intensely flavoursome sauces to create an equally satisfactory result.
Make sure you leave room for dessert, because while the Soft Creme Brulee with cherries, meringues, and iced blueberries ($98) is a little runny for my liking, the Chocolate Foam with Hazelnut Ice Cream ($98) is an absolute delight to the senses. Coupled with a glass of dessert wine, and you'll be in paradiso.
While you're there, have a nose at the six different dining areas which ooze sophistication and fun. If the tubular furniture, terrazzo flooring, and metro map lighting sculpture fail to impress you in the Italian metro station section, then the juggling pins, flame throwers, silk wallpaper, and stunning pendulum chandelier (pictured at top) in the vintage Italian circus area surely won't. With all its rich, historical touches, dining at SPIGA is like taking a trip to a history museum – only far more delicious!

SPIGA, 3/F, LHT Tower, 31 Queens Road, Central, (+852) 2871 0055

---
2. New Nikkei Restaurant: TokyoLima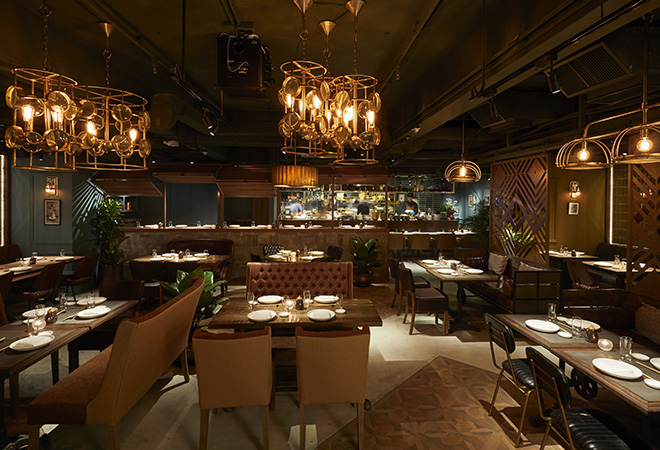 If you're a sucker for sake, and mad about meat, then I guarantee you will fall in love with TokyoLima, the brand new Peruvian-Japanese fusion hot spot tucked away on Lyndhurst Terrace. Finding the entrance is half the fun, but once you're inside, you're in for a real treat. Doing exactly what the name suggests, this late-night eatery brings the vibrant spirit of the two capitals together in one buzzing location where excellent food, friendly service, and cocktails to-die-for take centre stage. It's worth mentioning that this venue used to be Club 18 and therefore has oodles of open space (and an open kitchen) for you and your friends to lounge around and relax in. This is helped by the inviting atmosphere created by the warm lighting and comfy seating.
This latest concept is the brainchild of Manuel Palacio and Christian Talpo of Pirata Group, who brought us Pirata and The Optimist. Like those two popular spots, TokyoLima doesn't fail to impress, and the idea is lovely. Guests can stop by throughout the night for a quick drink and bite to eat, an exploration of the extensive sake menu, or a Nikkei feast of raw, marinated, and seared plates.
The drinks alone are enough to draw in the crowds, and you'll be blown away by the sweet taste and presentation of the Pisco Flower cocktail ($95) and Sake Martini ($95), as well as the trays of carefully selected, full-bodied sake to share with your table (beware, this stuff is strong!)
The menu is just as delicious as the tipples. The "Ki-mo-chi" Fried Chicken ($110) is absolutely incredible and a definite must order, while the T-3 Vegetarian Salad ($120) with mixed leaves and quail egg is gorgeously tangy in flavour and great for sharing with friends.
You might, however, want to order a few bowls of the juicy, tender, and devilishly good Picanha Grilled Rump Steak sticks ($140) to avoid having a fight at your table.
There's a great mixture of seafood and meats on offer, with the sticks ranking high on our list of favourites from the night. Larger dishes like the hot, seared Lobster Acevichada with chili butter ($360) are great for sharing too, and go really well with a refreshing shot of sake (or three).
And then there are the desserts. I can honestly say that the yoghuty textured Cheesecake ($85) is the most heavenly version of the dessert I have ever tasted. The reason there is no picture of this particular dish is that it was so darn delicious that we didn't even stop to take a photo of it first. If you like creamy, dairy desserts, then you absolutely must try this one. The Matcha Panna Cotta and Semi Freddo (both $85) were a close second, providing a range of flavours and sweetness levels to polish off the feast. Like everything at TokyoLima, these sweets are best enjoyed when shared – except for the cheesecake of course, that's another story.
If you're looking for a laid-back vibe any day of the week, then TokyoLima is a great option. Just allow a few extra minutes to find the entrance before you meet your friends (tip: up the stairs and on your left before you actually enter 18 – 20 Lyndhurst Terrace).
TokyoLima, G/F, 18 – 20 Lyndhurst Terrace, Central, (+852) 2811 1152

---
Read more! Check out the Best Corkage Free Bars and Restaurants in Hong Kong

---
3. New Island Brunch at Rummin' Tings
From the bar that brought us more Caribbean kicks than you can shake a rum tumbler at comes the new weekend Island Brunch offering that really packs a punch. Recognising Hong Kong's love for staple brunch items like Eggs Benedict, avocado toast, and a fluffy omelette, the Rummin' team have answered all our hangover prayers with a delicious range of six traditional dishes with a fabulous Carribbean twist. We couldn't get enough of the Jerk Eggs Benedict ($100), complete with Trini spices and delicious, crispy bacon (just like mamma makes it).
The generous serving of Avocado Toast ($80) is an absolute must try, and comes with oodles of fresh chunky avocado, tomato, onion and chives, all piled up high on lovely sourdough toast. A tasty surprise on the menu is the Scrambled Eggs and Jerk Chicken ($110), but it's worth pointing out that the Grilled Half Jerk Chicken ($170) is so freakin' delicious that you'll want to gobble the whole thing up and hibernate for the rest of the weekend. This chuck really packs a punch in terms of spice, so if you want to give your taste buds a kick up the butt, this is the way to go!
Whatever you do, though, make sure you leave room for the Pancakes ($110) – oh the pancakes. Served with rich (and pretty strong) Rum & Raisin or Coconut Ice Cream (we say order both), and covered in Maple Syrup, these little treasures are ideal for sharing with fellow pancake lovers and taste so good, that you'll wish you lived nearer just so you could have these beauties every morning!
All brunch items are priced individually, so you can pick and choose as you please, but the best thing about this offering is that (if you didn't drink too much the night before) you can add free-flow Champagne for $468 or free-flow Carribbean Pimms for $288. Both drink packages include unlimited beer and wine too, but we say go for the Pimms – it's tropical paradise in a glass. Nice one Rummin' team.
Rummin' Tings, 28 Hollywood Road, Central, (+852) 2523 7070
Available every Saturday and Sunday from 12pm to 4pm

---
Read more! Discover the 12 Best Free-Flow Brunch Buffets

---
4. Revamped Bubbly Seafood Sunday Brunch at Kitchen at W
Another weekend brunch – hurray! If you've read our popular article on the 12 Best Free-Flow Brunch Buffets, then you'll already know how much love we have for the Kitchen at W on a Sunday afternoon. Well, now they've revamped their offering with the Bubbly Seafood Sunday Brunch. This gorgeous venue is the perfect setting to embark on a culinary adventure which all starts with a glass (or three) of free-flow Veuve Clicquot Yellow Label Champagne. New to the brunch offer, this popular bubbly pairs beautifully with mountains of oysters, crab, mussels, and Boston lobster – you have to try the lobster!
All the usual suspects are still there – an endless supply of cheese (fondu included) and cold cuts, sushi and sashimi, hot dishes like the famous Lobster Eggs Benedict, Fresh Seafood Linguine, and Shrimp and Black Mussels in creamy saffron bisque sauce. Meanwhile, the carving station continues to serve up roasted Canadian Prime Rib Beef with garlic and thyme, Roasted Whole Suckling Pig, and a herb-marinated Australian Rack of Lamb.
However, in line with the hotel's "Detox, Retox, Repeat" philosophy, they've added plenty of new options for more health-conscious diners. These lighter, guilt-free treats include a range of detox juices (beetroot, ginger, raspberry and cucumber, coconut water, or pineapple), the DIY Caesar Salad, Honey Miso Black Cod Fish, Roasted Gochujang Chicken, and a Large Seafood Salad with all the trimmings. There are heaps of vegetarian options too – bowls of Beetroot, Quinoa, Roasted Cauliflower and Portobello Mushroom with garlic and thyme, and of course, the desserts are still to die for.
If you venture down the rabbit hole of the whimsical Alice in Wonderland inspired dessert station (pictured above), then make sure to try, well … everything. We highly recommend dipping your marshmallows in the magical Chocolate Fountain before delving into the Yuzu-milk Chocolate Tart, Chestnut Mille Feuille, Lemon Tart, and mini Tiramisu. And if you have a little room left for a vodka shot, then even better. You'd have to be mad as a hatter to miss this epic feast.

Kitchen at W, 6/F, W Hotel, 1 Austin Road West, Tsim Sha Tsui, (+852) 3717 2299
Available every Sunday from 12pm to 3pm
$828 per adult, with free-flow champagne, wine, beer and cocktails
$414 per child with soft drinks only
---
Read more! Check out our latest Restaurant Reviews, or tuck into Hong Kong's Tastiest Late Night Bites.