A Great British brunch, afternoon tea with a modern twist, and fine dining at great heights are topping our list of foodie experiences to enjoy this autumn. So without further ado, we present the latest, tastiest bites and delights on the menu in the 852.
---
1. Afternoon Tea at ON Dining
It's time to take afternoon tea to new heights as Michelin-starred Chef Philippe Orrico of ON Dining brings a tower of treats to the table. Available from October 1, the Afternoon Tea for Two set is available daily from 3pm to 5pm in this sophisticated lounge on the 29th floor. The vibrant setting of this modern restaurant and stunning view of Central from the terrace make it an ideal spot to enjoy a pot of brew (and a glass or two of bubbly) with three tiers of savouries, pastries, and scones.
Seafood lovers will be pleased to know that Salmon Tarama Blinis, Tuna Club Buns, and Crab Meat Tartlets (our own personal favourite), all feature on the menu, while sweet-toothed diners will no doubt enjoy delving into the Hazelnut Puff Pastry, Sokoto Chocolate Cake, and Vanilla Pannacotta on the pastries tier.
Classics such as the Egg Sandwich still make an appearance, as well as the stars of the show – the Homemade Daily Scones with Devonshire Clotted Cream and Homemade Strawberry Jam.
Adding a zesty and modern twist on the traditional afternoon tea menu is the mouth-watering Mango Sorbet, which goes down swimmingly with a glass of Nicolas Deneux blanc de blancs premier cru Champagne (for an extra $128). At $398 for two, the set is fairly reasonable in price, however, if you're looking to enjoy a more traditional afternoon tea experience which conjures up the spirit of colonial times, then this might not be your first choice. ON Dining is elegant, charming, and above all – modern.
ON Dining, 29/F, 18 On Lan Street, Central, (+852) 2174 8100
---
2. English Garden Brunch at Popsy Modern Kitchen
Finding a decent roast dinner in Hong Kong is like finding a needle in a haystack, but the Michelin-trained team at Popsy Modern Kitchen have nailed it with their fantastic Sunday Roast, served as part of the new English Garden Brunch menu. As if golden-skinned, gravy-soaked, tender Roast Chicken, crispy Yorkshire Puddings, and homemade Bread Sauce (pictured below) wasn't enough to win us over, we now get to enjoy it with a medley of traditional English goodies (pictured above), a tea set of desserts to-die-for, and two hours of free-flow bubbles. Hallelujah!
Launched in celebration of the British Council's stunning new photography exhibition, 11 Million Reasons, which pays tribute to Deaf and disabled people and their passion for dance, the brunch encapsulates everything we love about good old British grub. Reinvented Cucumber Sandwiches, Unlike Sausage Rolls, British Best Cold Cuts, and Tomato stuffed with English Cheese all feature on the starter platter, which looks more like a painting than something to consume – but then again, this does spring from the enchanting imagination of Popsy owner Jennifer Chung, whose vision is to marry contemporary art and delicious food in one fell swoop.
The setting of this tucked-away gem on the fifth floor of The Wellington is just as charming as the menu too. Decked from ceiling to wall in lush greenery and gorgeous textile flowers, delicately handcrafted by Chung herself, Popsy beautifully creates the illusion of dining in a fresh English country garden, complete with stunning photographs of ballerinas and recreated movie dance scenes.
The experience is made all the more enchanting when the dessert tower (pictured above) arrives at the table, and you find yourself in a dilemma about which treat to inhale first – the Banoffee Pie, the Lemon Tart, the Eton Mess, or the absolute star of the show – the Bread Pudding with Caramel Sauce. At only $388 per person, (and an extra $168 for free-flow), this menu is an absolute gem if you find yourself craving a taste of little Britain for an unbeatable price. Just make sure you get in there quick, as the English Garden Brunch is only available until November 20.
Popsy Modern Kitchen, 5/F, The Wellington, 198 Wellington Street, Sheung Wan, (+852) 2907 8188
---
3. Above & Beyond New Autumn Menu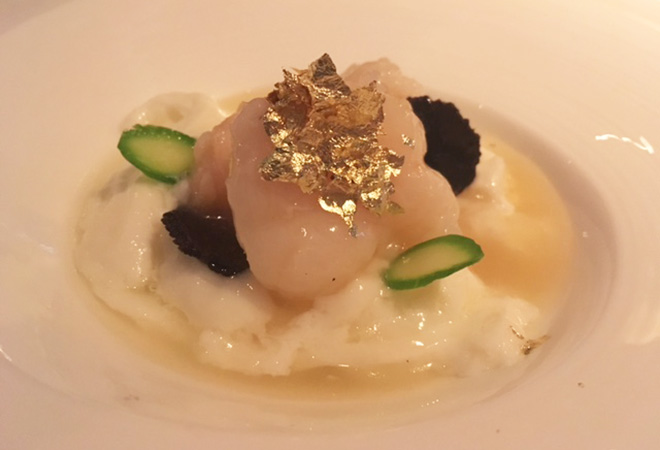 With stunning views of the Hong Kong skyline, Above & Beyond is one of the city's most celebrated Cantonese restaurants, and after experiencing the exceptional services, exquisite dishes, and delectable wines from all around the world, it's not hard to see why.
Located on the 28th floor of Hotel ICON in Tsim Sha Tsui, this award-winning restaurant offers a beautiful modern setting in which to enjoy dinner with stunning panoramic views of Victoria Harbour. Whether you're an expert in the field of Cantonese cuisine, or simply enjoy a culinary adventure with dashings of class, you're certainly in for the royal treatment as Executive Chef Paul Tsui and sommelier Ace Lee serve an array of divine dishes that bring to mind the richness and warmth of the autumn months.
The huge Deep-fried Oyster with Pomelo and Green Mango ($138) certainly makes a big first impression, especially when accompanied by a glass of Angelina Brut Reserve. As does the seemingly simple Wok Fried Lobster with Egg White and Black Truffle ($318) (pictured above), which steals the show with its fall-apart-in-the-mouth tenderness and sprinklings of gold leaf. Paired with a refreshingly crisp Chardonnay Tasya's Reserve from Shanxi, China (of all places), this is easily the best dish on the menu.
While the Wok-fried Giant Garoupa Fillet with X.O. Sauce ($488) and crunchy Stir-fried Kale with Assorted Mushrooms in Black Bean Sauce ($188) are less memorable (surprising given the price), the tender Wok-fried Wagyu Beef Cubes with Green Apple, Mustard, and Wasabi ($418) are a delight to the taste buds – particularly when paired with Miyazaka Junmai Ginjo sake from Japan, which makes the tangy flavours of the apple and wasabi spring to life.
It's often the way to save the best for last, and Above & Beyond is no exception. The feast ends with a stunning display of adorable mini desserts (pictured below) including Jasmine Chocolate Panna Cotta, Iron Buddha Tea Pudding, Green Tea Panna Cotta served with Bitter Chocolate Ice Truffle ($98).
The dry ice steaming from the clay teapot makes for the perfect Instagram snap, while each beautifully presented and deliciously rich dessert goes down so fast that you almost forget to sip the juicy Japanese 'Shirakaga' Plum Wine that comes with it.
For unforgettable food, killer service, and jaw-dropping views of the city, Above & Beyond is right up there. You might want to save up for this culinary feast, however, as these dishes come with a hefty price tag. But then again, you do get what you pay for.
Above & Beyond, 28/F, Hotel ICON, 17 Science Museum Road, Tsim Sha Tsui, (+852) 3400 1318
---
Read more! Explore the rest of our Food & Drink section, and see what other delights are New On The Menu.