Tin Hau has more to it than meets the eye. Aside from the obvious landmarks such as Victoria Park—a popular meeting place for many Hongkongers this past month—and Tsing Fung Street, a well-known destination for foodies, we dive into some of Tin Hau's hidden gems and uncover why this place is such a great spot for families, fitness buffs, and pet owners. Check out some of the things you can do in this neighbourhood below.
Things to Do | For Fitness Enthusiasts | Where to Pamper Yourself | Where to Eat | Where to Drink | For Pet Owners
---
---
Things to Do
Views from Causeway Bay Typhoon Shelter
With Victoria Park offering such a tranquil oasis in the middle of the city, it is also known for hosting sporting events such as the Hong Kong Open or Hong Kong Tennis Classic, the annual Hong Kong Flower Show, and… rallies. There's plenty to sink your teeth into and keep the kids busy visiting Victoria Park alone, with a roller skating rink, ping pong table, and playground to boot! But if you're feeling touristy, the harbourfront (or Causeway Bay Typhoon Shelter) is Tin Hau's best-kept secret, offering beautiful views of the city during Golden Hour. This little gem is also a popular dog walking area, and a great vantage point to marvel at the city lights or catch the 8pm light show.
If you're there during the day, walk further down towards Causeway Bay to catch the Noon Day Gun firing everyday at (surprise, surprise) noon.
---
For Fitness Enthusiasts
Whether it's playing a game of pick up basketball, joining a meet up group, or going for a dip in the Olympic-standard indoor pool—there's plenty of activities to suit everybody's needs in the area, and it certainly helps that Victoria Park offers 19 hectares of space, equipped with a running track, fitness stations, football pitches, in addition to basketball, handball, and tennis courts. But there is plenty more for the actively-inclined; just check out the studios and classes below.
Basketball game at Victoria Park
FitFam
Join this free—yes, FREE!—fitness community organised by a group of dedicated and passionate fitness folk, who meet at Victoria Park every Tuesday and Saturday morning to get their sweat on. Workout sessions are between 60–90 minutes, and are also held at other locations across Hong Kong, so be sure to also check out there Facebook page for more information.
Fitfam, Victoria Park
Urban Active
If you prefer to workout in the evenings, when it's a little cooler, Urban Active hosts two evening sessions during the week, between Causeway Bay Sports Ground (for Endurance Monday) and Victoria Park for Wednesday's Max HIIT. They also offer a Saturday morning Functional Training session, so there really is no excuse as to why you can't go if weekdays are tough.
Urban Active, Causeway Bay Sports Ground & Victoria Park
Coastal's Strength & Conditioning Class
Coastal Fitness Performance Training
If you're more into heavy lifting, this gym might just be the thing for you! Home to some of Asia's most elite CrossFit athletes, you could very well join a Strength & Conditioning class led by one of the CrossFit pros themselves. They also offer Barbell Club (a class on Olympic lifting techniques), Functional Gymnastics, or Coastal30—a quick, 30-minute total body workout for the busy individual.
Coastal Fitness Performance Training, G/F, Shop 3, Victoria Centre, 15 Watson Road | (+852) 2989 1900
Warrior Hong Kong
Join "Hong Kong's Finest Boxing and Muay Thai Gym" for a good ol' sparring session, if you're looking to blow off steam. Lights Out Boxing Club is also held in the same space, so if you're looking to join an intensive group workout with all the bells and whistles, smashing out some boxing combos on Aqua Bags might just be the thing for you!
Warrior Hong Kong, 3/F, Block C, Seaview Estate, 8 Watson Road | (+852) 2512 2262
I Love Fitness
This modest boutique gym in the heart of Tin Hau is the perfect place for gym-goers just looking to get a quiet workout in, but still feel a part of the community. Get in touch and meet with a personal trainer for a free assessment, and enjoy three free trials before signing up for an affordable gym membership.
I Love Fitness, 1/F, Tobacco House, 4-6 Wing Hing Street | (+852) 3709 6232
---
Where To Pamper Yourself
Photo courtesy of Active Relief
Active Relief
If your muscles are in need of some TLC, Ruth Andrews of Active Relief is the person to go to. Based out of CFPT, the Sports Therapist has treated many elite athletes, including some of Asia's top CrossFit competitors. To check Ruth's availability and other locations, be sure to contact her here for more information.
Active Relief, Coastal Fitness Performance Training, G/F, Shop 3, Victoria Centre, 15 Watson Road | (+852) 6925 0647
Healthy Pro Hair Care
This newly-opened, chic hair salon is here to bring you the perfect balance between health and style. Their aim is to provide all the professional styling services, minus the harmful products. So we're talking runway-ready, with only the finest, natural organic products to nourish that beautiful head of hair. Win! To check out the products they use, visit Organethic's website.
Healthy Pro Hair Care, Shop 2, 108 Electric Road | (+852) 2816 2211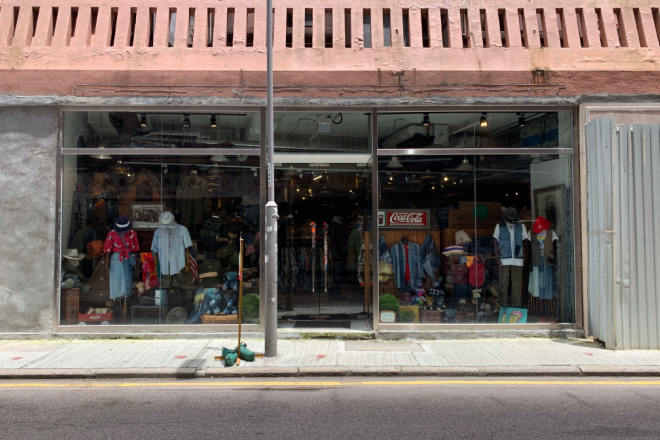 Midwest shopfront
MIDWEST
If a bit of retail therapy is your ideal way to treat yourself, check out this vintage clothing shop for your vintage denim apparel, colourfully printed t-shirts and military jackets. This shop will not disappoint! If you are stuck for ideas, check out their Facebook page for some styling inspiration.
Midwest, Shop 58, 1/F Victoria Centre, 15 Watson Road | (+852) 2802 6886
Nail Bar
This successful chain is just one of the eleven branches you can find across Hong Kong, and with over 16 years experience, their professional and highly qualified staff guarantee quality nail treatments, borrowing techniques from Europe and Japan.
Nail Bar, 4 Lau Li Street | (+852) 2571 3399
Zen Thai Massage
Whenever you're feeling tense after a tough day's work, Zen Thai Massage is the place to go. The newly-opened branch in Tin Hau can save you a trip to Thailand, with the range of affordable treatments they have on offer. We recommend massaging those knots away with a traditional (and very relaxing) Thai massage. Once you're done, each massage is capped off with a lovely, warm cup of tea, and the staff are always very sweet and helpful. An experience you won't regret!
Zen Thai Massage, 1/F, Man Zhou Building, 98–100 Electric Road | (+852) 2501 0002
---
Where to Eat
If you're feeling peckish, Tin Hau is the place to be! A well-known destination for foodies—Electric Road, or the more popular Tsing Fung Street—is lined with restaurants, cafes, and dessert shops that stay open late into the night. Here are a few recommendations to whet your appetite.
Photo courtesy of @justansonn
Camper's
This place is perfect for a delicious home-made Japanese meal, and we're not the only ones to think so, as a small (yet orderly) queue can always be found outside Camper's come meal time. People flock to this eatery headed by Chef Fujita Kenta, who has been sharing his culinary expertise for seventeen years. Not only are the meals delicious and reasonably priced, but the portions are generous, free of additives and fats, and packed with wholesome vegetables!
Camper's, G/F, 127 Electric Road | (+852) 2889 7377

Omerice
The signature Japanese omelette rice dish at Omerice is a hit, and there are many copy cats in the area, but we are told this is the place to go for an authentic and memorable first time. Order some side dishes to complete your meal, such as the cheese chicken wings, skewers or sliced tenderloin strips.
Omerice, G/F, 3 Tsing Fung Street | (+852) 2512 1809
Q1
Q1 offers (the best) traditional, no-frills Vietnamese meals in Tin Hau—and at a very reasonable price too. This family-run store has another successful shop in Sham Shui Po, where they also offer a range of noodle- and rice-based Vietnamese staples, but we highly recommend their bánh mì for an absolutely tangy, mouth-watering treat. If Q1 is packed, the equally lovely and friendly staff at Simply Viet next door will also treat you to a very affordable and scrumptious meal too. Vietnamese phở the win!
Q1, Shop B, G/F, 6 Whitfield Road |(+852) 3997 3782
Sister Wah
Its legendary beef brisket noodles draw visitors near and far—and why wouldn't they? The signature dish uses locally-sourced beef, made wonderfully succulent through thorough braising in a stock comprising of ten different herbs. And although not run by Sister Wah herself anymore, it is still a family affair as her sons now run the Michelin Guide-recognised business.
Sister Wah, Shop A1, 13 Electric Road | (+852) 2807 0181
Auntie Sweet
There are plenty of dessert places in Tin Hau to end the night with, and many seem to be frequented by local celebrities, according to the photos posted on the shopfront. But if there is one OG dessert place to check out, it may as well be the dessert place opened by some local celebrities themselves! (Right?) Enter Auntie Sweet, a popular Cantonese dessert shop, a joint venture launched by TV producer Jonathan Chik and artist Moses Chan. Find traditional desserts like sago, bean curd jelly, and sweet Chinese soups here, as well as more outlandish creations like beancurd shakes and fish balls with salted egg yolk sauce.
Auntie Sweet, G/F, 13 Tsing Fung Street | (+852) 2508 6962
---
Where to drink
Take Your Time
This quaint, Instagrammable drink spot offers many colourful and equally Insta-worthy Taiwanese drinks and smoothies made to order. The combination of the décor and fruity beverages just ooze health and goodness. Check the board daily to see what's on offer, or ask the staff to recommend what is fresh off the juicer for a fruity bevvy to quench your thirst.
Take Your Time, Shop 1, G/F, Lee King Mansion, 83 Electric Road | (+852) 5116 6865
NOC Coffee
This modern, minimalistic coffee shop has been a favourite amongst many coffee lovers in Hong Kong since its first opening, and this new addition on Mercury Street is no different. With their carefully-selected coffee beans roasted in-house and a menu suitable for everyone, this place is quickly becoming an urban sanctuary.
NOC Coffee, 23 Mercury Street | (+852) 3619 7500
Preface Coffee
This education concept store was designed by a tech- and design-driven education company, with the view to providing the best space (and nourishment) for the mind to roam and learn. Check out their website to read more on their concept store and learn more about their education courses on offer.
Preface Coffee, G/F, 7 Lau Li Street | (+852) 2777 7821
Prisma Coffee
This small local coffee shop is a favourite amongst the neighbours, and is the type of place where the staff will know you by name (and coffee order). Not only do they serve a great cup of coffee and offer a reliable spot to people-watch over afternoon tea, but dogs are welcome, and on occasion are offered treats by the lovely staff.
Prisma Coffee, 3A Watson Road | (+852) 3460 3725
Hong Kong Island Taphouse
This local watering hole is a popular destination to get your fill of local draft beers, sports, and some good ol' classic pub grub. These draft beer connoisseurs offer an array of local ales on tap, and if you're not feeling entirely sure of what you're after, there are tasting notes to hand, and a host of helpful staff to offer guidance.
Hong Kong Island Taphouse, 1A–1B, Tsing Fung Street | (+852) 3705 9901 &
---
For Pet Owners
You never have to worry about your fur babies getting sick in Tin Hau, as it seems nearly every corner has an animal hospital that can take care of your beloved pet. If you're looking for more alternative treatments or the assistance of a specialist, Tin Hau has that too. We've rounded up just a small number of the best specialised pet care centres in the area for you to bookmark.
Localiiz office mascot, Lola, at Causeway Bay Animal Hospital
Causeway Bay Animal Hospital
At Causeway Bay Animal Hospital, they truly understand that their clients are more than pets—they're family members. When my beloved senior rescue beagle of fourteen years fell terminally ill last year, they worked tirelessly to find the cause and offer their support and guidance until the very end. Not just the vets, but the entire clinic. They now take care of Localiiz office mascot, Lola, and there is nothing more comforting than knowing that an entire veterinary clinic are doing everything they can to provide the best care for you and your beloved pet.
Causeway Bay Animal Hospital, G/F, 29 Whitfield Road | (+852) 2510 0836
Photo courtesy of Tin Hau Pet Hospital
Tin Hau Pet Hospital
Another clinic known for providing excellent care and attention to your pets—from their most senior veterinarian right down to their reception staff—Tin Hau Pet Hospital offers a holistic and alternative approach to veterinary medicine, specialising in traditional Chinese medicine (TCM) and acupuncture for animals. The team of staff, headed by Dr Angela Yung and Dr Grace Li, and are known to be some of the best around and are constantly striving to educate themselves and learn about the latest advancements in veterinary medicine to provide the best quality of life to their patients. To read more about TCM and acupuncture for animals, check out our guide to alternative therapies for your pets.
Tin Hau Pet Hospital, Shop B, G/F, Wilson Court, 41 King's Road | (+852) 2104 2000
Zodiac Pet & Exotic Hospital
If your pets are a little more on the exotic side and you are worried this section does not apply to you, think again. This exotic animal hospital, like the name suggests, specialises in avian, amphibians, and reptiles, and they are not unfamiliar with your more common companion animals, either. Just be sure to book an appointment ahead of time, as consultations are by appointment only. Previously located on Gordon Road, the newly-opened clinic in Victoria Centre now boasts two floors with freshly decorated walls by none other than local graffiti artist Szabotage.
Zodiac Pet & Exotic Hospital, Shop 101A, 1/F Victoria Centre, 15 Watson Road | (+852) 2527 1718
Nature Pet Beauty Salon & Spa
If your pet simply needs a little joojing and pampering, the friendly staff at Nature Pet, along with their lovely golden Labrador, are more than happy to help you out. But that's not all they offer—whether you simply need some pet accessories, such as a carrier, a variety of treats and toys, or a set of stairs to assist your pet onto the sofa, Nature Pet is the place for you to spoil your fur baby.
Nature Pet Beauty Salon & Spa, Shop KI-2, 62-74 Hing Fat Street | (+852) 2578 8281
---
---
Read more! Explore our guide to Wan Chai and Causeway Bay or explore the Travel section on Localiiz.